-- Below are our most recent content additions to the site --
to SEARCH the HealthWrights site and newsletters click HERE and replace << ENTER-SEARCH-TERM >> with the term(s) you want to find
To receive email announcements when we post new newsletters click the subscribe link  (to the left)

We are in need of volunteers to help with website content. 
In particular, we are looking for someone to support our primary IT volunteer see our page How You Can Help

Want to watch videos we have produced?  See our Multimedia page for our videos that are online for viewing.
---
December 2016 
NEW!  

Newsletter 80
What goes around comes around: Unexpected feedback on our books and activities - part 3. Since I first wrote and illustrated Where There is No Doctor in Spanish, in mountain villages of Western Mexico in the early 1970s, the book has been translated into at least 100 languages (that we know of), with more than three million copies in print. According to the the World Health Organization, it has become "the most widely used community health care handbook in the world." We have received letters of appreciation from health workers and families in scores of different countries, often with stories of how they used the book to treat the sick, save lives, and take collective action to prevent disease. On a few occasions, families have been so pleased with the book, that they have named a new-born child after me. Here I give a couple of examples....
Note: This newsletter is "responsive". It will be nicely readable on tablets and even phones
---
August 2016 -- Newsletter 79
A boy with CMT muscular atrophy – same as me


Three years ago, in 2013, I received an urgent email from a mother in Guadalajara, asking me if I knew anything about Charcot-Marie-Tooth syndrome. She told me her son, Tomás – born in July, 2003 — had been diagnosed with "CMT," a progressive neurological condition beginning in early childhood. At birth he'd seemed normal. But hadn't begun to walk until he was two-years-seven-months old. When he finally started walking, he had a strange wobbly gait with poor balance and frequent falls. As he grew, the awkward gait gradually became more pronounced, with notable weakness in his feet and lower legs. Weakness in his hands and fingers likewise became apparent, causing difficulty with fine manual skills.
Note: This newsletter is "responsive". It will be nicely readable on tablets and even phones
---
May 2016 | Newsletter 78
As planned, in mid-November, 2015, my friend Polo Ribota and I set off on the long drive from Mazatlán, Sinaloa, to Nogales, Sonora – on the U.S. border – to visit ARSOBO (acronym for ARizona SOnora Border), a workshop where disabled people make assistive devices for others with disabilities. Accompanying us was Tomás Magallanes, a young man with sequelae of polio, who was first brought to PROJIMO by his mother for braces when he was six year old. After he grew up he worked for several years in the wheelchair workshop in PROJIMO Duranguito. I hoped that ARSOBO would accept Tomás as an apprentice to improve his wheelchair-making skills and to learn some of the new techniques developed in this border program.
Note: This newsletter is "responsive". It will be nicely readable on tablets and even phones
---
February 2016 -- Newsletter 77
What goes around comes around: Unexpected feedback on our books and activities. When I first wrote Donde No Hay Doctor (the original Spanish edition of Where There is No Doctor) in the early 1970s, I didn't dream the village healthcare handbook would ever be used outside the remote reaches of Mexico's Sierra Madre, where the villagers and I had set up a backwoods health program. I never imagined the book would eventually be translated into more than 90 languages, or be acclaimed by the World Health Organization as "arguably the most widely used community healthcare manual in the world." Over the years we've had some wonderful and unexpected feedback. In this newsletter I'd like to share examples of the kind of feedback we get, and relate how some of the ideas and methods we explored have been picked up and adapted in other places and circumstances. At times it seems like distant pieces of a puzzle, or segments of a circle, serendipitously falling together in weird and wondrous ways. The following example traces back all the way to my adolescence!
Note: This newsletter is "responsive". It will be nicely readable on tablets and even phones
---
Boletín de la Sierra Madre no. 77 — De picadura de serpiente hasta sillas de ruedas de niños: cerrando el círculo
---
January, 2016
We are appealing to friends of HealthWrights to help sponsor the cost of an adapted wheelchair or other assistive device for a disabled child (or several, if you can). The cost ranges from USD $250 to $350, depending on its special features. If you are able to help cover the cost for a child – or a part of the cost – please do so. Read more here...
Raymundo, leader of the PROJIMO Duranguito workshop, adjusts a wheelchair
that the team made for this boy.
---
May 2015 Newsletter 76
Making A One-Room Village School More Accessible
For a Nine-Year-Old with Muscular Dystrophy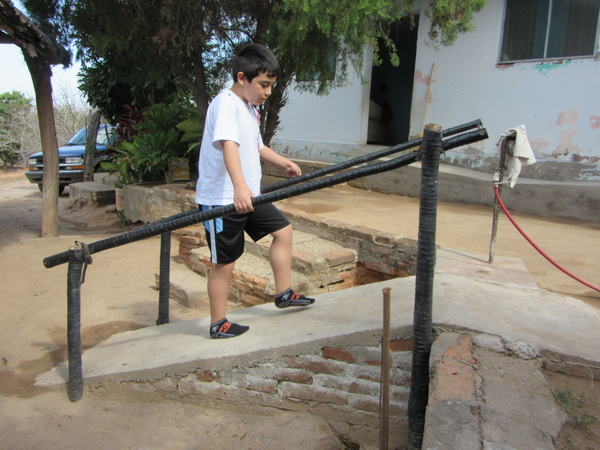 Sinaloa, Mexico
This newsletter -- an example of Child-to-Child in action -- tells the story of Tonio, a timid 9-year-old with muscular dystrophy, whom schoolchildren in Mexico encouraged to participate and be included. To help the boy reach the school more easily, the villagers built handrails for the steep steps. His classmates volunteered to shuttle him daily, in an ingenious "spidermobile," over the rough trail to and from his home. This all-terrain wheelchair -- with 4 long arms, so that 6 or more children can push and pull it at once -- was created by disabled crafts-persons at the PROJIMO-Duranguito wheelchair shop which is supported by Healthwrights and is located not far from this Tonio's village.
Note: This newsletter is "responsive". It will be nicely readable on tablets and even phones
---
Boletín de la Sierra Madre no. 76  — Haciendo una escuela rural más accesible e inclusiva para un niño con distrofia muscular
---
December 2014 - Newsletter 75
From Village Boy to Kind Eye Surgeon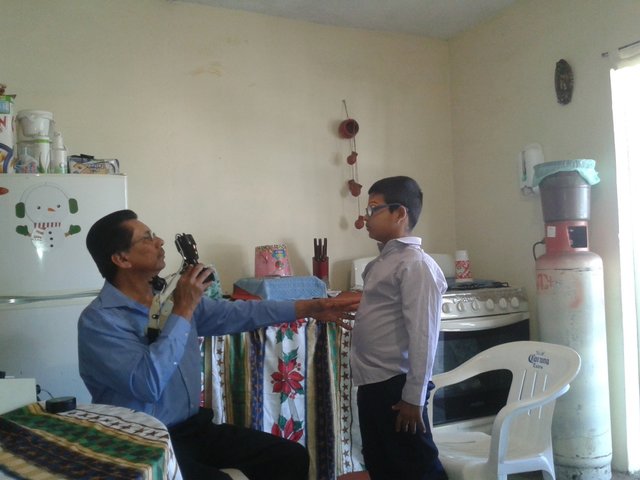 Sinaloa, Mexico
This year's-end newsletter tells the story of a farm boy in México who, more than three decades ago, was helped by the local village health program in the Sierra Madre to continue his schooling. Along the way, he became a village health worker, then a doctor, and finally a gifted eye surgeon and professor of ophthalmology. But the best news is he never forgot his roots. He continues to reach out to disadvantaged people in need. Recently we sought his help for a blind child whom other specialists had essentially given up on.
---
Este boletín (#75) al fin del año 2014 se trata de la historia de un joven campesino en México que, hace más de tres décadas, fue ayudado por un programa de salud rural en la Sierra Madre para que él pudiera continuar sus estudios. En esta historia, el joven se convirtió en un trabajador de salud, y después un doctor, y, finalmente, en cirujano ocular y profesor de oftalmología. Pero lo más notable es que nunca olvidó sus raíces. Él continúa hoy día proporcionando servicios a las personas desfavorecidas. Recientemente le pedimos su ayuda para un niño ciego a quien otros especialistas efectivamente lo habían rechazado.
Sept 2014, Newsletter 74
Struggle for Health and Rights in South America's Southern Cone

Argentina, Chile
In April of 2014 David Werner was asked to visit Chile and Argentina, the two countries that flank the imposing Cordillera de los Andes in South America's "Southern Cone". His hosts were groups of occupational therapists and community doctors. This newsletter chronicles the visits and provides observations on the state of health, and environmental and economic wellbeing for the marginalized of the region.
---
August 2014 - Newsletter 73
Child-to-Child Workshops in Burkina Faso
David Werner was invited in February to visit and facilitate a Child-to-Child workshop in Burkina Faso, a small country in West Africa.
This newsletter is his report back. In addition he put together a photo documentary to accompany the newsletter.
Read the newsletter and see the photo-documentary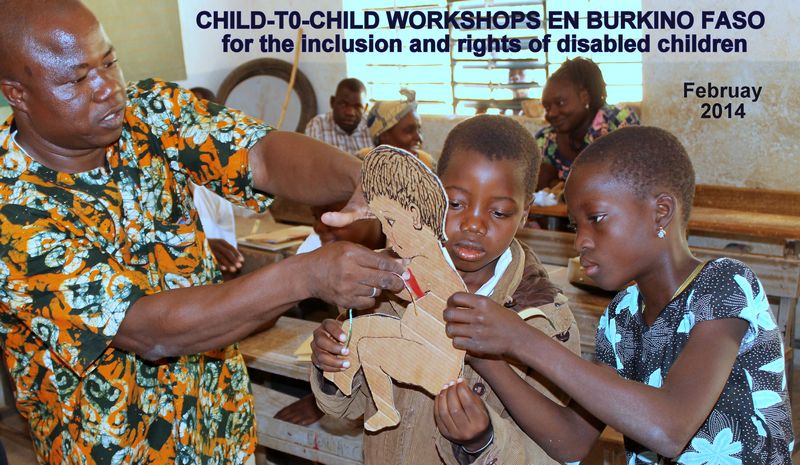 ---
"The Return of Health for All" by David Werner, with a contribution by Halfden Mahler The Return of Health for All- 1.6mb pdf (opens in new tab) as published in World Nutrition, Journal of the World Public Health Nutrition Association, Volume 5, Number 4, April 2014
This commentary by David Werner was included in the April 2014 issue of World Nutrition to help set the background and provide a sociopolitical perspective for the World Health Assembly (WHA) in May 2014. 
Based on a booklet by Werner titled "The People's Struggle for Health and Liberation in Latin America: a historical perspective," Cuenca Ecuador, Oct 2013 click here the commentary revitalizes the global goal of "Health for All" as subscribed to by the member states of the United Nations in the "Declaration of Alma Ata" in 1978. The Declaration not only called for universal Primary Health Care, but made clear that to achieve a healthy society, the full participation of people and communities is essential. It called for new, more people-centered political and economic paradigms that promote a fairer, more inclusive social order.
During this time, Halfden Mahler, Director General of the World Health Organization from 1973 -1988, played a seminal role in the formulation this revolutionary Declaration. For this reason, a statement by Mahler is included with Werner's call for "the return of Health for All."
For the complete April 2014 and other issues of World Nutrition, see: wphna.org/worldnutrition/past-issues/ scroll down page to get to download link for April Issue
---