Latest News About the Hesperian Foundation
The Hesperian Foundation has greatly expanded its activities since the days when it served mainly to support Project Piaxtla. With the experience of Project Piaxtla and the lessons learned from its efforts to promote cooperation between similar groups and programs in Central America, India, the Philippines, and elsewhere, the Hesperian Foundation has taken a leading role in the international rural self-care movement that Where There Is No Doctor helped to spark.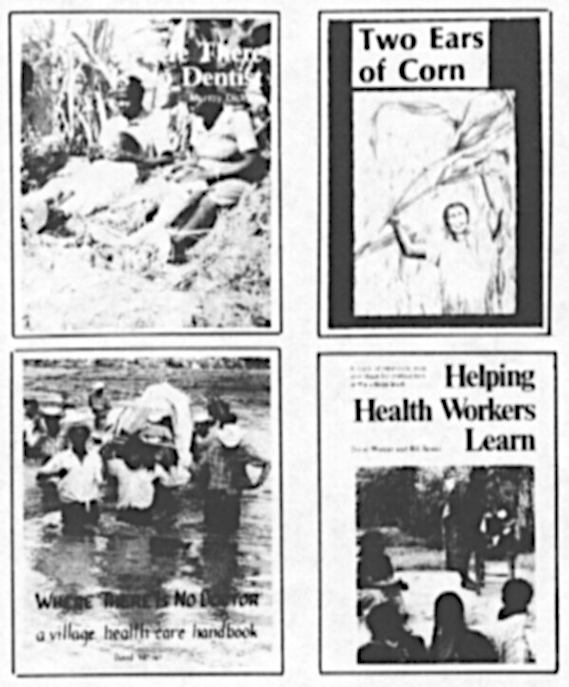 Every month the Hesperian Foundation ships thousands of books, including 2 new titles: Where There Is No Dentist by Murray Dickson and Two Ears Of Corn by Roland Bunch. Helping Health Workers Learn, first available in February 1982, is now in its fourth printing, and we are preparing a Spanish translation soon to be published in Mexico. Independent translations into Portuguese and Bengali are also in progress. 15 slide shows based on Helping Health Workers Learn were introduced in August 1982, and they too will soon be available in Spanish.
At last count, there are 23 versions of Where There Is No Doctor in use in over 150 countries.
David Werner has spend much of the past year writing and illustrating a new book called Rehabilitation of Disabled Children in Rural Areas (a.k.a. Disabled Village Children), based on his experience with Project PROJIMO. Physical therapists are giving him valuable feedback and constructive criticism. Photocopies of the first, experimental draft are available for $10.00.
To cope with the tremendous expansion of our activities, we have had to rely on our most important resource—our friends. Our book distribution is carried out entirely by dedicated volunteers. Volunteers have also been important in another ongoing activity: care of severely disabled youngsters. Trude Bock coordinates the efforts of numerous foster familities, rehabilitation professionals, and volunteer helpers who have attended to 36 children over the last 12 months alone.
Our internal organization is evolving. We now have a paid staff of 6 full-time and part-time workers helping to produce books and run the foundation, which is still crammed into Trude's Palo Alto home. Although we have grown, we remain a low-cost, informal organization.
Oppose U.S. Intervention
Many of the Central American health progreams we have worked with have come under attack by U.S. supported military governments. Health workers with whom we have worked in Nicaragua have reported great difficulties caused by the U.S.-backed anti-government insurgents. In the interests of health and social justice in Central America, we ask all of those who share our goal of a fairer, healthier society to take a stand in opposing U.S. intervention in Central America.
&nbsp