NEWS FROM THE HESPERIAN FOUNDATION
While the Foundation remains small and informal, our activities continue to grow. We receive hundreds of letters each year from village health workers all over the world letting us know how useful our materials are to them, and also sharing with us the various adaptations they have made to make the materials more appropriate for the country in which they live and work.
The Disabled Village Children's Manual, a guide for health workers and families, which David Werner and the Hesperian Foundation are preparing together with PROJIMO is nearing completion of the rough draft. Work in reviewing and incorporating suggestions (from sources all over the world) will take approximately six months. Then it will be typeset and printed. We expect the book to be in print, in English, by summer or autumn of 1986.
While the Foundation remains small and informal, our activities continue to grow.
Slide Shows of PROJIMO with scripts in English should be ready later in 1985.
Where There Is No Dentist is now into its third printing in English. Suggestions for improving the book may be sent to author Murray Dickson c/o the Hesperian Foundation. Spanish and Portuguese editions will be available in 1986.
Helping Health Workers Learn is now available in Spanish and Portuguese. See the enclosed brochure.
Where There Is No Doctor will undergo a. major revision when the rehabilitation manual is completed in order to incorporate many of the suggestions we have received over the years that the book has been in print. Here is a list of the various languages in which the book now appears.
TRANSLATIONS OF WHERE THERE IS NO DOCTOR
Country
Language and title
BANGLADESH
Bengali
BRAZIL
Portuguese
BURUNDI
Kirundi
COLOMBIA
Guajivo
ERITREA
Tigrigna
INDIA

English (adapted for India)

Hindi

Telugu

Tamil

INDONESIA
Indonesian
KAMPUCHEA
Khmer
LAOS
Lao
LEBANON
Arabic
MEXICO

Spanish

Tzotzil

NEPAL
Nepalese
PAKISTAN
Urdu
PARAGUAY
Guarani
PHILIPPINES

Cebuano

Hiligaynon

Ilongo

Ibatan

Tagalog

SENEGAL
French (adapted for Africa)
TANZANIA
Swahili
THAILAND

Thai

Karen

VIETNAM
Vietnamese

TRANSLATIONS IN PROGRESS:
BOLIVIA
Aymara
HAITI
Creole
INDIA

Kannada

Marathi

ITALY
Italian
PAPUA NEW GUINEA
Pidgin
PHILIPPINES

Ilocano

Maruano

Sebuano

SOMALIA
Somali
SRI LANKA
Sinhala (Lankava)
ZIMBABWE

Shona

Ndebele
NEEDS FOR ASSISTANCE
The Hesperian Foundation is fortunate to have a loyal group of friends and volunteers, but further assistance is still needed in many ways:
Foster families willing to house, feed and care for disabled Mexican children brought to the Bay Area for surgery. The surgery is provided free by Shriners Hospital for Crippled Children in San Francisco, and by INTERPLAST in Palo Alto. We have a desperate need for more foster families, and unless we find them, some children may go without much-needed surgery. The average stay of each child is about three to four weeks before and after surgery. The U.S. Immigration Service cooperates by providing temporary visas.

A coordinator to work with Shriners arid INTERPLAST, and to arrange for foster families. For years Trude Bock has done this, but she needs help. It is a big job, sometimes frustrating, but very satisfying.

Drivers willing to help take the Hesperian Foundation vehicle to and from Mexico with disabled children and supplies.

Contributions to help cover travel and miscellaneous expenses involved in bringing Mexican children to the Bay Area for surgery (approximately $100 per child). We bring about 20 children each year.

Supplies and equipment:
tools – hand and electric – all kinds

industrial leather sewing machines

sheets, blankets, cloth

bandages, material and gauze

plaster bandage materials for casting
Volunteers to visit with Mexican children at Shriners hospital, and to take children on outings" while they are with foster families.

Space needed, nine feet by four feet, in someone's garage, to store three pallets of books, preferably in the Crescent Park district of Palo Alto. Also, we are looking for a modest apartment or cottage in the Palo Alto area for Hesperian workers Paul Silva and Rosa Martinez de Silva. Paul is a rehabilitation worker and Rosa is a veterinarian who coordinated the recent chicken and pig vaccination program in Ajoya.
WHY WE PUBLISH OUR OWN BOOKS
Although the Hesperian Foundation was not established with the intention of becoming a book publisher, the distribution of WHERE THERE IS NO DOCTOR, HELPING HEALTH WORKERS LEARN, and our other materials has become a major part of our work in California. A dedicated group of volunteers answers mail, prepares invoices, and ships books – tens of thousands of books each year. Many books are sent free, but we must charge for most of the materials we ship. The small profit we make from this is used to fund the distribution of free copies, to pay for subsequent printings, and to cover the administrative cost of the Foundation.
Volunteer labor helps us to both meet our financial needs and to offer our materials at below market prices. Sometimes we wonder if it is worth the trouble to process all the orders ourselves, instead of turning our book distribution over to a "professional" book publisher.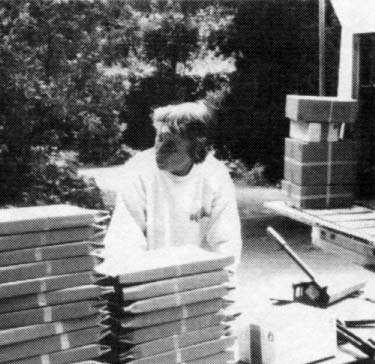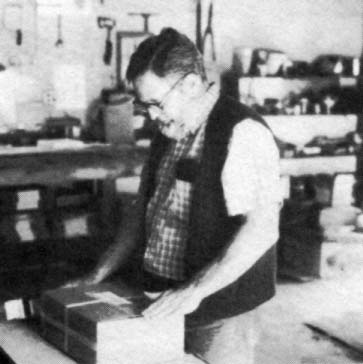 Just last month (May, 1985) a publisher approached us and offered to take over all of our book distribution, storage and invoicing. We were told we could eliminate all the bother and still meet our administrative costs since we would be paid a royalty on sales. It sounded good, until we heard what they would charge for our books: $22 to $25 each!
We will continue to self-publish as long as high commercial prices prohibit distribution to the persons for whom our books are written. Our current prices (sliding scale, from $9 to $5 including shipping) have not risen for four years, thanks to the efforts of Barbara Hultgren, Sue Browne, Pat Bernier, Paul Chandler, and the many others who help us with distribution. THANKS!
&nbsp