Disabled Children in the Slums of Nairobi
by David Werner
The Two Faces of Nairobi
The 17th World Congress of Rehabilitation International was held in Nairobi, Kenya in September, 1992. Nearly 2,000 participants from more than 80 countries attended. For most, Nairobi was just another modern city: giant hotels, spacious parks, thriving tourism, too much traffic, and a reassuring blanket of smog. The wild animal park on the edge of the metropolis has all the charm and adventure of the "drive through" portion of the San Diego Zoo.
The first page of the slick program guide for the RI Congress, under "Venue," tells us:
Nairobi, Kenya's Capital with a population of about a million, is a bustling cosmopolitan City, the home of the United Nations Environmental Programme (UNDP) and the United Nations Human Settlement Program (HABITAT). It is also the headquarters of many multinational Companies operating in East and Central Africa.
The showpiece of the city is the KENYATTA INTERNATIONAL CONFERENCE CENTER, venue of the [RI Congress]. The 32 story complex which dominates the Nairobi skyline offers 26,000 square feet of unobstructed floor area in its Plenary Hall and a host of other Conference and meeting rooms…
There is a choice of hundreds of tours to be taken from Nairobi itself. Four hours in the Nairobi National Park, just 10 minutes from the City Centre, will insure a satisfactory photographic safari.
However, this opening eulogy ends with sobering words about pickpockets who "prey on the careless pedestrian" and warns that ". . . it is advisable to stick to the area marked on the map in green."
At the RI Congress the "forgotten city" of squatter settlements within the city, with its myriad of disabled people, was overlooked.
Although officially Nairobi's population is put at one million, unofficially it is said to have more than two million inhabitants. However, an estimated 60% of the population live in squatter settlements and sprawling shanty towns, without even the most basic public services. Except for sporadic occasions when the city's urban renewal program bulldozes down a few thousand shacks leaving the inhabitants homeless, the usual official response to Nairobi's "septic fringe" is to pretend it does not exist.
At the RI Congress, this "forgotten city" within the city, with its myriad of disabled people, was similarly overlooked. There were numerous lectures on the situation in Kenya and on community programs to reach the unreached. But there was no mention (at least in the sessions I attended) about the destitute dwellers of Nairobi's shanty towns. The only indication that many persons with disabilities were quietly excluded was the large number of disabled beggars on the sky-scraper studded streets surrounding the conference center.
Squatter Community-Based Rehabilitation: Mathare Valley
I, like the other participants in the $5 million World Congress, would have remained ignorant of the other face of Nairobi, and the desperate state of its peoples, had it not been for fortuitous links to a remarkable woman who has started a small, independent rehabilitation and development program in one of the largest and poorest shanty towns.
Her name is Mwema Nkosi (a pseudonym). The initiative she has organized over the last seven years comes closer to real community based rehabilitation (CBR) than many other programs that go by that name. However, Mwema did not attend the RI Congress in her own city because she could not afford it. I learned of her through a Canadian, Laura Krefting, now working as a CBR trainer in Indonesia. Laura had been given Mwema's name by friends in Canada who help support her program. While in Nairobi for the RI Congress, Laura had given Mwema a copy of Disabled Village Children, and Mwema had invited Laura and me to visit her work with the families of disabled children in the Nairobi squatter settlements.
Mwema Nkosi has training as a psychological counselor. On completing her training she accepted a government position, but soon became concerned that the needs of the most deprived sector of the urban population were completely unaddressed. She began working with women in the shanty towns, as a volunteer two days a week. A year and a half ago, thanks to very modest contributions collected mostly by her Canadian friends, she began working full time in the "project."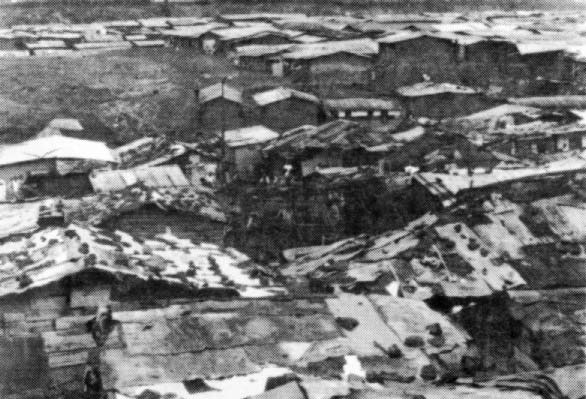 Mwema took us to visit the largest settlement she works in, called Mathare Valley, which has about 400,000 inhabitants crammed into tiny wattle, tin, and cardboard shacks in a hilly area that looks to be less than one square mile. (Mathare Valley is reportedly the second biggest squatter settlement in the world, exceeded only by an enormous settlement in Bombay, India.)
The Mathare Valley squatter settlement, she explained, dates back to colonial days. Well-to-do whites in the city brought large numbers of poor girls from the countryside to work for "slave wages" as house servants and baby sitters. The whites also brought young men from the rural areas for menial labor. Neither the girls nor men were able to bring their families. Separated from their wives, many of the men had passing relationships with the young house servants. On becoming pregnant, the girls were fired from their jobs. Unable to return to their rural families, the only way to survive was to sell their bodies. Rejected and exploited, many moved into makeshift shacks on the edge of the city. They subsisted through prostitution and peddling of a potent home-brewed liquor called chan'ga. . . occupations that remain for them a main source of income to this day.
Freedom from colonial rule brought no liberation to these outcast women. Today 90% of the shacks in Mathare Valley are occupied by single mothers. Living conditions are appalling. Mothers with six to eight children reside in tiny, dirt-floored shacks, no bigger than an average bathroom. The tin roofs leak and the floors turn to mud when it rains (it was drizzling when we visited). The shacks are jammed next to each other, filling every available space. There are no latrines and no space to build any. Open, foul-smelling sewage ditches flow by the edges of the huts.
Mwema estimated that only 5% of the adult population in the squatter settlement is legally employed at any one time.
Although the tenants of these settlements are squatting illegally on government land, they pay rent to wealthy "slum lords." The slum lords initially paid a bribe to corrupt government officials for permission to put up a series of shacks, which they then rented to the poor. The more shacks that can be crowded into a small space, the more rent the slumlords can collect. Since officially the shacks do not exist, the slum lords pay no taxes and are subject to no standards, inspections, or controls. And the inhabitants receive no public services—except sometimes when an epidemic breaks out that might spread to more affluent neighborhoods.
Children in the Mathare Valley are everywhere, undernourished but astoundingly full of life. A lot of teenagers and men seem to be just hanging about. Mwema explained that some of these men live with the women, but usually on an intermittent basis, often abandoning them in times of crisis.
Mwema estimated that only 5% of the adult population in the squatter settlement is legally employed at any one time. Nearly everyone subsists through the informal economy—a better option than paid employment, given that wages for unskilled labor are very low. Wages are about 1200 Kenya schillings a month (about US$40.00). Of this, 300 KSh are taken out in taxes. The slum lords charge the residents up to 500 Ksh a month. The city authorities extort a "security fee" of 50 Ksh and, if not paid, will confiscate the family's fire box (used for cooking). To travel to and from their place of employment, bus fare is usually at least 20Ksh per day. Add it all together and there is nothing left for food. So most people simply cannot afford to be employed in the formal sector.
With the high unemployment rate and the overall hopelessness of the situation, drunkenness is high, especially among the men. There is also a lot of drug use, mainly glue sniffing and bangi (marijuana), with a still limited but increasing use—and trafficking—of cocaine.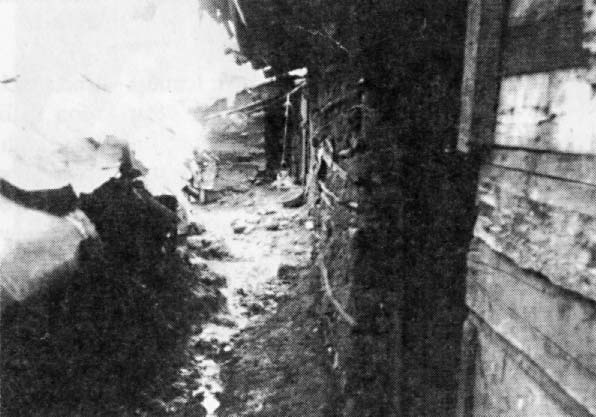 With the high rates of alcoholism, unemployment, and hopelessness, the rates of violence, crime, and rape are also high. Mwema explained that one reason why virtually no public services reach Mathare Valley is that government workers—except for armed policemen—dare not enter. Strangers to the area are often beaten and robbed.
Abuse by the police is another common problem. Almost at random, police accuse women of buying or selling home-brewed chan'ga, in order to extort money out of them. The woman who refuses to pay is thrown in jail. And once in jail many detainees "get lost." Years may pass before they go to trial or are released.
Mwema is convinced that the reason the police department so brutally harasses the women for production and sales of home-brewed chan'ga is that the national and multinational alcohol industries have such a powerful political lobby. It is an attempt to reduce a very major form of competition—through terrorization.
Even the dismal living quarters of people in Mathare Valley are tenuous. When a mother leaves her small hut in the morning, she is never certain that it will be there when she returns. Sometimes the government or a building contractor sends in bulldozers to "clean up" a portion of the slum for an industrial project. But more often they simply pay thugs to set a fire. The cardboard shacks go up like tinder. During my stay in Nairobi, 300 huts went up in flame one day and several people burned to death.
AIDS, which is such an enormous problem in most of Africa today, has an especially high incidence in these communities. Prevention campaigns had reached the slum, as we could see by the number of used condoms on the muddy pathways. But in an area without latrines or sewage disposal, this preventive health measure has in some ways backfired. With no other toys, children use the discarded condoms as balloons, and sometimes contract diseases. Mwema sees the lack of safe disposal of condoms as a growing health problem.
Hungry adolescents have found a way to profiteer from people's fear of AIDS. Filling discarded syringes with blood taken (they say) from persons with "slim disease," they corner strangers and threaten to inject them with AIDS-infected blood if the person does not hand over all their money and goods. Apparently this form of extortion has become quite common.
At most, only 20% of the children in Mathare Valley go to school. Now that schooling is no longer free and shoes are required for attendance, many mothers cannot afford to send their children.
Children Disabled by Poverty
From the time she began to work in Mathare Valley, Mwema has been concerned about the large number of disabled children. Such children live in dreadful circumstances. Their original disability is often complicated by malnutrition, infectious disease, and neglect. Their mothers, struggling to keep their families fed and alive, understandably give the little food available to their more able children who can bring in some income, mostly through stealing. (The shanty town is too far from the urban center to send children out to beg.)
Many mothers face a difficult decision. Do they lock up their disabled child in the but all day, in order to go out and try to earn enough money to feed her? Or do they stay home with their disabled child, and let her starve? Under such circumstances, Mwema soon realized that rehabilitation work with disabled children must focus on helping the single mothers earn a bit of income, if possible, out of their own homes. With the help of very limited outside funding, she helped mothers of disabled children to set up small income-generating initiatives. Some mothers sell paraffin (kerosene), others charcoal or firewood. She also brought several mothers of disabled children together to take turns caring for a small group of the children, so the others could go out to earn money.
Many mothers face a difficult decision. Do they lock up their disabled child in the but all day, in order to go out and try to earn enough money to feed her?
To explore possibilities for other solutions, Mwema began to meet with various groups of the women. Women's committees were formed and subsequently a number of cooperative work groups were established. Several foot-treadle sewing machines were obtained, and sewing cooperatives have been set up. Currently there are six women's groups with an average membership of 20 to 30. Some groups have begun small chicken-raising cooperatives. Others run a nine-month course in tailoring and dressmaking (where half the class pay fees that cover the costs of those who cannot pay). Some of the Masai tribal women, who have migrated to the city and located in the settlement, have begun to produce some of their traditional crafts, and marketing channels are being set up for tourist trade and export.
Perhaps the biggest breakthrough of all is that one group of women has managed to buy land and, with their own manual labor, has built a house in an open area across from the Valley, in a much healthier environment. Thus the slum dwellers are learning that through united action they can begin to change the conditions which for so long have seemed insurmountable.
At present, the program consists of a staff of nine persons, most of them exceptional women from the shanty town itself. One of the most capable is Hadija (a pseudonym), who is learning, among many other activities, basic physiotherapy from a therapist who the government now sends out for one afternoon a week. The program has also succeeded in working out arrangements for free medical treatment and orthopedic surgery with doctors in a private mission hospital. Mwema explained that it was very hard to gain admittance to the public hospitals or to get competent treatment there.
For some of the multiple-disabled children living in the worst circumstances, Mwema and her team felt that institutional care might be the only answer. She made arrangements for several of the children to be taken to a Mother Teresa Home on the outskirts of the city. On taking the children there, she was disturbed to learn that, prior to admittance, a paper had to be signed agreeing that if the children died their bodies could not be reclaimed. Only later did she learn that this was a prophecy of death. In the Home the children were severely neglected, in spite of substantial international funding. The children began to develop pressure sores and infections from lying unattended in one position, for long periods of time. Two of the children died.
I asked Mwema how children were treated in the large government homes for abandoned and orphaned children. She shook her head emphatically and said, "Much worse!"
Mwema tried to get some of the disabled children into school. Government officials suggested she take them to KISE (Kenya Institute of Special Education) which has a large center a mile or so from Mathare Valley. But for the mothers to get their children to the school is virtually impossible. Most of the settlement is completely inaccessible to any kind of transport. The children would need to be carried on steep muddy paths for long distances.
In time, the women's committees decided to setup a small rehabilitation center and school of their own. With help from Mwema's support group in Canada, a parcel of land was purchased from the large, unpopulated land holdings just outside the crowded settlement area. On it the community constructed a modest building known as the Maji Mazuri Center. It is staffed mostly by local community persons who are learning skills in physiotherapy and special education. At present 17 children, all from extremely difficult home situations, reside at the center. Their families are encouraged to take part in center functions and are taught skills to better meet their child's needs. When possible, they take their child home on weekends.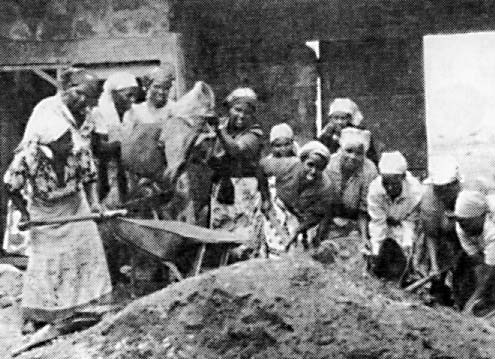 To help the mothers of the disabled children learn from each other, weekend "camps" are organized (often in a scout camp outside the city) where the families join in common activities, discuss one another's problems and needs, and are involved in mutual peer counseling.
One of the most exciting activities in the community has been the development of drama groups involving the community's young adults. Themes are chosen to raise awareness both among the actors and the audience about such concerns as alcoholism, drug abuse, AIDS, and violence. By drawing from the group's actual experience, the skits explore how the frustrations of unemployment, low wages, abuse by the police, government neglect and corruption, and other factors lead to misdirected anger and destructive acts. They explore more constructive alternatives. Some of these dramas were so well done that they were performed in Nairobi's All Saints Cathedral, where they were enthusiastically received.
The first two children we visited in the Mathare Valley had epileptic seizures. The first, a 13-year-old girl who is also mentally retarded, was raped when her mother left her alone in the hut, and now has a baby the same age as her mother's youngest. In such circumstances, Mwema and Hadija have tried to organize 'neighborhood watch' support groups of women to help protect defenseless girls.
High Incidence of Epilepsy
The second child had been a great worry to her mother. Because of the child's frequent fits, the mother felt she had to stay close by, and was unable to go further afield to earn a living. As a result, the family has often gone hungry. However, if the child's fits could be controlled with medication, her mother could be freed to be more productive and this would help combat the family's chronic undernutrition.
Of the 52 disabled children whose families are now integrated into the program, 18 have fits. This unusually high rate of epilepsy is no doubt related to poor nutrition, stress, and illness of the mothers during pregnancy, with a high rate of complications and premature birth. Cerebral malaria is also a major cause.
The program has arranged for these epileptic children to get medical assessment, and medicines are routinely prescribed. However, most of the children usually go without medication because their mothers cannot afford it. Often the doctors prescribe very costly medicines, although in most cases phenobarbital—which in large quantities is very cheap-works as well. One of the possibilities we (friends of Mwema) are exploring is how to get a large supply of generic barbital to the program, so that the children who need it can receive uninterrupted medication.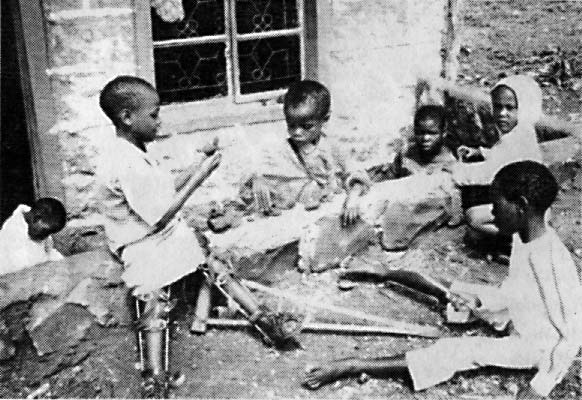 We asked Mwema if there are other programs helping to meet the needs of disabled persons in Mathare Valley or equally destitute shanty towns. She explained that in Nairobi there are several other slums where conditions, while bad, are not as overwhelming as those in Mathare Valley. These somewhat "better off slums," she said, are those that receive more help. Health and development projects run by large non-governmental organizations (NGOs) usually work fairly closely with or follow the directives of the Kenyan government. The government—perhaps in part to save face—does not send them to the most marginalized and dangerous communities. And so, as happens in so many countries, those in greatest need fall between the cracks.
Mwema realizes that dealing with the root problem of disability really means working toward social change.
Mwema recognizes that her efforts in Mathare Valley are an uphill battle. For a small number of women and children, her program makes a great difference. She says that what keeps her going is the changes she sees in individual women; sometimes little things such as the way they begin to stand straighter, or find the courage to speak out in meetings. But Mwema realizes that dealing with the root problem of disability really means working toward social change. Poverty that causes malnutrition results in premature, high-risk children, no money for immunization, and no medicine to combat malaria and high fevers that lead to disability.
In Kenya today, the squatter settlements continue to grow as large agribusiness concentrates land ownership into fewer hands, forcing more and more peasants off the land. Poverty, hunger, and social disintegration are increasing, as is the wealth and control over the economy by foreign multinationals and the ruling elite.
For every disabled child whose needs are partially met, several more appear who as yet receive no assistance at all.
Rehabilitation efforts at the community level are important. But, in the long run, perhaps the biggest contribution of grassroots programs, like the one Mwema has initiated, lies in the empowerment of marginalized peoples. As people organize to meet their own needs, they may begin to join with others to form part of a united popular front demanding more direct participation in society, as well as greater accountability of the forces that govern it. In Kenya, such a movement is already on the rise.
A Less Successful Program in Another Nairobi Slum
Two weeks after visiting Mwema's project in Mathare Valley, I had a chance to visit the health and development program run by a large Northern NGO in a neighboring slum called Korogocho. This was clearly one of the somewhat "better off' squatter settlements of which Mwema had spoken. While conditions there were bad, the shacks were larger and the whole community was a bit less crowded. It was also more accessible. The government had put in a grid of wide dirt roadways by bulldozing down thousands of shacks.
In Korogocho, the city had also put in piped water in response to a cholera epidemic which it feared might spread beyond the slum's limits. But the slumlords at once assumed control of all the water outlets, and put selected families in charge of them. So now people are charged 5 shillings for each can of water.
The Korogocho program is a classic example of how health and development interventions introduced from the outside can go wrong. The program planners quite rightly have given priority to prevention of diarrheal disease, which is the biggest killer of children in the slum. With government approval, the NGO introduced a series of giant public latrines, each larger and more solid than even the best of the people's shacks. The latrines, which were built with government approval, were designed to be automatically flushed by a timed discharge of water every few minutes. However, three years have gone by and still the government has not got around to authorizing the hookup of the water supply. So the defecation palaces are standing idle.
The other major initiative of the Northern NGO in Korogocho appeared more promising. Since the vast slum community had no schools, the NGO worked out an agreement with the government to build some. Tracts of shacks were bulldozed down accordingly and the schools were built. However, as a result of the structural adjustment policies of the World Bank, the budget for public education has been drastically reduced, and schooling is no longer free. Families have to pay for schoolbooks, desks, and uniforms, on top of a "building fee." Consequently, many simply cannot afford to send their children to school.
The one very positive contribution which the Northern NGO has made in Korogocho is road improvement. In the rainy season, the wide roadways the government had bulldozed through the settlement turned into an almost impassable sea of mud. The NGO has paid to have truckloads of gravel and sand hauled in to raise and solidify the surface of the road. This has made the road much more functional in the rainy season, and in case of medical emergencies.
All in all, however, as I compare the high-cost outside interventions of this Northern NGO with the very low-cost community activities facilitated by a local Kenyan woman in Mathare Valley, I cannot help thinking that ultimately the most appropriate and far-reaching solutions lie in the people themselves.
Will the Multi-Party System in Kenya Bring More or Less Democracy?
Like many of its neighbors, Kenya has a history of tyrannical rule both during colonialism and since. Following emancipation from British rule, an indigenous elite, backed by brutal "security forces," firmly entrenched itself in power. As in so many Third World countries, the rulers often put the interests of foreign multinationals before those of their own people, keeping wages miserably low and crushing attempts to organize labor. In return, these "market friendly" governments received generous amounts of aid from Northern governments and development banks. Enormous wealth accumulated in a few hands while natural resources, the environment, and the vast majority of citizens were cruelly exploited and impoverished. As growing poverty and hunger bred social unrest, security measures became more repressive. By the early 90s, no one dared criticize the government openly, and any two or three people talking together ran the risk of being arrested for holding an illegal public meeting.
In the last year or so, Kenya has been going through a series of upheavals. In December 1991, yielding to domestic and international pressures, the president-dictator Daniel Arap Moi finally agreed to move toward an election-based multi-party system.
Ironically, the move toward 'democratization' brought with it increased violations of human rights, a clamp down on the press, and the arrest of political dissidents. While in Nairobi, I watched President Moi on television announcing to the military that the introduction of the multi-party system requires a tightening of security measures to prevent "the disintegration of social order." To buttress social control, the Moi government has hurriedly enacted amendments to the Public Security Act, Public Order Act, Chief's Authority Act, and the "defamation and libel law." According to social activists, these new measures are "inhibiting the transition to political pluralism."
Concerned Kenyans explained to me that the recent outbreaks of violence between different ethnic groups have been kindled to a large extent by the ruling Kanu Party government. (They can be compared to the South African government's "divide and conquer" tactic of inciting inter-tribal violence.)
But in spite of General Moi's attempt to keep a lid on the growing unrest, a groundswell of organized protest is underway. Various activist organizations, including the Release Political Prisoners pressure group, the Democratic Movement, the Students Organization of the University of Nairobi, and Mothers of Political Prisoners have organized mass demonstrations and demanded audiences with public officials, calling for structural change and the release of political prisoners. Riot police have been called out to break up the demonstrations, but more and more grassroots protests are taking place. Even the swelling ranks of street children in Nairobi have begun to organize and demand their rights.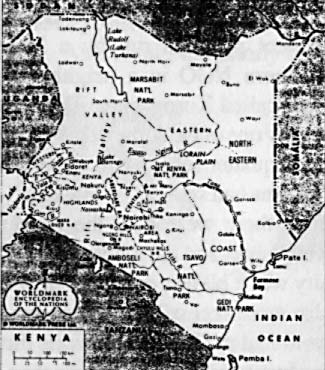 In the last few months, thanks to increasing pressure from grassroots groups within the country and international sanctions from without, there has been a gradual political opening in Kenya. The press has become more outspoken. And people speak quite openly of the corruption of the government and its failure to respond to their needs. On September 17, I read in the East African independent newspaper, The Standard, that a new human rights pressure group has been formed, called the Kenya Human Rights Commission. This new group has called on Attorney General Amos Wako to repeal the new "draconian pieces of legislation which impede a smooth transition to mull-party democracy." According to The Standard:
The [human rights] group noted that Kenya's current political crisis does not merely stem from the personality of President Daniel Arap Moi per se, but is the product of a power structure heavily skewed in favor of the executive and against the people.
The [Kenya Human Rights Commission] criticized both the Government and the opposition for ignoring the need to restructure the organs of state in order to improve the human rights situation in the country. 'The unfolding political situation in Kenya is remarkable in its subordination of fundamental human rights principles. All parties engaged in the political arena—whether in Government or opposition— have tended to ignore the need to restructure the organs of state in order to improve the situation of human rights in Kenya. (Sept. 18,1992. Page 3, "Another human rights pressure team formed" by Othelo Grudush)
Kenyans welcome the multi-party system, but have little faith—even if one of the opposition parties wins the elections—that the government will become much more responsive or accountable to the people. One community health worker put it bluntly: "Whatever party wins, essentially it will be the same big fish running the show."
Selling Children for Water and Food
As throughout much of the world, the most basic human right is being denied to an increasing number of people in Kenya: the right to the bare minimum of water and food needed in order to sustain life.
Although the living situation of the people in Mathare Valley is desperate, there are other peoples in Kenya whose survival is even more precarious. One such group is the Turkana tribe near the Sudan border. Living in conditions of extreme drought and poverty, thirsty and starving families are bartering their children for water and food. They sell some to keep the others alive.
The plight of the Turkana tribe—which is now on the verge of extinction—is reportedly another outcome of the draconian security measures instituted in the advent of multi-party democracy. According to a statement by a former District Officer of the area, the famine stricken Turkana people receive none of the food aid which is transported through their territory to Sudanese refugees at Kakuma. The only assistance that reached the Turkanas was through a group of Catholic missionaries, "who helped to feed them while working on long-term plans to make the community self-reliant." They brought in drilling equipment to put in boreholes to irrigate the potentially highly productive land. This "could have transformed the whole area into a food granary and rehabilitated the Turkanas." However, the Catholic missionaries were abruptly deported and the drilling equipment withdrawn, "following cooked-up charges that the missionaries were involved in arms shipments."
According to this District Officer, "No amount of relief food would help the Turkanas out of their natural predicament.. .The best the government can do to rescue the Turkana community is to reinstate the Catholic missionaries" and allow them to proceed with the water project. ("Human auction: Police keep vigil," The Standard, Sept. 18, 1992, page 2)
On leaving Kenya, I took with me diverse impressions of primary health care and community-based rehabilitation. Much good work is being done. But looking at the overall situation, it is apparent that these initiatives cannot turn the tide of increasing disability and poor health. Nor can great hopes be placed on the emerging multi-party system with its facade of democracy. If real transformation toward a healthier society is to come, I believe it will be achieved through the growing groundswell of protest and popular resistance. Ultimately, the health of a people depends not on top-down decrees, but on an organized demand for equal opportunity and social justice. The struggle for health is the struggle for basic human rights.
&nbsp