Disabled People as Leaders in Meeting Their Needs
by David Werner

The Independent Living Movement (IL)
In recent years disabled people-like many other disadvantaged and unfairly treated groups including racial and ethnic minorities, women, lesbians and gays-have begun to stand up for their rights. In the United States and Europe the Independent Living Movement, organized and run by disabled persons themselves, has fought for equal opportunity in terms of education, jobs, accessibility, transportation, and a leading voice in decisions that affect them. They have pushed for legislation in support of such equality and representation. While much still needs to be done, they have achieved a lot.
With regard to rehabilitation services, disabled people are also gradually taking a more leading role, although progress has been slower. Rehabilitation International, an organization which for years was traditionally run by non-disabled professionals, has gradually begun to give disabled persons stronger representation. But this shift toward acceptance of disabled people as partners rather than patients has been an uphill battle. Some 15 years ago, when the annual assembly of Rehabilitation International failed to give disabled participants a stronger role in decision making, the disabled persons in the assembly separated off and started Disabled Persons International. DPI has helped groups of disabled people in Third World countries organize and stand up for their rights. In many countries disabled persons have adopted the slogan NOTHING ABOUT US WITHOUT US.
The strength of the Independent Living Movement is that it is led and organized by and for disabled persons themselves, who demand equal opportunity and full integration into all aspects of community life. There is little question that the legislation protecting the rights and opportunities of disabled people in the US and Europe has been achieved only because disabled persons and their families have organized and made their demands heard.

The weakness of the Independent Living Movement is that it mostly involves and caters to middle-class disabled persons and too often overlooks the needs (and even existence) of poor, marginalized disabled persons. In Northern countries where the middle class is the majority, this may be more acceptable. But in the Third World where most disabled people live in extreme poverty, DPI and the Independent Living Movement have in many cases not done enough to include very poor disabled persons in their membership/leadership or to respond realistically to their needs. (For example, in many poor countries DPI avidly campaigns for wheelchair accessibility for those fortunate few who have wheelchairs, without showing adequate concern for the huge number of people who need wheelchairs but cannot afford them.) The poorest disabled persons tend to remain abandoned, unorganized, and unattended. Poverty and often hunger add to their disability.

Community Based Rehabilitation (CBR)
Community based rehabilitation is an initiative to deinstitutionalize rehabilitation services and to foster activities within neighborhoods and villages to promote basic rehabilitation and integration of disabled persons. The World Health Organization (WHO) has formulated a standardized approach to CBR, which it has launched in many countries. In most cases the WHO model might better be described as home based rehabilitation. It involves training a 'local supervisor' whose primary role is to work with disabled persons and their families in their own home. The best of these programs place considerable emphasis on schooling, work, social activities, and other measures to foster the self-reliance and integration of disabled persons in the community.
CBR is an important alternative, insofar as institutionalized rehabilitation services in most Third World Countries are few and far between, urban based, very costly and reach only a small fraction of those who need them. The only realistic way that the vast number of disabled people in poor rural communities are likely to benefit is to demystify rehabilitation skills and place them in the hands of community volunteers, family members, anddisabled persons themselves.
The primary strength of CBR is that it reaches into rural communities and tries to reach the poorest and most isolated of disabled person. It is an approach based on equitable coverage.

The weakness of many CBR programs is that usually they lack leadership by disabled people themselves. The organizational structure of CBR tends to be hierarchical: the Program Supervisor supervises the Local Supervisor who supervises the Family Supervisor who supervises the disabled person, who is definitely on the bottom of the totem pole. Disabled people become the objects rather than the subjects of their rehabilitation.
Combining the best of Independent Living and Community Based Rehabilitation
In the last few years, disabled groups and rehabilitation workers alike have been awakening to the need to bring together the best of Independent Living and of Community Based Rehabilitation. They foresee great benefits in combining the self-determination and leadership of IL with the focus on the poorest and most isolated disabled people which is characteristic of CBR.
This combined approach of self-determination plus inclusion of the poor is something that Project PROJIMO has embraced since its conception in 1981. PROJIMO is run and staffed by disabled villagers. The program's aim is to reach out to those who, for reasons of poverty or geographic isolation, have been unable to benefit from urban institutional rehabilitation services.
Because PROJIMO has been a pioneer in this empowering approach, it has provided ideas and inspiration both to disabled persons' organizations interested in launching CBR initiatives, and to CBR initiatives looking for ways to involve disabled people in leadership roles. Disabled leaders and technicians from PROJIMO have been invited to visit community programs in several countries, as well as to share their methods and experiences in national and international workshops and fora.
As a long-time facilitator/advisor of PROJIMO and author of Disabled Village Children, a handbook that grew out of the PROJIMO experience, I (David Werner) have had the opportunity to participate in gatherings in many countries to explore and promote the merging of the best of IL and CBR. Some of the more important events include:
• Bangalore, India, April 23, 1993. Regional Meeting coordinated by Action on Disability and Development (ADD). The South India branch of ADD is directed by B. Venkatesh, a blind activist who co-founded the Centre for the Physically Disabled in Bangalore and who for decades has fought for the rights and empowerment of disabled people. In 1989 he visited PROJIMO. Now with ADD, he has helped launch and advise a number of rural CBR initiatives in which disabled persons play key roles. The keynote address of the Regional meeting-"Disabled People in the Struggle for Social Change" by David Werner-is available from HealthWrights.
• Solo, Indonesia, Nov. 22-26, 1994. Asian Regional Meeting on "The Role of Disabled Persons in Community Based Rehabilitation." This meeting, attended by more than 60 disabled activists and leaders of organizations from several Asian countries was a major watershed in promoting the leadership of disabled persons in CBR. Many of the disabled participants who had been skeptical about CBR recognized its potential and the need for organizations of disabled persons to reach into poor neighborhoods and communities. A paper on "Strengthening the Role of Disabled Persons in Community Based Rehabilitation" is available from HealthWrights.
• Vienna, Austria, June 1995. "Consultative Expert Meeting on Integration of Disability Issues in Development Cooperation Activities" convened by the United Nations Division for Social Policy and Development. This meeting was called to put together a manual of guidelines for inclusion of disability issues and rehabilitation in international development assistance. A lot of attention was given to design and provision of appropriate technical aids. Participants supported a principle long emphasized by PROJIMO, namely that "It is important to adapt the assistive equipment to the disabled person, rather than the disabled person to the equipment." In recognition that many of the most notable breakthroughs in assistive equipment-ranging from wheelchairs to artificial limbs and orthopedic appliances-have been designed and built by disabled persons themselves, this UN workshop determined to encourage the stronger inclusion of disabled persons as leaders and technicians in rehabilitation and in the design and individualized production of rehabilitation equipment. This emphasis from the United Nations will hopefully help to raise awareness of the rehabilitation establishment of the importance of including disabled persons as partners in defining, designing, and evaluating solutions to their needs.
One of the themes stressed in this workshop was that "A SOCIETY FOR ALL can only be achieved through an integrated approach." A graphic illustrating this idea (an early version is included in the workshop report) is shown at the top of page 3 of this Newsletter.
• Madras, India, Sept. 5-14 1995. "Technical Workshop on Indigenous Production and Distribution of Assistive Devices," coordinated by UN-ESCAP (United Nations Economic and Social Commission for Asia and the Pacific). This exciting workshop provided an opportunity for rehabilitation specialists and technicians from 22 countries in Asia and the Pacific to visit some of the most innovative rehabilitation programs in south-east India. Although most of the participants in the workshop were non-disabled, and although most of the programs visited were run by non-disabled persons, virtually all the programs visited were 'disabled person centered.' The staff of the programs visited repeatedly emphasized the importance of including the disabled client as a co-worker and equal in the problem-solving process. We saw many assistive devices which had been designed or improved by disabled persons themselves. These ranged from wheelchairs to special cushions to prevent pressure sores. (See the account of a village visit on the next page.)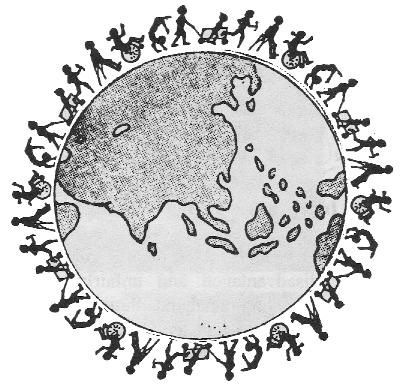 A report on this ESCAP workshop will soon be available from: San Yuenwah, ESCAP, UN Building, Rajadaminern Ave., Bangkok, 10200, Thailand.
Linking Community-Based Rehabilitation (CBR) and 'Independent Living'
• Rio de Janeiro, Brazil November 27-29, 1995. Although to date Brazil has little to show in terms of Community Based Rehabilitation, the potential for innovative CBR initiatives involving leadership by disabled persons seems high. In November, 1995, the National Coordination for Integration of Disabled Persons (CORDE), a division of Brazil's Ministry of Justice, convened an international forum to explore "Alternatives in Community Based Rehabilitation," with the goal of establishing guidelines and an "agenda for action" for promoting CBR in Brazil.
What made this policy-planning forum exceptional was that it was coordinated jointly by the Brazilian Government (CORDE) and the Independent Living Center of Rio de Janeiro (CVI-RJ). One third of the 30 participants were disabled, and disabled leaders and activists were given full opportunity to present their views and lead discussions. The CBR-planning forum was held following a huge 4-day symposium called DEF'RIO (Disability Rio), likewise sponsored jointly by CVI-RJ and CORDE. The symposium was also occasion for the public launching of the Portuguese translation of Disabled Village Children, the first edition of which was sponsored by CORDE with the help of UNICEF. CORDE will make the first printing (7000 copies) available free to disability groups and rehabilitation programs, especially those involved in or initiating community-oriented programs. The author of the book, David Werner, took part in the launching and presented the opening 'position paper' at the CBR planning forum.
The result of the forum represents a major breakthrough in policy-making in terms of a flexible, innovative, consumer-empowering approach to CBR. The problem-posing and planning process was participatory and democratic. A wide range of presentations and experiences was followed by 'brainstorming' sessions. Each participant drafted suggestions on cards, which were posed, discussed, and grouped according to theme. The result was a situational analysis, needs assessment, and finally conjointly drafted guidelines for action. Several outstanding recommendations of the final policy document are (paraphrased) as follows:
Disabled persons, organizations, and family members should play a central role in the planning, design, function, and evaluation of CBR initiatives.

Policy should be flexible, open-ended, and supportive of diverse approaches. Rather than formulating a single plan or 'methodology' for CBR, a range of activities should be encouraged that is rooted in, and adapted to the expressed needs/realities of local communities.

The role of government at all levels should be to assist and advise rather than to control or normalize local programs, whether government supported or independent. It should help facilitate information sharing and interchange of ideas/experiences among grassroots initiatives, and should provide resources, advice, professional and institutional back-up, and promote intersectorial cooperation.

Self-determination and full participation of disabled persons in society should be underlying goals of CBR. Existing organizations of disabled persons, independent living movements, and human-rights initiatives should be involved as facilitators/protagonists in an organized effort to achieve these goals.

The underlying vision of CBR embraces equity and calls for wide-reaching social change. CBR is therefore part of a larger, humanitarian movement. This involves working toward a society which is inclusive and fair to all persons, which provides equal rights and opportunities to all who are weaker, different, marginalized, or exploited for whatever reason.
It will be interesting to see if this expanded and flexible vision of "CBR," which involves strong leadership of disabled people and a variety of locally designed and managed approaches, will come closer to achieving full participation in society than do the top-down programs in many countries today.
&nbsp