Update on Child-to-Child for Disabled Children-PROJIMO, Mexico
In Newsletter #31 we saw how disabled rehabilitation workers at PROJIMO used Child-to-Child activities to encourage school children to be kind, not cruel, to a child who is different. We told the story of Jesus, a boy with spina bifida who also is partly blind and has only one leg. Jesus' classmates had made school so miserable for him that he wanted to drop out. But after the Child-to-Child experience helped the pupils (and teacher) understand Jesus's unusual needs and abilities, everyone became more understanding and friendly. Jesus enjoyed school so much that he chose to return to Ajoya (the village where PROJIMO is located) for school this year, too.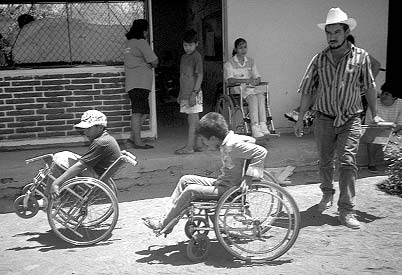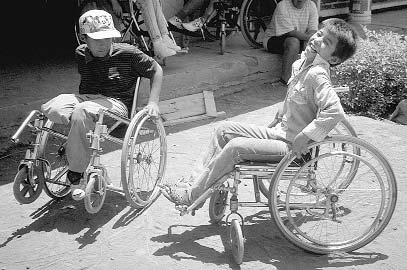 Jesus now helps to facilitate Child-to-Child activities in other villages. Not long ago a family from a village called Limon came to PROJIMO with two children with muscular dystrophy, age 9 and 11. The brothers, who walk awkwardly, were very shy. They did not go to school and their parents did not send them because they had been teased by other children. The PROJIMO team thought Child-to-Child might help. They invited Jesus to go with them to Limon.
During the Child-to-Child activities at the grade school in Limon, the two brothers watched from a safe distance. They were astounded when Jesus ran in a wheelchair race with the most athletic children in the class. Skilled in wheelchair use, the disabled youngster left his able-bodied competitors far behind in the dust. Having won respect of the other children, Jesus did 'wheelies' (balanced on the chair's back wheels) and whirled in circles on two wheels, gracefully dancing. The able-bodied riders tried to imitate Jesus, with upsetting results. Everyone applauded Jesus, who thrived on the attention. Overcoming their fear, the two brothers with muscular dystrophy came closer to get a good look.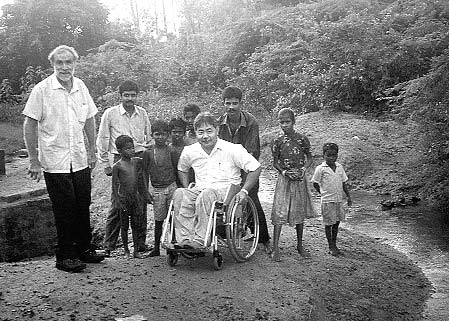 After the activities the PROJIMO team discussed with the enlightened class and teacher the importance of treating disabled children as equals, and of helping them to build on their strengths rather than pitying or teasing them for their weaknesses. The school children appeared eager to befriend and assist the two newcomers. And the brothers, after watching the children's admiration for the blind boy in a wheelchair, lost some of their fear of school. Arrangements were made for the boys to attend school next term.
All benefitted from this experience, not least, Jesus. Not only did he win admiration from his peers, but discovered the joy of helping other children in need gain new self-confidence and hope.
During the Sept. 1995 ESCAP workshop on "Indigenous Assistive Devices for Disabled Persons" in India, one of our field trips was to an outstanding spinal cord injury rehabilitation center linked with the Christian Medical College (SMC) in Velore, about 100 miles west of Madras. Started in 1934 by a visionary woman doctor who had become paralyzed in an accident, this center is one of the best comprehensive programs for spinal cord injured persons that I have seen. The director and outstanding staff include their paraplegic and quadriplegic clients in the problem-solving process as friends, co-workers, and equals.
Spinal cord injury units in the United States and many other countries encourage most clients to use wheelchairs as their primary means of mobility. Walking is considered too problematic. However, in many parts of rural India wheelchair mobility is almost impossible (as one of the ESCAP team discovered on a village visit). Adapting to this reality, the SMC Center staff fits most paraplegic clients with leg braces and elbow crutches, and teaches them to walk. We were astounded how well some of the program's graduates were doing.
| | |
| --- | --- |
| Alok, who is paraplegic and walks with braces, leads a cow. | Alok operating a sugar cane mill. |
We visited one paraplegic man at his home in a small village. On arrival we found Alok on his feet operating a rustic, motorized sugar cane mill. We had to look twice to see that he was disabled. On our arrival, he bounded over a pile of milled cane and greeted us warmly. We observed him in a wide variety of daily chores, ranging from clearing pathways to leading his cow across the narrow dikes of a rice field. He appeared in excellent health and was completely self-reliant, providing for his wife and children through his own hard physical labor.
Alok had built many adaptations to cope with his environment, including a pit latrine with a rounded wooden seat (unique for rural India) next to a water trough. To catheterize himself (for urinating) to save money he had stopped using a costly medical lubricant and used castor oil. But he found the commercial castor oil was unclean and caused urinary infections. So he started to grow his own castor trees and pressed the beans under clean conditions to extract his own oil. He said that with this clean home-made oil he'd had almost no problems with infection.
Observing the innovative problem-solving ability of village disabled persons like Alok made a deep impression on the visiting rehabilitation specialists and technicians. By the end of the 10 day program, many declared they would work more as 'partners in problem solving' with disabled clients, and encourage them to come up with, or improve upon, their own devices and solutions. These visiting professionals gained greater respect for the creativity and abilities not only of disabled people, but of poor, unschooled disabled people. And that is a major breaKthrough!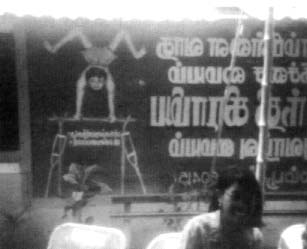 The influence of PROJIMO and Disabled Village Children reaches far and wide. Here the wall of the Gandhi Rural Rehabilitation Centre of Alumpundi, Tamil Nadu, India, displays a colorfully painted version of the drawing that has become a logo of PROJIMO and HealthWrights. The caption, translated into Tamil, reads "Look at my strengths, not my weaknesses." The Centre provides rehabilitation and assistance, primarily to children paralyzed by polio.
&nbsp