A Visit to Chile: To Help Launch a New Book on the Struggle for Health and Dignity
MONITORAS DE SALUD, TRAYECTORIAS DE PARTICIPACION Edited by Maria Eugenia Calvin with Alicia Grandón Garrido Available (Spanish only) through: Casilla EPES 360-11, Santiago, Chile—"We are no longer the same. We have made ourselves see."
In November 1995 the progressive grassroots In November 1995, the progressive grassroots program EPES (Educación Popular enSalud; Popular Health Education) invited David Werner to Chile to exchange experiences and ideas. The occasion was the launching of a landmark book: Monitoras de Salud, Trayectorias de Participación (Community Health Workers: Actions through Participation). The book documents 10 years of people's struggle for their health and rights in poblaciones (poor urban settlements) of Santiago and Concepción. Key actors are the monitoras, mainly mothers and housewives who, on learning basic preventive and promotive health skills through EPES, volunteer in the community health program.
For the monitoras—as for the community groups they mobilize—participation has been an enlightening, often liberating process. But it has also brought difficulties and dangers that emerge when oppressed people (especially women, who are often doubly oppressed) begin to organize and demand their rights. Realizing that health for all is inseparable from social equity in meeting basic needs, the monitoras help neighbors to analyze the root causes of their ills. Then they plan and take collective action to resolve common concerns and to work toward building healthier communities in a more fully democratic society. Win or lose, their united effort is empowering. In the words of two monitoras:
CLAUDIA: "I learned to face problems and to say what I want, also to ask questions … to know I can defend myself, open my mouth, learn that I am able."
NADIA: "When I entered the group, I felt useless, that I was wasting my life. I felt insecure. I just let things happen, accepted them passively. This depressed me and was driving me mad … Entering the group permitted me to take decisions, decide things concerning my life. To participate has rejuvenated me, restored my self-confidence. I have recovered myself, my sleeping dreams."
For me (DW) it was humbling to exchange experiences with the monitoras and staff of EPES. Deeply committed to the common good, they have long been social activists. During the dictatorship, many were harassed, tortured, jailed, or otherwise terrorized. Their stories are ones of uncrushable courage and commitment.
The beauty and power of Monitoras de Salud (the book) is that, in their own words, these women describe their experiences, their solidarity, their awakening. They reflect upon the personal and collective transformation they have realized through mutual struggle to solve local problems and—in the long run—to build a fairer, more caring society.
RAQUEL: "To change the country. To have a president who identifies with the poor, who is truly democratic, who doesn't just say things will improve for the poor, but brings changes that are real… For changes that benefit us all we must have people who genuinely side with the poor… A good health system. We poor will be better off, and with more possibilities to work."
Violation of rights before and after the dictatorship. In Santiago I was privileged to meet with the famed lawyer, Fabiola Letelier, who heads the Chilean Association for Human Rights, CODEPU. Fabiola is a sister of Orlando Letelier, the popular Chilean diplomat who was car-bombed in Washington DC in 1976. After a decade seeking justice, Fabiola has managed to convict two military chiefs of the former Pinochet government for their role in the assassination.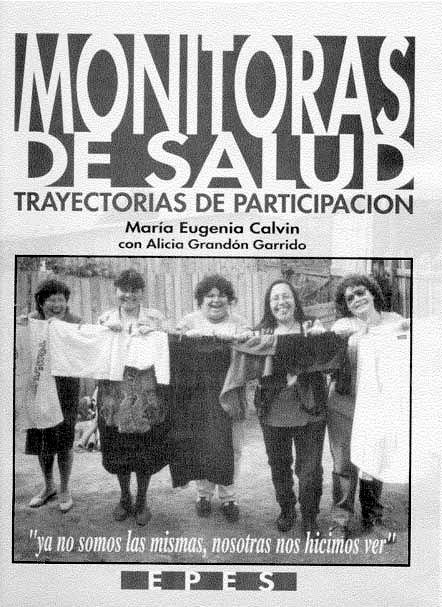 Fabiola Letelier told me that during the Pinochet dictatorship (1973-1990) the extent of human rights violations was incredible. In a nation of 12 million, one million people were tortured, jailed and/or assassinated. Another million fled into exile. It is distressing to think that this carnage was precipitated by a US government/CIA-supported coup that in 1993 toppled the socially progressive, democratically elected government of Salvador Allende.
Sadly, the end of the Pinochet dictatorship and return of national elections has not ended harsh socioeconomic injustice in Chile. Following World Bank recommendations, the post-Pinochet government has promoted an export-oriented, free market economy. Structural adjustment policies have favored foreign investment through tax breaks and other incentives, while further marginalizing the poor through lower real wages, higher sales taxes, and privatization of public services. Rapid economic growth (mostly benefitting the wealthy) has averaged 6% per year for the last 12 years, but at enormous human and environmental costs. As the economy has grown, so has the gap between rich and poor. Over 30% of the population now live in poverty. One million live in absolute destitution. Unemployment, homelessness, and crime rates have soared.
Meanwhile, forest, fish, and mineral reserves are being recklessly depleted. Pollution has reached crisis levels and is compromising the health of entire communities. In sum, the soalled "Chilean Miracle" has been achieved through devastating exploitation both of people and natural resources. Such a development model is both cruel and unsustainable. Yet the global powers uphold it as a great free-market success story.
Change from below. In the face of deteriorating living standards, the monitoras bring together concerned groups to discuss common problems and take collective action. Poblaciones plagued by millions of rats have organized to clean up garbage areas. Others have pressured officials to provide water and sewage systems. Women have formed smal worker-run collectives to produce local crafts to sell informally. Others have organized cooperative day care centers, pre-school programs, and support groups for abused women and children. They have mounted campaigns to combat AIDS, to reduce the use of alcohol, drugs, tobacco, and infant formula, and to raise awareness of social and political determinants of health.
The monitoras recognize that a healthy society—one that defends the differences, health, and rights of all people—must be built from the bottom up through a united front of diverse disadvantaged and concerned groups.
SOLOMÉ: "We the marginalized, the slum dwellers, the professionals, the prostitutes, the homosexuals, the youth and children, all need to join together to change this country."
The monitoras are aware that lasting improvement in their people's health depends on the creation of fairer more equitable social structures. This, in turn, depends on a participatory process which strives for equality and mutual respect between men and women, between workers and employers, between disabled and non-disabled, between adults and children, between the strong and the weak. To this end, monitoras bring neighbors together to confront their difficulties and to improve their lives through problem solving cooperation.
The book Monitoras de Salud documents this dynamic grassroots process. It considers the struggle for health both in the immediacy of home and neighborhood improvement, and in the broader long-term context of the nation and the forces of globalization. It brings these larger issues to life though moving personal accounts by monitoras of their own lives, homes, communities, and world.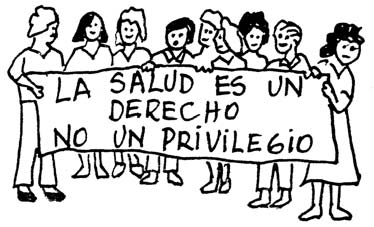 Learner-centered teaching methods. To help groups of women analyze the underlying causes of their hardships and poor health, EPES has developed excellent teaching materials. An example is the pair of drawings below.
| | |
| --- | --- |
| An "unhealthy household" with many factors contributing to poor health. Such pictures are typical of victim-blaming educational materials. | The same household surrounded by all the social, economic, and political factors outside its control, which contribute to the family's situation. |
Other Good Books Analyzing the Current Situation in Chile
Chile's Free-Market Miracle: A Second Look, by Joe Collins and John Lear. 1995. The Institute for Food an Development Policy. ~~Available from Subterranean Company, Box 160, 265 South Fifth Street, Monroe, OR 97456, USA.~~
Democracy and Poverty in Chile: The Limited to Electoral Politics, by James Petras and Fernando Ignacio Leiva. 1994. Westview Press, Boulder CO, USA, and Oxford, UK.
&nbsp