Project PIAXTLA
A Village Health Worker Turned Eye Surgeon.
MIGUEL ANGEL ALVAREZ, a local village boy who 20 years ago became a community health worker, was helped by Project Piaxtla and its friends to continue schooling. Alternating village health promotion with continued study, eventually Miguel became a doctor. After helping to facilitate the village eye program for several years, he decided to pursue his dream of specializing in eye surgery. (He had assisted visiting volunteer eye doctors as a youthful health worker, and realized there were multitudes of blind persons too poor to afford sight-restoring surgery in the urban hospitals.) Now, having completed a post-graduate degree in ophthalmology in February, 1996, Miguel is back in Sinaloa with a renewed commitment to serve the people.
In May, 1996, Miguel spent a week at the Piaxtla clinic in Ajoya, where Roberto Fajardo of Project Piaxtla, and the PROJIMO team coordinated the notification and attendance of persons with eye problems from a wide area. Miguel provided advice and treatment for some, and planned surgery for others. The village of Ajoya is cooperating to repair and renovate the small surgery room at the back of the clinic. Enthusiasm is high. It is so refreshing when a local youth gets an outside professional degree, and then comes home to help people, rather than to exploit them.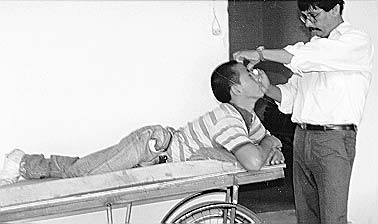 HELP NEEDED: Sight-Restoring Instruments
Miguel Alvarez hopes to do a wide range of sight protecting and sight-restoring surgery at the village level, but desperately needs more instruments. If you know eye doctors who are retiring or uprading their instruments and may be able to make a donation (tax deductible) please contact us at HealthWrights. Our thanks to Dr. Rudy Bock and Dr. Lee Shahinian, ophthalmologists from the San Francisco Bay area, who have generously donated equipment for eye examination and surgery. OUR THANKS to many groups and persons for helping to support the work of HealthWrights, Piaxtla, and PROJIMO: Lytton Gardens Health Care Center, together with Nordstrom Rehabilitation Services in Palo Alto, CA for donating used wheelchairs, crutches, walkers, and other equipment to PROJIMO.
Physiotherapist Ann Hallum and massage therapist Marybetts Sinclair for volunteering to teach their skills at mini-courses in PROJIMO.
INTERPLAST in Palo Alto, California, and Shriners Hospital in San Francisco for continuing to provide essential surgery free of charge to disabled children from Mexico. In May, 1996 INTERPLAST very successully corrected the cleft lip of Sofia Peña. The 2-year-old came with her grandmother from Cosalá, the village where Martín Reyes lives and works with disabled (and non-disabled) kids.
| | |
| --- | --- |
| Sofia before cleft lip repair | Sofia after surgical repair |
Dr. Dennis Swigart at Rehabilitation Engineering Center of Palo Alto for helping medical student Nelly Chombo get a new hand after an accident with a meat grinder. She finds life and work easier with her attractive, functional prosthesis. We also thank Paul Trudeau and others at the center for frequent donations of second hand wheelchairs and orthopedic components.
The faculty and administration of San Simon University in Bolivia for awarding David Werner the post of honorary professor. (This University is restructuring its medical school curriculum to make it more community health oriented, and is launching a post-graduate degree for doctors in primary health care.)
We would especially like to thank two anonymous donors for donating a high quality scanner and an adapter for scanning color slides, to assist us in our desk-top publishing. This makes our work easier and improves quality. This newsletter was laid out making full use of this equipment for the graphics.
&nbsp