Announcing: NOTHING ABOUT US WITHOUT US!
A Forthcoming Book by David Werner, HealthWrights, and PROJIMO: NOTHING ABOUT US WITHOUT US: Developing Innovative Technologies for, by, and with Disabled Persons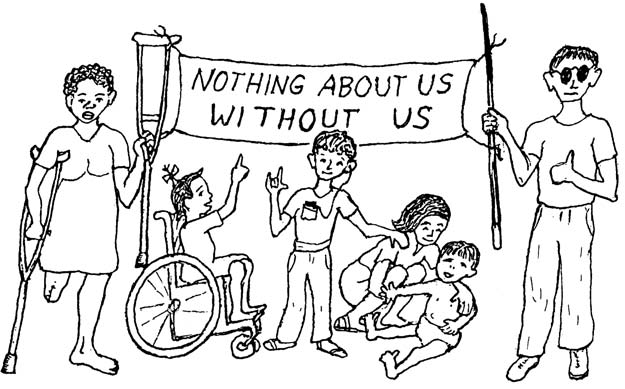 A companion to DISABLED VILLAGE CHILDREN. This exciting new book is scheduled for release in early 1997 and will be a companion to David Werner's previous book, Disabled Village Children, which has become one of the most widely used Community-Based Rehabilitation guide-books worldwide.
50 stories. Unlike Disabled Village Children, however, Nothing About Us Without Us is more of a storybook than a guidebook. Its purpose is not merely to instruct, but to transform, to awaken readers—especially disabled persons and those working with them—to new and exciting possibilities. The book consists of 50 true stories, from Project PROJIMO (a world-renowned CBR program in western Mexico) and around the world, which stress one important theme:
Assistive devices and techniques for disabled persons tend to work better and be more empowering when the disabled user takes the lead- and when he or she is involved as a partner and equal in the problem-solving process.
Although this is a book about innovating assistive devices and user-centered approaches to meeting needs, it differs from other manuals in that it puts the person and the process before the product. With the help of hundreds of line drawings and photos, the book covers a wide range of innovative equipment that can be made with local materials at the village or community level. In presenting each innovation, it places emphasis not so much on the end-product (however important) as on the collaborative process of discovery.
User-centered. Nearly every example in this book, starts by looking at a disabled individual—often a child. With that person central to the problem-solving process, we explore his or her unique combination of wishes and needs. We describe the cooperative, trial-and-error methods used in designing solutions to meet those needs. The problem-solving process is open-ended and ongoing. Sometimes it entails learning new skills, sometimes it involves modification of environment, and sometimes it leads to the invention, adaptation, or elimination of an assistive device. Creative adventure is key.
Book Organization
INTRO: DISABLED PERSONS AS LEADERS IN THE PROBLEM-SOLVING PROCESS

PART 1: THE PURPOSE OF SPECIAL SEATING: FREEDOM AND DEVELOPMENT, NOT CONFINEMENT

PART 2: CREATIVE SOLUTIONS TO PERSONAL AND UATIONAL NEEDS

PART 3: FREEDOM ON WHEELS: DESIGNING MOBILITY AIDS TO MEET INDIVIDUAL NEEDS

PART 4: INNOVATIVE METHODS AND APPROACHES: PLE HELPING AND LEARNING FROM EACH OTHER AS EQUALS

PART 5: CHILD-TO-CHILD ACTIVITIES THAT INCLUDE AND EMPOWER DISABLED CHILDREN

Nothing About Us Without Us. 320 pages. Hundreds of photos and drawings. Pre-publication price: $12.00 plus postage.
If interested in obtaining a copy when available in 1997, contact:
Healthwrights

c/o Jason Weston

3897 Hendricks Road

Lakeport CA 95453 USA
&nbsp