Children in a Cape Town Child-to-Child Initiative Provide an Update on Their Activities
During the 1997 Summer School Course on Health Education: Methods that Empower, one afternoon we were visited by the group of primary school children who had participated in the Child-to-Child course the year before (see Newsletter #34). These children, who had identified violence and hunger as two of the biggest obstacles to health, presented posters and role-plays on actions they had taken during the past year.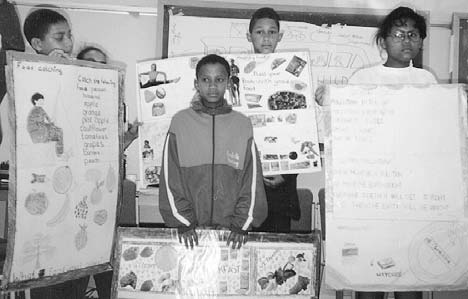 One of the role plays portrayed a classroom where one boy was unhappy, did not pay attention, and then started crying. His classmates asked him what was the problem. They learned that his father sent him to school every day without anything to eat. The children talked with their teacher who in turn talked with the boy's father. The father apologized. From then on, he made sure his child did not come to school hungry.
The role of the teacher in this skit was played by a small boy who appeared to be a born educator. His classmates had nicknamed him "Professor." He did a splendid job of leading the other children in the activities and making sure that each child participated.
At the end of their presentations, one of the adult members of the Summer course asked the children, "When will you reach an age where you feel you are too old to continue these Child-to-Child activities?"
The little Professor replied:
Never! You need to understand that these activities have to do with all of us helping one another, with trying to understand our problems and working together to find solutions. That is something we hope we never outgrow. When I'm married and have my own children, I hope to continue these and other activities with them.
&nbsp