'Los Chavalitos'—A Unique Farm School in Rural Nicaragua: An Oasis of Learning in Balance with Nature
In a remote area in central Nicaragua, in February, 1999, David Werner and Martin Reyes had the opportunity to visit an extraordinary initiative called LOS CHAVALITOS (The Kids), also known as the Farm School. David Werner reports on this astounding, idealistic, yet very human initiative.
An oasis of learning for sustainable agriculture and humane development, Los Chavalitos is located in a cloud forest 100 miles from Managua where there are still patches of relatively unspoiled jungle, lots of animals and birds, wild orchids, 3 kinds of native monkeys, and several species of plants and animals that are unique to the area.
Los Chavalitos was begun and is facilitated by a remarkable man named Alejandro Obando, a down-to-earth visionary who has dared to follow his dream of providing a nurturing environment for neglected children where they can learn to live in harmony with one another and with nature. As a sort of extended family, in the last two years Alejandro has brought together a group of 15 homeless, abandoned, orphaned, and/or mistreated kids from nearby towns and from the streets of Managua, and relocated them to this idyllic homestead in the heart of the cloud forest. In a rustic school house that the children and volunteers helped to build, and on a farm the children help cultivate, this motley collective of disadvantaged kids and dedicated adults learn about living off the land and with one another in a gentle, sustainable, and wondrous sort of way.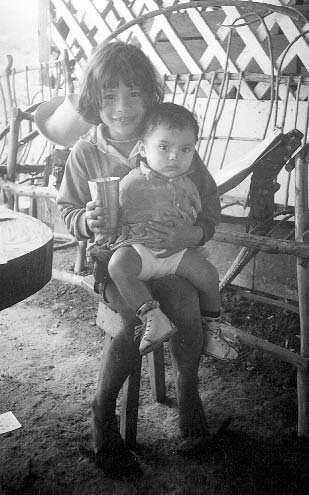 The education of the children, while it loosely follows the government curriculum and is accredited, is in large part hands-on "learning by doing." It emphasizes cooperation rather than competition, and the lasting rewards of conserving rather than exploiting the environment.
The children are schooled in cooperative self-reliance. They spend their mornings working on the farm, in a way where work becomes a kind of productive and satisfying play. They plant a wide variety of crops and tend seedlings of different trees, marveling at their miraculous growth day by day. They also take part in an extensive reforestation project, involving and serving as a role model for farmers on surrounding land-holdings. Their goal is to develop a form of environmentally friendly agriculture, which sustains and protects the natural ecosystems and biodiversity of the cloud forest. To this end they plant their food crops within, around, and among the natural flora and fauna. No insecticides or artificial fertilizers are used. Great effort is placed on preserving and, where needed, restoring the forest cover of watersheds, ravines, and gullies.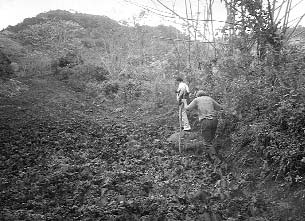 In the afternoons, schooling is a bit more conventional. The children attend classes in the small schoolhouse they helped build themselves. Recently the government has provided a schoolteacher, but because of the remoteness and miles of muddy trail to reach the homestead, the teacher sometimes plays hookey. Fortunately, however, at the Farm School there are frequently one or two idealistic volunteers (Mexican or North American) who teach the children cooperative life skills in an informal, learning-how-to-think, discovery-based context.
The children, 7 to 13 years old, are like flowerbuds cautiously beginning to open. They take pride in feasting on the corn, beans, fruit, milk, and eggs of the plants and animals that they themselves have tended. All in all, it is wonderful to see a corner of this tormented country where human beings live in such harmony with each other and with nature, and where children can look into the future with pride and hope.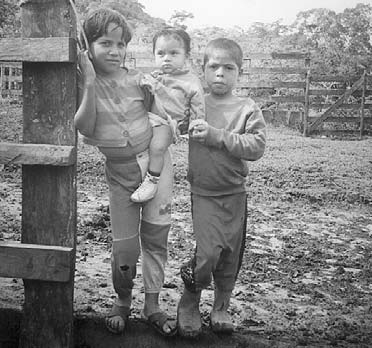 How Conserving the Forests Helped Protect Los Chavalitos Against Hurricane Mitch
In the Camoapa District, as in much of rural Nicaragua, most of the forests have been cut down for cattle grazing. This rampant deforestation has led to denuding of the hills, and severe flooding of rivers together with mud slides in the rainy season. When driving through the district of Camoapa, in the far reaches of which Los Chavalitos is located, Alejandro pointed to the barren hillsides, and to the many small, dry stream beds.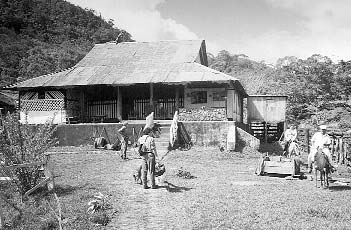 "You see these dry sandy arroyos," said Alejandro. "When I was a boy, we used to swim in them. They were always full of water, even in the drier months. The hills were covered with forests. The forests helped hold the water and feed it little by little to the streams, preventing flooding yet keeping them flowing. But since the hillside forests have been clear-cut and overgrazed, now when it rains, the streams flood their banks, and soon after the rain stops they are dry again. But you will see that at the Farm School, the valleys and ravines are still largely forested, and we are constantly planting more trees. So the arroyos don't flood as much, and they always have water for the children to play and bathe in."
The vast extent of deforestation in Central America is one of the reasons why Hurricane Mitch, in November 1998, caused such wide-spread, devastating damage. The storm took hundreds of lives and left hundreds of thousands of families homeless in Nicaragua, Honduras, and El Salvador. It destroyed millions of acres of agricultural land. On the way from Managua to Camoapa we passed make-shift settlements of thousands of small shelters made of black plastic sheeting stretched over poles. It looked like the refugee camps after a major war. The rage of offended nature was overwhelming.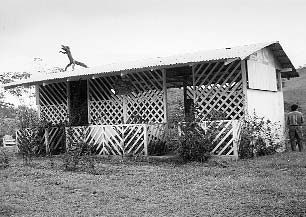 By marked contrast, the area where Los Chavalitos is located was largely spared the wrath of Hurricane Mitch. Despite the steep hillsides and deep ravines, there was practically no damage to the crops, the land, or the buildings in this region. This is in part because of the effort of the Farm School to preserve and restore the forests, and to farm the land in a sustainable and ecologically supportive way.
Sharing Ecologically Sound Farming and Reforestation with Neighbors
One exciting aspect of the Farm School is its positive influence on neighboring farmers in the cloud forest. In fact, Los Chavalitos is a school for the entire rural community. They welcome neighbors and visitors; they show them their innovative, ecology-sustaining farm methods, and the healthy harvests that result. They show them the thousands of seedlings they have planted in forest-sheltered nurseries: everything from citrus, mango, pineapple and many other kinds of tropical fruit, to bamboo and lots of local cloud forest trees and shrubs. They even grow Neem trees, a much lauded medicinal plant from India.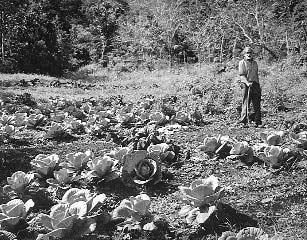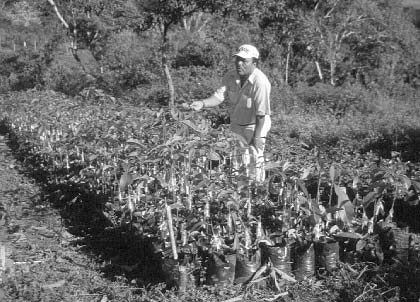 In this reforestation project, as well as in many of the small scale experiments with environment-friendly agriculture, Los Chavalitos has the eager assistance of professors and students from the Rural University of Camoapa, an "open university" which Alejandro helped initiate.
The thousands of seedlings of the many different trees and shrubs are freely shared with neighboring farmers, who—following some initial scepticism—are awakening to the advantages of reforestation and sustainable agriculture.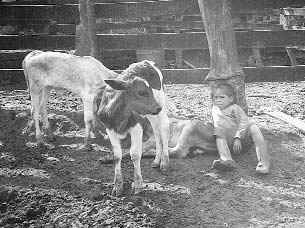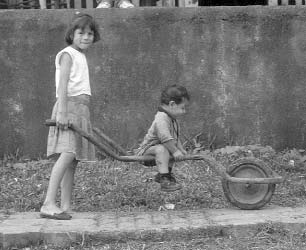 Little by little the landscape is changing, becoming greener and more forested. Streams flood less and flow longer. And people are discovering that by learning to live in harmony with one another and the environment, life can be more secure and more rewarding.
The children learn these truths through hands-on practice. And the neighboring adults are learning from the children.
Oh, Rats!

If it sounds poetic, it is! Yet every heaven has its moments of hell. In the wake of Hurricane Mitch, with all the spoilage and death, most of Nicaragua has been overrun by an epidemic of rats. They are everywhere and into everything. Their prevalence is such that the contamination by rat urine in homes and food stuffs has caused an epidemic of Leptospirosis, a debilitating and sometimes fatal viral infection. A nationwide education campaign to prevent and cope with Leptospirosis is now in full swing. Sadly, the corn fields at Los Chavalitos have also been overrun by rats. In some parts of the fields, on the towering plants a third of the ears of corn, once fat and healthy, have been gnawed upon and destroyed. The rats are so prevalent that the children frequently go in brigades into the fields with sticks and club the scurrying rats to death.
While this can be regarded as a form of "biological pest control," it is far from gracious or fully effective (although for the kids it is a sporting challenge to their hunting instinct). So any reader who has an idea for a better, ecologically sound way to control the rats, we welcome your suggestions… Maybe it's time for another Pied Piper!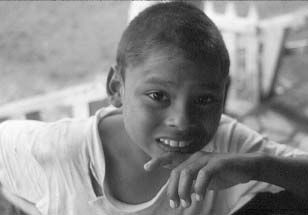 Like any groundbreaking initiative for improvement and change, Los Chavalitos has its problems and even contradictions. But it is one corner of the Earth where a small group of people have a dream, and that dream is having a ripple effect, reaching, awakening and changing others.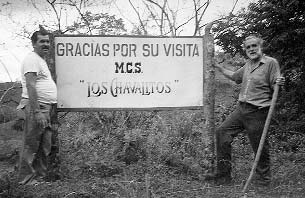 Los Chavalitos is an adventure in loving and sustainable existance that humanity would do well to learn from. With more endeavors like this at the micro level, perhaps we will someday move to the sort of macro-change that is needed to prevent the kind of mega-disaster that will make Hurricane Mitch seem like the skip of a heartbeat.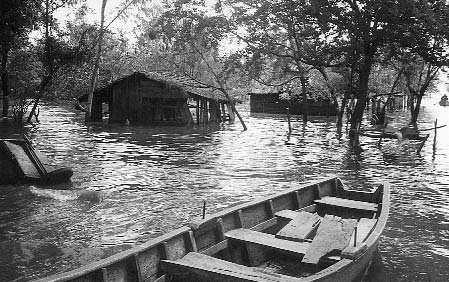 &nbsp