Update on PROJIMO
Readers of this Newsletter will be aware that PROJIMO (Program of Rehabilitation Organized by Disabled Youth of Western Mexico) has recently divided into two sub-programs, located in two different villages, Ajoya and Coyotitan:
The PROJIMO Rehabilitation Program, headed by Mari Picos and Conchita Lara, has at last completed its move from Ajoya to Coyotitan, a larger and more accessible village on the main north-south coastal highway, 67 km. north of Mazatlán. The team has built a completely new rehab center, and several workers have constructed basic but comfortable homes. The new community rehabilitation center in Coyotitan makes PROJIMO's friendly, low-cost services more easily available to coastal towns and villages.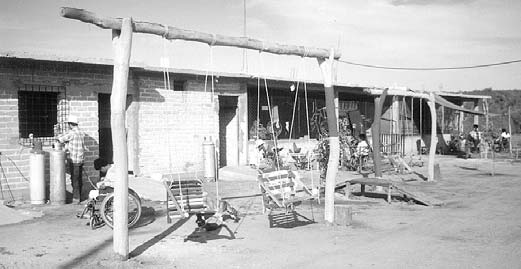 The PROJIMO Skills Training and Work Program —which continues to be based in the village of Ajoya — has now moved into the quarters vacated by the Rehab program. The team, made up of disabled persons and local village youth, is busy readapting the facilities for the three main workshops.
The goal of the PROJIMO Skills Training and Work Program is to achieve ECONOMIC SELF-SUFFICIENCY for disabled and non-disabled village youth. While reaching this goal has taken longer than originally planned, impressive progress has been made.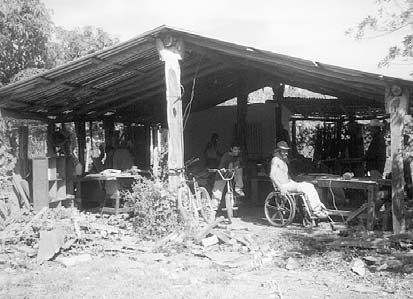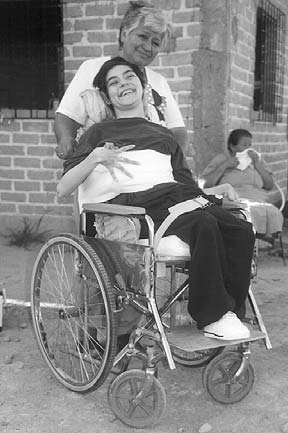 The Children's Wheelchair Project has now essentially become self-sufficient. As the word gets out that low-cost wheelchairs are being designed and built for disabled children, requests are coming in from farther and farther away. The demand is now so great, there is a long waiting list. Gabriel Zepeda, our master wheelchair builder, has many requests to train community-based craftspersons in different states. He recently helped to train a group in San Luis Potosi, Mexico. In January-February 2000, he will do the same in Guatemala, then from March to May 2000 he will help train a team from Ecuador.
Thanks to help from Stichting Liliane Fonds in the Netherlands, which helps cover the cost of wheelchairs for children from poor families, the Children's Wheelchair Shop is now essentially self-sufficient (though funds are still needed for renovating and expanding its new facilities). With the help of Maurits Zijp, a student of industrial design from the Netherlands, the Ajoya team has been increasing the efficiency of their wheelchair design and construction. In the last year the team has produced over 50 individually designed wheelchairs.
The PROJIMO Carpentry Work shop is now producing a variety of colonial furniture. Until recently, production was low due in part to electric line problems. But with new lines and repair of power tools, efficiency is improving. The team hopes that soon the carpentry shop will become self-sufficient. Daniel, a man who lives alone with his disabled daughter, Eli on the main coastal highway, has agreed to set up a road-side stand to sell some of the Work Program's furniture, wooden toys and crafts. We hope that this will increase sales of PROJIMO goods at better prices.
The Toy Making and Crafts Workshop has been producing beautiful hand-made and hand-painted wooden animals: frogs, turtles, lizards, horses with riders, etc; the legs of which move when a string is pulled. Many of these animals, intricately painted by disabled villagers, are works of art well suited for wall hangings and unique Christmas gifts.
See enclosed flyer. Please help the PROJIMO team find sales for their goods and thereby become more self sufficient.
THANK YOU FOR YOUR HELP
THE TEAM MEMBERS OF THE PROJIMO REHAB PROGRAM IN COYOTITAN AND THE PROJIMO SKILLS TRAINING AND WORK PROGRAM IN AJOYA WISH TO THANK ALL THOSE PERSONS WHO RESPONDED TO THEIR RECENT LETTER REQUESTING HELP FOR CONSTRUCTING / RESTRUCTURING THEIR NEW WORK SITES.
YOUR GENEROSITY WILL HELP THE TEAMS IN THEIR EFFORT TO SERVE DISABLED CHILDREN AND DISADVANTAGED YOUTH.
&nbsp