Now the Good News: New Homes and New Life for the PROJIMO Projects
While the long epic of the community health and rehabilitation initiatives based in Ajoya appears to come to an end, the activities of PROJIMO (Program of Rehabilitation Organized by Disabled Youth of Mexico) continue valiantly in their new locations. And in some ways they are stronger and having wider impact than ever.
The PROJIMO Community-Based Rehabilitation Program in Coyotitan
The P.R.O.J.I.M.O. Rehabilitation Program which began shifting its base of operations to the village of Coyotitan five years ago, has now fully completed the move and continues to grow and extend its outreach. Its more accessible location near the main coastal highway makes its services more easily available to the population up and down the coast.
Both the municipal government and the village of Coyotitan have cooperated in many ways in helping the program make the move. The government installed free of charge the electrical connections and water supply, and has recently provided funding and assistance to help the team build additional quarters for guests.
Relationships with the local village have been growing closer in a number of ways. The teachers from the primary school bring groups of school children to play in the new "Playground for all Children" (disabled and non-disabled) and to become familiar with the activities of the program. Last year an after-school activity was started in which a large group of children from the Primary School take part in the PROJIMO Crafts
Shop. Here, under the skillful direction of Marielos (who is paraplegic and rides a wheelchair, the children make toys for disabled children and to share with their younger brothers and sisters. In this way, some of the early stimulation activities (which are good not just for disabled but for all young children) reach a far wider range of families.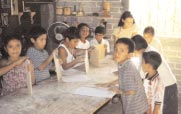 An increasing number of visitors from different countries, many working in different fields of disability, have been coming both to learn from PROJIMO and to share their skills and experience. This interchange has
become a valuable way of spreading the self help philosophy and village-based technologies of PROJIMO wider afield.

The Conversational Spanish Training Program, led by Julio Peña (who is quadriplegic) is gaining momentum (please see the information sheet in
this newsletter). This Spanish program provides disabled teachers who have limited use of their bodies a chance to actively earn a living. The program is attracting an increasing number of people who want both
to learn Spanish and to volunteer in an innovative Community-Based Rehabilitation (CBR) program. Student volunteers have come from many lands, including the USA, Holland, Japan, and India.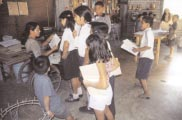 Julio learned language teaching skills from Sarah Werner (David's cousin), who teaches ESL in Ohio. Julio is now teaching Rigo, also quadriplegic, the art of teaching language. Most of the teaching is one on one. Students have learned a lot and have generally been delighted with the experience.
Air Conditioning
One of Julio's biggest challenges during summertime is surviving the heat. As a quadriplegic, he does not sweat below his neck, the site of his injury. To keep his body temperature from rising dangerously high, in the summer he must constantly spray himself with water and fan his body. It is like driving a car across a desert with the radiator nearly empty: Julio faces a constant battle to keep his body from burning up.
Fortunately, one of Julio's grateful language students, Marcia Thorndyke, has recently donated funds to install a simple air conditioner in Julio and Rigo's bedroom. In hot weather, that room can double as a classroom for Spanish lessons. This way, visiting students who are unaccustomed to sweltering heat can have a more comfortable study environment. The high cost of electricity is a concern, but the team hopes that the income
from the Spanish training will more than offset the cost of running an air conditioner. (In running a community-based program in a poor country, every centavo counts.)
Note: For those who want to know more about the PROJIMO CBR Program, we invite you to purchase our book "Nothing About Us Without Us," or to look at it on our website (www.healthwrights.org).
&nbsp