News from PROJIMO and HealthWrights
Sharing of information, experience and hope can be one of the most important roles that a community based program can play. Both HealthWrights and PROJIMO, through our books, newsletters, websites and interchanges with groups and programs in many countries, continue to "spread the word" about the health and disability initiatives with which we have been involved for many years.
NEW! Books now online. We are glad to announce that all our health and disability handbooks are now available online on www.healthwrights.org in both Spanish and English. These books can be freely downloaded and used anywhere on earth.
NEW! PROJIMO Rehabilitation Program in Coyotitan, Mexico has a NEW WEB SITE: www.projimo.org.mx It still needs more work and volunteer help would be appreciated.
Also, the PROJIMO Community Based Rehabilitation team in Coyotitan, Mexico, has recently produced two "films" on their lives and work. The first of these is a video made with the help of the Rotary Club in Culiacan, Sinaloa. The second is a CD film made with the help of a North American volunteer, Peter Brauer. It is an educational, awareness raising CD created for and by spinal cord injured persons. To follow is a review of this remarkable production.
NEW! 'Viviendo de Nuevo con Daño Medular': —'Return to Life After Spinal Cord Injury'
An educational CD "movie" on Coping with Spinal Cord Injury. Produced by the PROJIMO collective of disabled persons in Coyotitan, Mexico Filmed and edited by Peter Brauer. Currently available in Spanish, and with subtitles in English. 27 minutes. Price: $US20.00 plus $3.00 shipping. Profits go to PROJIMO.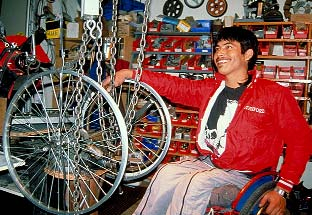 This empowering educational production is remarkable in many ways:
First, it was conceived and produced for and by spinal cord injured persons themselves, as a visual form of peer counseling. Amateur filmmaker, Peter Brauer, spent 3 months working with the PROJIMO team, gradually improving the content, organization, and quality of the film as a collective learning experience for all. And because everyone volunteered their time and the filming was digital, the cost was remarkably low.

Second, it presents comprehensive, potentially life-saving information about spinal cord injury in a way that is easily accessible even for persons who cannot read or write. It draws on pragmatic advice from David Werner's handbooks, Disabled Village Children and Nothing About Us Without Us. Yet it combines this essential information with personal stories and experiences of spinal cord injured persons themselves (as well as children and adults with spina bifida).

Third, this 27-minute CD movie is entertaining and up beat. The paraplegic and quadriplegic protagonists show that life with spinal cord injury can be as full of fun and adventures, intimacy and challenges to excel, as that of anyone else. From the very start, their playfulness and antics take the weight off spinal cord injury, and replace it with hope, not for a cure, but for a happy and rewarding future.
The disabled educators who have created this CD—ranging in age from 10 to 40—skillfully show how to prevent and treat pressure sores and urinary infections, how to avoid and correct contractures, and how to make low cost protective cushions and assistive equipment. They demonstrate ways to cope with spasticity and even to use it constructively to perform certain tasks. But above all they show how spinal cord injured persons can relearn the skills of daily living, find ways to earn a living, and re-enter the life of the community as active participants and leaders.
This astounding CD film will give a great boost to spinal cord injured persons and their families, to help them accept their disability and realize that they can still live rich and fulfilling lives.
&nbsp