Community Based Rehabilitation in Rural India: the Strengths and Weaknesses of Different Models
In October and November 2005 David Werner was invited to India to facilitate three Community Based Rehabilitation workshops in the Creation of Low-cost Technical Aids. These hands-on workshops were attended by local "mediators" of Stichting Liliane Fonds (SLF), a Dutch foundation dedicated to helping disabled children living in difficult circumstances. Since SLF has been assisting disabled children in Mexico through PROJIMO for many years, this was a chance for David to return some of the goodwill. Here he relates the experience and raises questions about different models of Community Based Rehabilitation (CBR).
Contrasting Models of CBR
Today India has hundreds of so-called Community Based Rehab (CBR) programs that are striving, in a wide variety of approaches, to meet the needs of disabled persons living in rural areas and also city slums.
CBR was first conceptualized by the World Health Organization (WHO) in the early 1980s as an inclusive methodology to deinstitutionalize rehabilitation activities and take the front line response to disability out of costly urban "rehab palaces" and into villages and homes.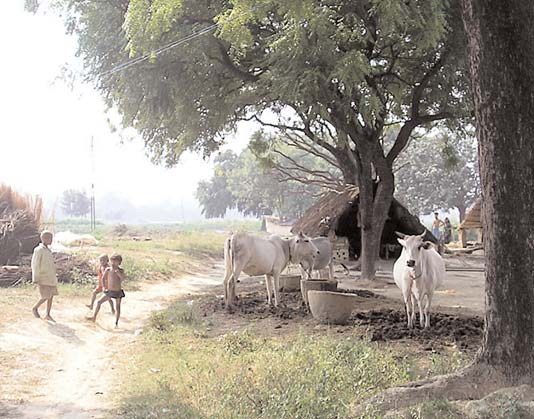 Initially the WHO model of CBR was precisely—and in some ways rather rigidly—defined. But fortunately, over the last two decades, CBR has evolved to embrace a diversity of approaches. Various models have been designed in response to differing needs and possibilities in different regions and communities. Much can be learned by comparing the strengths and weaknesses of these different approaches.
On my recent visit to India, the three workshops I facilitated—in northern, central, and southern India—were coordinated by NGOs following quite different models of CBR, each with respective strengths and weaknesses:
The first workshop was held in the village center of Vikash CBR Program, located among the "hill tribes" in the District of Koraput in the central eastern state of Orrisa. Koraput is reputed to be the poorest district in India, and its tribal people, belonging to the so-called "scheduled castes," are among the nation's most marginalized. The combination of poverty, malnutrition, endemic diseases (especially malaria), and congenital defects due to inbreeding contribute to high rates of disability.

The second workshop, organized by Jan Vikas Samiti, a development program, was held in the Kiran Village Rehabilitation Centre, in a rural area 2 hours from Varanasi (formerly Benares) in Uttar Pradesh. These two programs collaborate in a CBR initiative in the surrounding rural area.

The third workshop, held in Nalgondo near Hyderabad, was coordinated by the Network of Persons with disAbilities Organizations of Andhra Pradesh, (NPdO) which runs a "human rights" approach to CBR rural area.
Let us look at the strengths and weaknesses of these initiatives.
&nbsp