Examples from the CBR Appropriate Technology (Assistive Devices) Workshops
NOTICE: A detailed, colorful photo-documentary of these hands-on Workshops can be viewed on our website: www.healthwrights.org. It is also available from HealthWrights as a CD. See attached insert.
The three 3-day workshops in India with mediators of Stichting Liliane Fonds were structured similarly to those I facilitated in Nicaragua in May 2005 and described in our previous Newsletter (#53/54)—which can be viewed at: www.healthwrights.org.
The Workshop was Organized as Follows
1st day involves discussion about CBR with examples from different countries. Partnership in problem solving is emphasized.

2nd day starts with principles and examples of low-cost assistive devices. This is followed by small group visits to the homes of disabled children, to explore with the children and families what simple aids might help each child function better.

3rd day begins with a plenary brainstorming of ideas and designs. Then each group, together with the child and family, construct the aid. The day ends with an Evaluatory Session where each child and parent with their group shows how the aids work—and everyone makes suggestions.

Collaborators: In each workshop the local staff of the collaborating CBR programs was a great help. In addition, the assistance of local craftspersons (carpenters and bamboo artisan) was invaluable in making the aids.
In the next few pages we will show some examples of the workshops and the resulting assistive devices.
1. Koraput Workshop
Trinath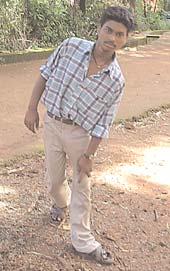 Trinath is a young man who is apprenticing in the tailoring shop of the Vikash CBR program. With one leg weak from polio, he walks pushing his weak thigh back with his hand. His wish was to walk without having to push his leg back.
Trinath and the mediators decided to make a night splint to gradually stretch the contractures in his knee, in hopes this may help. With the help of a local artisan they made a night splint out of bamboo.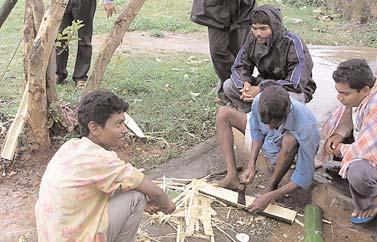 They cut a piece of bamboo to size, hewed out part of the inside, and heated the top part to widen it to fit his thigh. Then they covered the inside with soft padding and added Velcro straps.
The bamboo night brace fit so well that he decided to try walking with it.
| | |
| --- | --- |
| | To his delight, Trinath found he could walk more easily and more upright, without having to push his knee back with his hand. |
Bhararthi
Bhararthi is a young woman, also in the tailoring shop, who has one leg affected by polio She walked with a pole. She had never used a crutch but was eager to try, so she could walk with one hand free to carry things.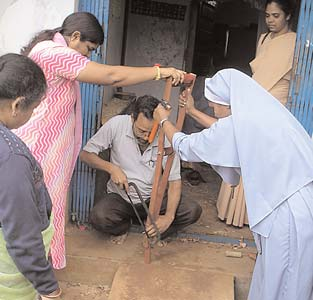 Bhararthi was very pleased with her new crutch, especially when it was adjusted with her elbow nearly straight so she could bear part of her weight on it.
A Toilet for David Werner
One person who wanted an assistive device made for him at the Koraput workshop was myself (David W.).
With the disability I have in my legs and feet (a hereditary muscular atrophy) I have trouble with
toileting in India. Traditionally people squat over a hole in the floor, or simply go out and squat in the fields (a common cause of fatal snakebite at night).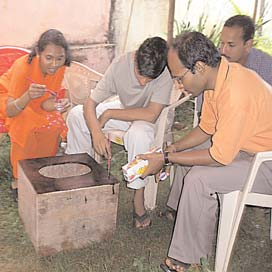 When I suggested that, like myself, many disabled persons might appreciate a toilet they could sit on, one CBR leader in Koraput said that such an idea would be unacceptable or even shocking to the local villagers. Besides, it wasn't something you talked about.
Nonetheless, a group of mediators made a simple toilet seat for me: a wooden box with a hole, which I could put over the hole in the floor.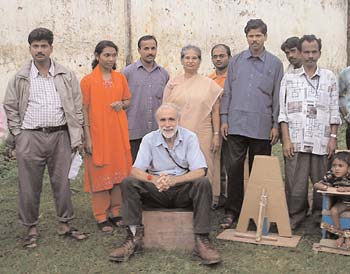 When I demonstrated my new toilet at the final session of the workshop, everyone laughed. But it broke the ice, and many disabled persons began to ask for toilets in the subsequent workshops.
2. Hyderabad Workshop
A Toilet for Panasa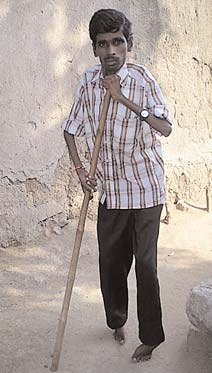 Panasa is a young man with progressive muscle wasting. He is very weak and walks with a pole. He insisted he was too weak to use crutches. But what he said he most wanted was a toilet.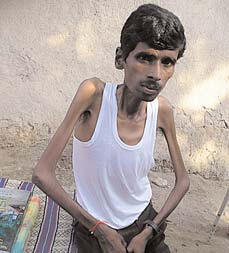 So the mediators made him one, with a stand for his wash water pot. Here he demonstrates it at the final evaluation.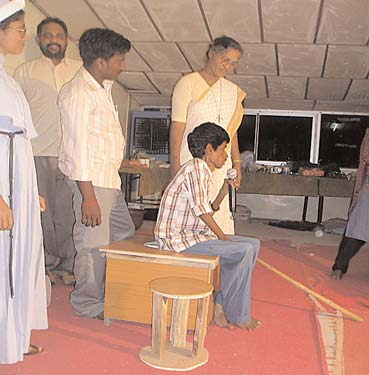 Whole Villages Disabled by Flourosis
Another group that eagerly wanted toilets, but who had never dared ask for them, was people with fluorosis. This strange disability with gradually progressive weakness and joint deformities comes from too much fluorine in the water. Most people in over 260 villages in Andhra Pradesh are affected.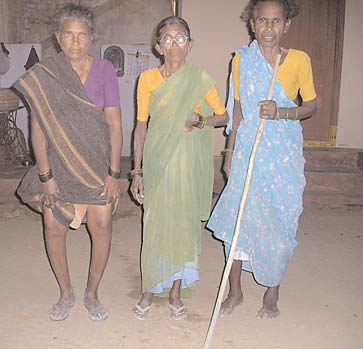 Although people know the local water is crippling them, until recently, few have had an option. Today bottled drinking water in India is mostly controlled by Pepsi and Coca Cola, and a liter sells for one and a half the price of a liter of milk.
Recently, however, an NGO has been introducing collection and storage of rainwater from roofs. Also the government is now building a big dam to pipe fluorine free water to the stricken villages.
Too Many Nosy Experts; Too Little Help
One family we visited, in which the husband, wife and children are affected by fluorosis, lost their patience when we visited. They told us angrily that they were tired of being visited by international experts who asked embarrassing questions and took pictures of them, but never did anything to help. But at last they warmed up to us. With many of these people, the idea of toilets they could sit on, and the fact that other disabled villagers were daring to use them, was a very welcome idea.
Mobility Aids for Venkatesham
| | |
| --- | --- |
| Venkatesham at his shop. | |
Venkatesham (Venki for short) is a man who moves about by crawling. Although his legs are paralyzed and contracted by polio, he is able to support his family by managing a small sidewalk shop and a public phone. He has a wife, and two beautiful children.
Although the mediators tried to convince Venki that he needed a tricycle or wheelchair, he wasn't much interested. He explained that he had to go many miles by bus to buy supplies for his shop, and wanted simple mobility aids he could easily take with him on the bus.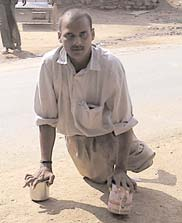 He suggested short "hand crutches" to make crawling easier and cleaner. He demonstrated his idea gripping 2 cans.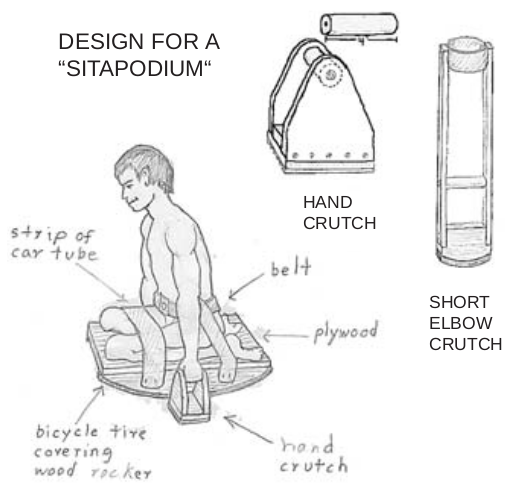 Venki also wanted some kind of knee and butt protectors. This led to a variety of ideas, including a small wheeled "skate board," and a "rocker board" he could sit on to move about by swinging through between his arms. This rocker board or "sita-podium" could be used in mud and fields (for toileting) where a wheeled board won't work.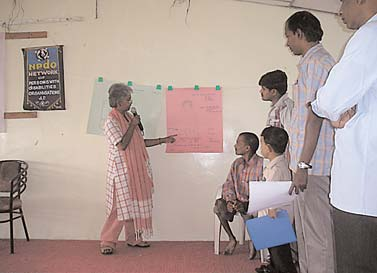 The different ideas and designs, were presented to the plenary on the morning of the workshop.
The mediators made the hand crutches while the local carpenter made the wooden wheels and axle bars using hand tools, while gripping the wood in his bare feet.
At the end of the workshop Venki showed everyone how he could move about on the board.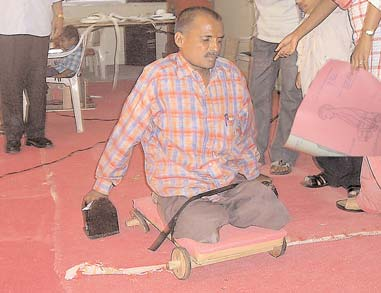 Clearly, this wheeled board won't survive hard use. But Venki plans to replace the wood wheels with better ones with bearings. What matters is that he has started experimenting and taking the creative lead himself.
Thoughts on the Hyderabad Workshop
The Hyderabad Workshop was in some ways the most difficult of the three, for a combination of reasons.
First, the collaborating CBR program, run by the Network of Persons with disAblities Organizations (NPdO), lacked the technical skills of the other collaborating CBR programs in Koraput and Varanasi.

Second, the SLF mediators in Hyderabad were mostly administrators and managers, not field workers. While very attentive about all the theory of technical aids and the creative design of devices, when it came to hands-on construction they were all thumbs. The less high ranking participant in the other workshops tended to be more pragmatic and down to earth.
Consequently, while many of the designs in the Hyderabad workshop had great potential, the aids actually produced were often less than functional, either because of construction errors, or because it took so long to complete even the most basic tasks. But all agreed that the workshop broke the ice in terms of creating low cost aids, and that it was a great learning experience.
3. Veranasi Workshop
Helping Kiran Learn to Walk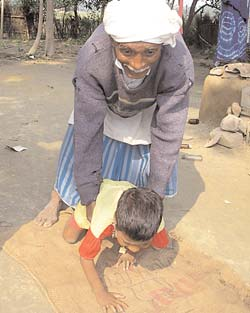 Kiran is a 5-year-old girl with cerebral palsy, who is just beginning to walk with the help of a metal walker provided by the local rehabilitation center—which is also called Kiran. Kiran means ray of sunlight.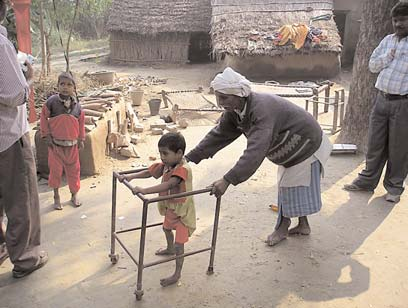 With the help of her doting grandfather Kiran is able to take steps with the walker. But the spasticity of her lower limbs causes her feet to bend bend over to the side.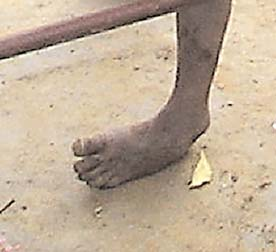 Clearly Kiran needs foot and ankle stretching exercises to help her feet stand flat on the ground. The group asks her grandfather to show the exercises he has been taught. Although he does them well, most are routine "water pump" exercises that do not focus on the specific needs of the child.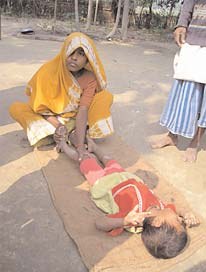 However Kiran's mother knows and demonstrates the foot and ankle stretching exercises that are most important for the girl to walk with her feet positioned well.
But unfortunately no one has been doing these exercises with the child.
Then a discovery is made. When Kiran squats on the cot, the U-shaped sagging of the cot positions her feet well, stretching them up and outward, in precisely the exercise she most needs!
| | |
| --- | --- |
| | The cot stretches Kiran's feet. |
Following the stretching mechanism of the cot, the mediators made a V-shaped trough of boards for Kiran to walk on.
To make this aid at home at low cost, Kiran's grandma helped make a V-shaped ditch with bricks—and bamboo parallel bars.
In the final plenary, Kiran demonstrates how well she can walk. Each step stretches her feet for better walking.
| | |
| --- | --- |
| Kiran's feet on a flat surface, showing curvature. | On a 'V' surface, therapeutically stretching Kiran's feet. |
| | |
| --- | --- |
| | The installed parallel bars. |
Kiran's story shows us the importance of knowing the family situation, working together, and using local resources creatively.
Shubham's Story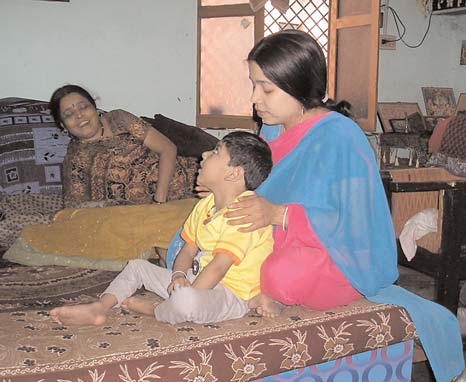 Because in the rural area surrounding Varanasi no young children could be found with severe cerebral palsy, the coordinators of Kiram Village took us to see a multiply disabled child in the city. Six year old Shubham lives in a different world than his rural, low caste peers. He belongs to an upper caste Brahman family and lives in a relatively luxurious flat. His father works in the US.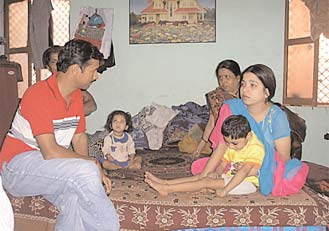 Shubham is multiply disabled. He has cerebral palsy (mix of spastic and flaccid), is mentally retarded, and has visual and hearing impairment. The boy's mother and grandmother are devoted to him and have sought help widely.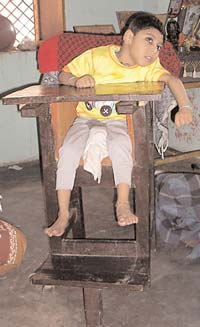 A rehab center made this special seat for Shubham but it doesn't meet his needs:
It is straight up and down like a box,

too wide, and

the footrest is way too low.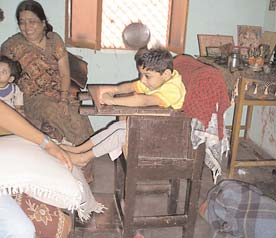 The mediators who visited Shubham decided with his mother to make a more appropriate seat with stimulation toys, an exercise role and a hammock. Here they present their designs to the plenary.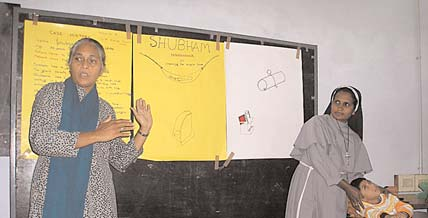 To make the chair
They built the seat out of a combination of wood, plastic, and cardboard (L).

At first the boy flopped to one side, so they made cardboard body supports (C).

They made a cardboard cushion with a hollow to keep his butt from sliding forward (R).

Finally, they added a cardboard footrest (R).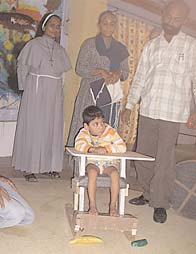 Other Aids Made for Shubam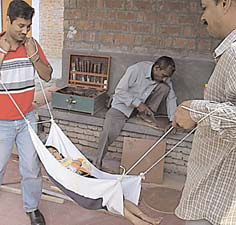 Shubhan's family were delighted with the new aids—and felt they had a better understanding of his needs and what they can do.
&nbsp