PROJIMO Film Wins Awards: Return to Life After Spinal Injury
Return to Life After Spinal Injury, the new DVD by Peter Brauer, won two International Health and Medical Media awards, or "FREDDIES" at the 31st annual award ceremony in New York City on November 4th. This Spanish language instructional video about spinal injury took top honors in the category of "Special People", and won the prestigious Helen Hayes Award for best consumer video production. The Helen Hayes award is one of four Founders' Awards given to the best films in the contest.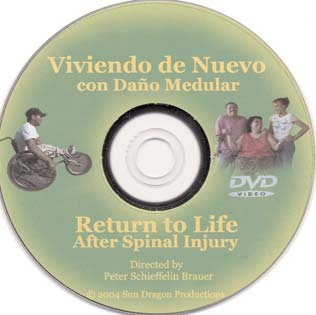 This empowering educational production was conceived and produced for and by spinal cord injured persons themselves, as a graphic form of peer counseling. Filmmaker Peter Brauer spent 3 months working with the PROJIMO team as a collective learning experience for all. And because everyone volunteered their time and the filming was digital, the cost was remarkably low.
These disabled educators who have created this CD—ranging in age from 10 to 40—skillfully show how to prevent and treat pressure sores and urinary infections, how to avoid and correct contractures, and how to make low cost protective cushions, and assistive equipment. But above all they show how spinal cord injured persons can relearn the skills of daily living, find ways to earn a living, and re-enter the life of the community as active participants and leaders.
This astounding CD film will give a great boost to persons with recent spinal cord injury, to help them accept their disability and realize that they can still live rich and fulfilling lives.
Spanish, with English Subtitles: US$22 plus $3.00 shipping. Profits go to PROJIMO.