Accomplishments and Challenges of a Community Based Rehabilitation Initiative in Honduras
The Instituto Psicopedagógico Juana Leclerc was set up 16 years ago in Tegucigalpa, the capital of Honduras, to respond to the needs of children with "dificiencia intelectual" (mental retardation and developmental delay). It started by assisting a few children with Down syndrome and has grown into the country's leading institution for intellectually handicapped children, and more recently, for all categories of disabled children.
For the last few years the Instituto has been coordinating a Community Based Rehabilitation program which now covers much of the rural area of northern, western and southern Honduras.
In 2002 I was invited by the director of the Instituto to share experiences at a regional seminar on CBR, and to spend a few days visiting and "assessing" the Instituto's community based program.
During my prior visit in 2002 I found that the program had many excellent features, but also significant weaknesses. Like so many of the CBR programs in Latin America and elsewhere, especially those that grow out of initiatives directed toward children with mental deficiency, this CBR program was especially good in the social side of rehabilitation: community awareness raising, daily living skills, special education, integration into normal schools (including special preparation and assistance to school teachers), vocational training, and promotion of work opportunities. They were good at recruiting local volunteers and at mobilizing community committees and activities for inclusion and assistance to disabled persons.
The program was weakest in the therapeutic and technical side of rehabilitation. The program coordinators were well aware of this deficit—which was one reason they invited me back in 2005. They asked me to do a more complete assessment of the CBR program, giving special attention to the therapeutic and technical needs of physically and multiply disabled children, especially those children in need of individualized therapy or assistive devices.
Home and Community Visits
Most of my two weeks in Honduras I spent visiting rural communities and homes in three of the districts covered by the program. Because the program leaders wanted to learn more about the technical side of rehabilitation, they took me to see those children who presented the biggest challenges to them. For this I give the team credit. They could have showed me only their "success stories." But instead they took me to where they most needed new ideas and advice. This made it far more interesting and productive for everyone.
In fact, most of the children whose homes we visited had enormous unmet needs. Often those needs were unmet because no one knew quite where to begin. Yet with a little imagination and creativity, we found a lot could be done with local skills and materials, as part of the CBR process.
What I most appreciated was people's eagerness to learn and openness to explore new approaches and possibilities. Through these open-ended home visits, the team developed many new ideas about what they could do through appropriate technology and participatory problem solving at the family and community levels.
Here I will describe just a few observations, focusing on some of the problems.
The need to integrate technical and social needs. The needs of most of the children we visited were complex. It was clear that their physical and social needs were interrelated and that neither could be met without adequately responding to both.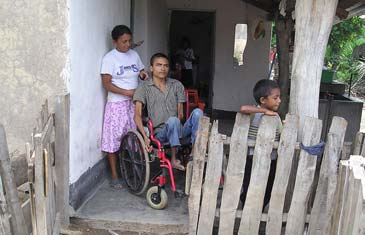 Marcos, for example, is a bright 23 year old youth with all 4 limbs paralyzed and contracted by polio. As a boy he began school but soon dropped out. We found him depressed and with very low self esteem. He could not move his new poorly designed wheel chair by himself, and preferred to crawl. The CBR team was at a loss as to how to help him.
When we asked Marcos what he thought might help, he had some good ideas. He wanted a tray on his wheelchair so he can draw and "learn to write." Marcos' younger brother is mentally slow and has repeated 2nd grade 3 times, but said he was eager to teach Marcos. That would be great for them both. We talked to a carpenter who agreed to make the tray at a height so Marcos can write with his hand and mouth. Once Marcos learns to write perhaps he can begin to tutor slow learning children in the town, as a member of the CBR team. Marcos now has hopes for the future.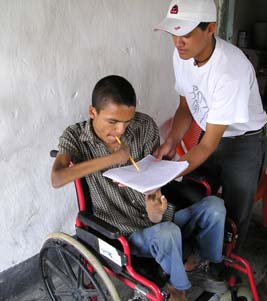 The strength of the Juana Leclerc CBR Program lies in the social rather than technical area. This stands to reason insofar as the coordinators of all three regions are social workers. While they do an excellent job in mobilizing community involvement and getting children into school, they do not have the background or training to adequately assist or advise on therapeutic and technical needs.
This technical shortcoming could be partly resolved if there were capable professional back-up services in larger towns, to which the CBR team could turn for referrals and assistance. Unfortunately, however, when the CBR workers seek assistance or advice from local professionals, that which they get is too often substandard.
There is no school of physiotherapy in Honduras. Most of the few PTs in the country come from El Salvador.
What is more, too often the physiotherapists and other rehab specialists—including some of those who provide training or support services for the CBR program—fall in to an unimaginative routine. They tend to provide the same standard exercises and assistive equipment to children with the same general disability, without adequately evaluating the individual needs an possibilities of each child.
Sadly, this situation—in which many physiotherapists and rehab experts fall into a thoughtless routine and thereby lose the opportunity to help children reach their full potential—is not unique to Honduras.
I have encountered this same problem in many countries I've visited. (For example, see Newsletter from the Sierra Madre #53/54 on Nicaragua, and #55 on India.)
Standardized Equipment with Inappropriate or Harmful Designs
Time and again, on our home visits, we saw assistive devices prescribed by experts in hospitals or rehabilitation centers tha were inappropriate or even counterproductive for the children using them. The inadequacies weren't a question of cost. In fact many of the aids were quite costly. But they didn't meet the needs of the child. As in other countries I have visited, the most consistently unsuitable assistive devices were standing frames, walkers, special seating, and wheelchairs.
Example of Luis
Luis is a bright 4 year old with spastic cerebral palsy. While most children I saw were from very poor families, Luis' mother is a school teacher and the family is better off than many. His mother takes Luis regularly to an urban rehab center where he has been provided a variety of costly assistive devices, all in some ways ill-suited to the boy's needs.
Luis' fancy high chair is of molded plastic with aluminum legs. But it has a number of problems:
The seat is horizontal and even angles forward a little, so the spastic child tends to scoot forward uncomfortably.

The seat is too deep. The child's butt is far in front of the seat back, causing slumping and hip extension, which triggers more spasticity.

There is no foot rest and the feet thrust forward.

The vertical back rest & head-rest are in the same plane. This pushes the child's head forward and down, causing more spastic back pushing of the head.
As a result, Luis is miserable in his seat. It increases his spasticity, reducing control of his head, trunk, arms and hands. So he functions less well.
Luis might do better in a chair something like this:
Foot rest with front bar to keep knees bent and reduce spasticity.

Seat with a sink for the butt, to reduce forward thrust.

Head rest behind plane of back rest.

Seat and backrest at right angels and tilted back for comfort and stability.
All of these devices could be adapted to better meet the child's needs. The
upsetting thing is that the experts who prescribed them didn't take the trouble.
Luis' standing frame has similar problems:
A high, straight-up-and-down backboard pushes his head forward and tilts his body forward, distressingly off balance.
Fortunately his mother improved the frame some what by padding the
board and tilting it a little backwards.
Luis' walker has a cloth seat that is so high he has to walk on tiptoes. This
increases his spastic pattern and impedes walking.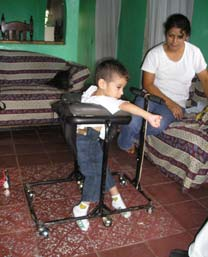 Better would be a similar walker that lets him walk with his heels down.
| | |
| --- | --- |
| Harmful | Better |
Common Problems with Children's Wheelchairs
A few years ago the biggest problem for non-ambulatory children in poor countries was the lack of a wheelchair. Today many more children have wheelchairs. The problem is that very often the wheelchairs given to children don't meet their needs. International charities typically donate second-hand wheelchairs that are far too big. Others provide fancy new wheelchairs that are poorly designed and quickly break down. There is too little concern for the needs of the individual child. As a result, thousands of children end up with ill-fitted wheelchairs that further limit the child's mobility, cause harmful posture and deformities, and may cause pressure sores.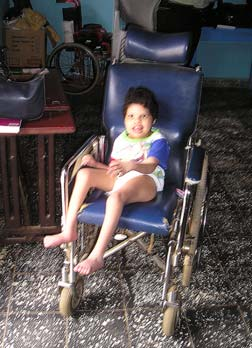 And in the case of children with cerebral palsy, they tend to increase spasticity and decrease function, thereby holding back the child's development and self-reliance.
In Honduras most wheelchairs we saw children using were shockingly ill-suited for them. Here are a few examples:
The most common problem observed is that the donated wheelchairs are far too big for the children. This is true both for second-hand chairs (left and center) and for lovely new chairs (above right).
In Honduras, as in many countries, well publicized ceremonies are occasionally held in which the President's or Governor's wife, or an international charity, gives shiny new wheelchairs to poor disabled children. One of the most common brands of wheelchair comes from The Wheelchair Foundation, which distributes worldwide cheaply made wheelchairs from China. While these chairs have some good features, they have serious design problems that make them unsuitable for most children. But with simple modifications in design, allowing more adaptability, these chairs could meet the needs of many more children.
Problems With the Standard Donated Chair
Backrest is too up-right and seat too level, causing discomfort and slipping out of the chair.

Height of front and rear wheels don't adjust enough to tilt the chair sufficiently backward.

The cloth backrest is too high for many children and pushes head forward and down. (Some children need head support, but many don't.)

The footrests are much too low for many children, and can't be raised enough to reach the feet.

The chair is wide enough to fit a very obese child, but far too wide for most children.

Armrests are too high for many children to reach wheels and move the wheelchair themselves.

Seat belt is fixed too high on the seat back, or too far forward on seat, so child can slip underneath.

Bearings and many other components are weak, they break quickly—and are hard to replace locally.

No instructions are provided on how to evaluate the child's needs and adapt the wheelchair accordingly.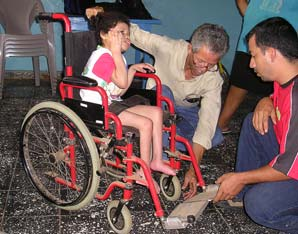 Suggested Design Modifications:
Redesign the chair so it can be easily tilted farther back—adjustable to each child's needs.

Longer front wheel forks with more holes, and adjustable rear wheel height, will allow more tilt.

Backrest could be made with 3 horizontal cloth bands, so height and positioning of head can be modified to meet each child's needs.

Redesign footrests for higher adjustment, and so knees can be at right angles (for less spasticity).

Chairs should come in different widths, or be adjustable, (see Nothing About Us Without Us, p 190).

Armrests should be lower, or adjustable—and longer, to better accommodate a table or tray.

Seat belt should be attached at the back corners of the seat, so it fits low and tight across the hips.

Bearings and other components should be easy to replace with locally available supplies at low cost.

Apamphlet should be provided with the wheelchairs, along with a few simple tools, so rehab workers and families can easily adapt the chair to the child's needs.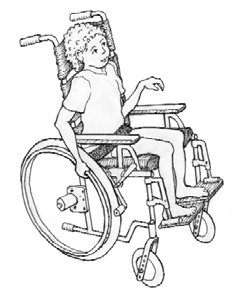 Every effort should be made to assure that wheelchairs are designed for easy adaptation to each child's needs. HealthWrights, in cooperation with other children's rights groups, is developing guidelines and instructional materials.
For a Slide show on Wheelchairs designed for each child, by PROJIMO, see www.healthwrights.org/sillas/index.htm
&nbsp