'Museo de la Basura' (Garbage Museum) in Morelia: Making Educational Toys and Ingenious Teaching Aids by Recycling Refuse
After my presentation at the Congreso in Michoacan, a swarthy heavyset man pushed his way through the crowd and introduced himself to me as Maestro (teacher) Jose Herrera Marquez. Bubbling with enthusiasm, he said he was my "soul mate." He loved my books on community health and rehabilitation, he explained, because they not only "cut through the garbage" but also put it to use—by giving people ideas about how to use local resources and waste materials to make assistive devices and other equipment. (Our book Nothing About Us Without Us has chapters on making assistive equipment out of old tires, old cardboard boxes, and even mud.)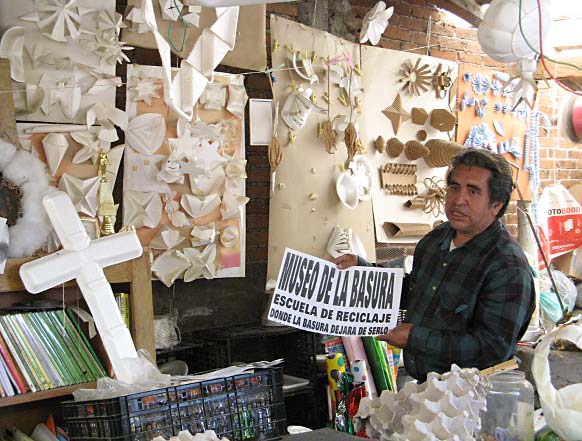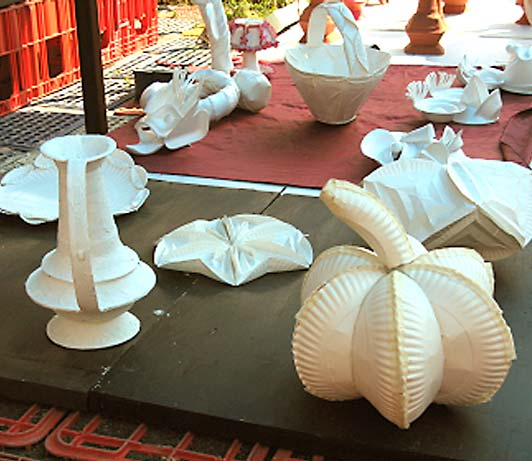 Maestro Jose looks and acts more like a backwoods farmer than a schoolteacher. Yet he has a degree in Special Education and works with the Morelia Department of Education as a roving Pied Piper, visiting schools and holding workshops on the creation of educational toys and learning games out of garbage—especially old plastic containers and disposable paper plates and cups. He has a display of his innovative creations under a series of makeshift tarps in a fenced in yard he calls the "Museo de Basura" (Museum of Garbage). The array of colorful extravaganza— including serpentine gizmos over 2 meters tall—give the visitor a sense of an extraterrestrial Fantasia.
| | |
| --- | --- |
| The museum display fills a yard walled in by colorful soft-drink crates. On this table are a variety of birds, animals, and bugs made from bits of wire, Popsicle sticks, and tin cans. | Two plastic juice bottles are joined and filled with sand to form an hourglass. |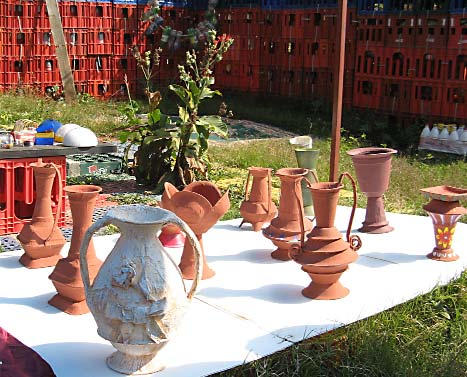 Educational Toys and Learning Games Made from Throw-Away Items
With the help of teachers and students in the schools in which he conducts workshops, Jose Herrera has come up with a great variety of educational toys and learning games made from throw away items, including paper plates, bowls and cups.
| | |
| --- | --- |
| Many of the games, made by carefully cutting and gluing paper plates and bowls, work similar to a roulette wheel, using one or more marbles. | This game challenges the child holding the board to roll the marbles into the cups at bottom. The cups with highest numbers are hardest to land in. |
| | |
| --- | --- |
| This game helps children learn how to read Roman numerals—by rolling marbles into the numbered pits. | The players spin or swirl the wheel. The marbles then fall into slots with different numbers. This wheel has 3 marbles. |
| | |
| --- | --- |
| One of the cleverest games is a long snake made of plastic Coke bottles that funnel into one another. Marbles are dropped into the snake's mouth and bump and bounce down until they shoot out the tail end and drop into a tray with cups of different colors and numbers. | |
| | |
| --- | --- |
| Again it makes counting and arithmetic fun! | The games are covered with a clear plastic sheet to prevent loss of marbles. |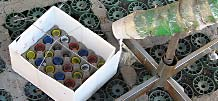 &nbsp