Selected Content From Insert for Newsletter #60
On Becoming an Internet Publication
David Werner has been reporting on his groundbreaking health and disability initiatives through this Newsletter since 1967, and we are happy to continue publishing it. The confluence of two significant factors have prompted our recent decision to become primarily an online Internet publication. First, in April, 2007, the U.S. postal service discontinued international surface mailing entirely. (For our domestic mailing we still can use our inexpensive nonprofit surface rate.) Although we appreciate the speed of air mail, at $2.70 per overseas Newsletter, ($1.31 for Canada and $1.55 for Mexico) the cost is pro- hibitive, especially since much of our international readership cannot afford to subscribe. Second, on a fragile planet with finite resources, we have been very concerned about the use of paper (albeit recycled paper), as well as the fuel required to transport these newsletters to 130 countries around the world.
Fortunately, more and more people and groups have Internet access, making this change feasible. However, many people and groups do not have access, or adequate bandwidth, to down- load the newsletter. Therefore, a small number of printed Newsletters will be available to those who cannot download it.
IMPORTANT: We need your e-mail address to send e-mail notifications of upcoming issues! Be sure to provide us with all e-mail addresses you wish us to notify. Please send a request to
Previous issues can also be found at:
We would appreciate your continued subscription payment to help us offset production costs, and to continue sending the Newsletter to persons and groups—primarily in poor countries—who lack Internet access and cannot pay to subscribe.
In preparation for this issue, we have done a significant amount of updating of our mailing list. We only want to contact those who want our Newsletter. If we do not hear from you at all, we will, reluctantly, remove you from our Newsletter mailing list. We look forward to hearing from you. Thank you for your support!
NEW! Three New CBR Slide Shows on CD/DVD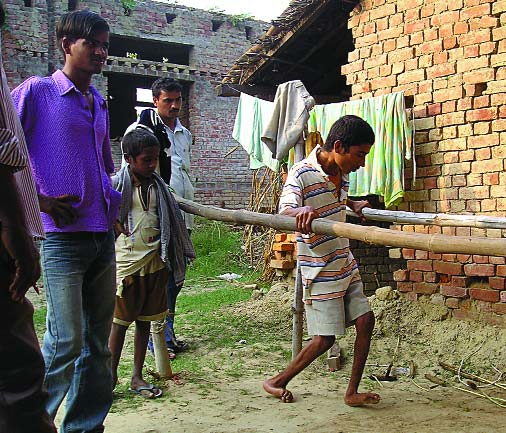 In 2005, David Werner visited India where he conducted CBR workshops in three regions. These workshops provided material for three new extensive slide shows, each narrated, detailing the interactive process of the workshop participants, the disabled individuals, and their families. These heartwarming, yet pragmatic stories show how, by working together and putting the disabled person at the center of the process, assistive devices can be tailor made to better fit his or her needs. Order the CD or DVD from the other side of this flier.
Update on PROJIMO
PROJIMO in Coyotitan. One of the biggest challenges for disabled children as they grow up is to earn a living. This is especially hard for young people with multiple disabilities. Jesus Ortega was born with spina bifida and hydrocephalus. As a child he lost one leg because of a bone infection, and became nearly blind from meningitis. Yet as he grew up, he was determined to become independent. He now lives in his own small house behind PROJIMO, in Coyotitan village.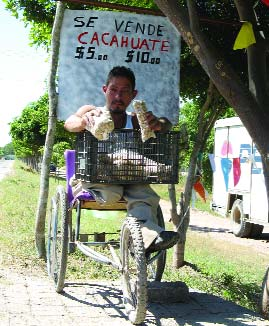 With the help of a modest start-up fund from Stichting Liliane Fonds in Holland, last spring Jesus began a chicken raising project, in partnership with Virginia, a young women with brittle bone disease. At first it was successful, but in the summer rains some chickens developed foot rot. Others were stolen. So with what was left of his chicken earnings, Jesus decided to start a new trade: vending cacahuates (peanuts). He buys fresh-roasted peanuts in bulk, packages them in small plastic bags together with tiny bags of salt and chili pepper, and sells them on the road and in town for a hand- some profit.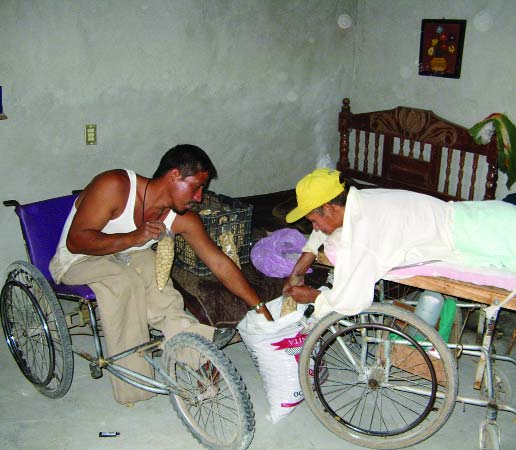 Loss of the hands makes independent living especially difficult. As a result of electric burns, Roberto lost one hand completely, and the other was left rigid and deformed.
To help Roberto learn to feed himself, at PROJIMO Armando made Roberto an assistive device to hold a spoon or fork. First he made it for one limb and then the other, so Roberto could experiment with each. Roberto decided the aid on the deformed hand was easier.
The PROJIMO Children's Wheelchair Program in Durangito
The children's wheelchair program in Durangito is reaching out to new areas—including the town of Escuinapa, south of Mazatlan. Recently they delivered custom-made wheelchairs to a group of children, and evaluated new children needing chairs.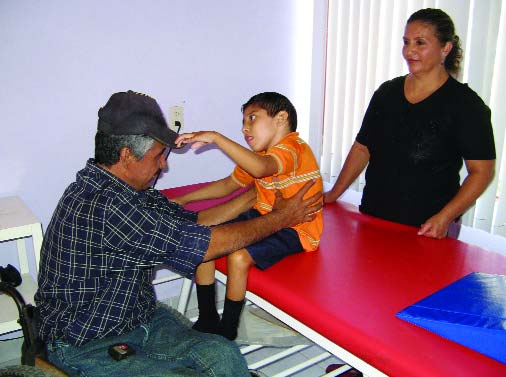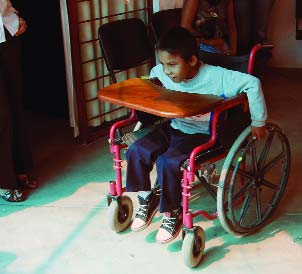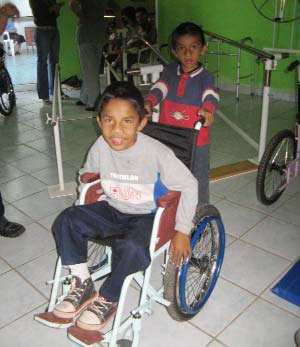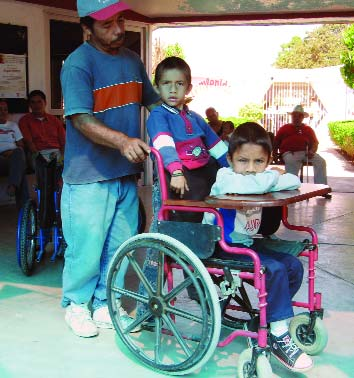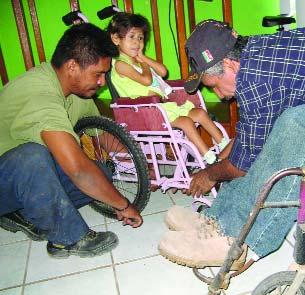 HealthWrights Needs Donations For Our Continuing Work
HealthWrights is very active in providing health and disability related mate- rials to communities around the world, through our books, newsletters, interactive workshops and slide shows.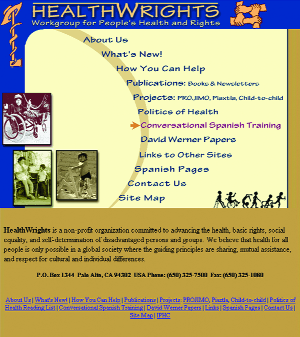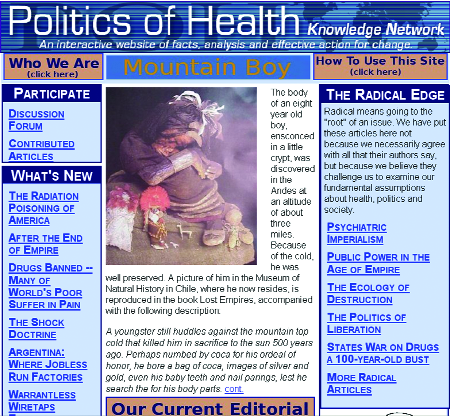 In addition to developing and disseminating information through various media, David Werner's transformative interactive workshops touch the lives of many disabled people—both directly in the workshops themselves, as well as through those assisted by the participants in the workshops, who take what they've learned and use it in their own communities. We get many letters from community rehabilitation workers, discussing the details of their work. David continues providing ongoing support and advice to many communities around the world.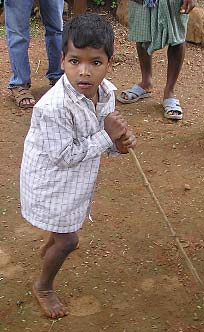 &nbsp