End Matter
To help reduce costs and resource use, please subscribe to the Electronic Version of our Newsletter. We will notify you by email when you can download a complete copy of the newsletter. Write to newsletter@healthwrights.org.

Board of Directors
Roberto Fajardo
Barry Goldensohn
Bruce Hobson
Jim Hunter
Donald Laub
Eve Malo
Myra Polinger
Leopoldo Ribota
David Werner
Jason Weston
Efraín Zamora
International Advisory Board
Allison Akana — United States
Dwight Clark — Volunteers in Asia
David Sanders — South Africa
Mira Shiva — India
Michael Tan — Philippines
María Zúniga — Nicaragua
This issue was created by:
David Werner — Writing, Photos, and Drawings
Jim Hunter — Editing
Jason Weston — Design and Layout
Trude Bock — Proofing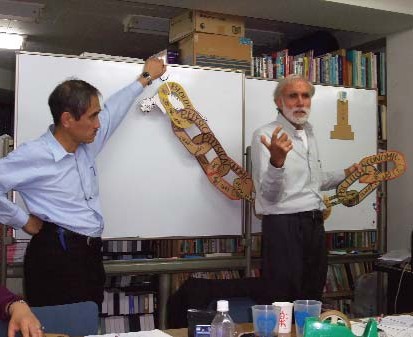 What does education often do?
It makes a straight-cut ditch of a free,
meandering brook.
—Henry David Thoreau
&nbsp