Insert
Announcing an inspiring new DVD movie: Community-Based Rehabilitation Workshops in Peru
By Allison Akana and HealthWrights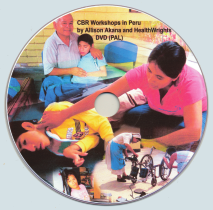 In February, 2009. David Werner, pioneer in Primary Health Care and Community Based Rehabilitation—facilitated two workshops on innovative technology for and with disabled children and their families in Peru. On the first workshop, conducted in the poor barrios of Lima, David was joined by his former student and long time friend, Allison Akana, a Physician's Assistant and researcher in women's health.
Allison skillfully and perceptively filmed the entire workshop. She did a superlative job capturing both the technical and human sides of the event: everything from the logistics and planning, to the vibrant group dynamics, to the incredible spirit and energy of all involved. The film highlights how the disabled children themselves, as part of a team that included their families and CBR workers, took an active part in designing and creating the simple assistive devices that would allow them function better and feel more included in their homes and communities.
This beautiful film is a valuable educational tool. The DVD will be a great help to planers and facilitators of hands-on CBR workshops. In an easy-going manner it portrays each stage: from the introductory seminar on Participatory Community Rehabilitation, to the small-group visits in the homes of the disabled children, to the teamwork of designing simple assistive equipment for each child, to the intense final day where the 8 different groups worked collectively to create the devices they designed. In the grand finale each child demonstrated how well (or sometimes, not so well) the equipment made in the workshop worked for him or her. Everyone learned from both from their successes and their mistakes.
Available on DVD in PAL (for Europe and much of Africa and Asia) and NTSC (for the Americas). In English, 28 minutes long.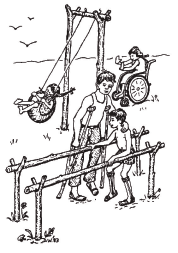 For other CDs on David Werner's hands-on Assistive Technology Workshops in Community Based Rehabilitation in Latin America and India, see our website.
Newsletter Archives Now Online
All 67 issues of Newsletter from the Sierra Madre are now online at www.healthwrights.org. Many of the recent issues are online in both English and Spanish. To save money and trees, please consider changing your subscription to Newsletter from the Sierra Madre from the paper mailing to the online edition. You can do so at www.healthwrights.org. But if you can, please continue to make a donation for your newsletter subscription – if possible with a bit extra – so we can continue to send free print newsletters to people and programs in difficult circumstances.
&nbsp