PROJIMO Leader Mary Picos Has Passed Away
Very sadly, just a few weeks ago (Feb. 22, 2018) Mary Picos—the dynamic paraplegic leader of the PROJIMO community-based rehab program for 35 years—died from fulminating septicemia caused by an infected pressure sore.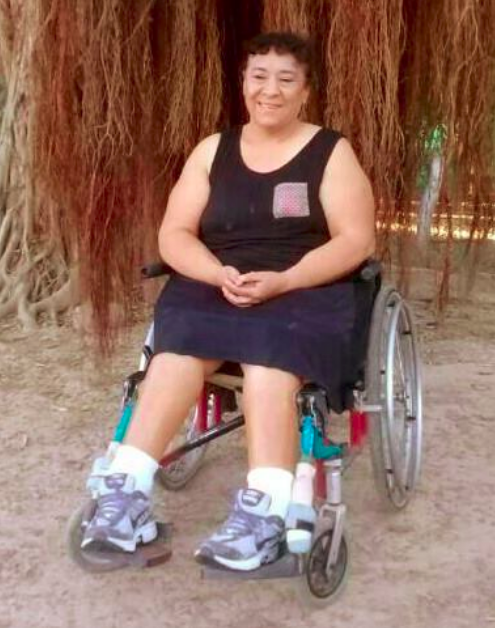 David left the following announcement on the HealthWrights Facebook page:
Mary Picos—Co-Director of PROJIMO—Has Passed Away
With deep sorrow the staff and workers at PROJIMO (Program of Rehabilitation Organized by Disabled Youth of Western Mexico) inform friends and supporters that Mary Elena Picos Solian, co-director of PROJIMO Coyotitan, died unexpectedly on February 22, 2018, in a hospital in Mazatlan. Her death was evidently caused by a fulminating case of septicemia, resulting from infected pressure sores—complicated by diabetes—which she had been battling for months.
Mary had been a dedicated leader and administrator of PROJIMO for 35 years. She first was taken by her family to PROJIMO in 1982, after she became paraplegic in a car accident on her honeymoon. Her young husband (the driver), who was uninjured, abandoned her, and Mary was depressed and suicidal. But in PROJIMO she discovered new meaning and joy in life by helping disabled children—and threw herself into the process heart and soul. She was a star apprentice of David Werner in the evaluation and rehabilitation of disabled persons. Soon she became a skilled rehab provider and—together with Conchita Lara (also paraplegic)—joint coordinator of the program. She married another disabled person, Armando Nevarez, who likewise had come to PROJIMO for his own rehabilitation and then became a brace and limb maker. Together they had a daughter Lluvia, who soon became a junior rehab assistant herself.
Over the years, through good times and hard times, Mari worked tirelessly to keep the program functioning and solvent. Funding was a constant challenge, and without Mary's ceaseless efforts and ability, there were times when the program might have gone under.
Mary became such a strong central figure in the program that with her sudden death, in her fifties, the program is faced with major challenges. But the team of disabled workers—with Conchita Lara as the remaining coordinator, is determined to reinvigorate its services to the most needy of disabled persons.
If you would like to see some of their most recent activities since Mary left them, see their Facebook page: PROJIMO A.C.
This note can be found here.