Urgent request for electric wheelchairs
While the PROJIMO community-based rehab programs run by disabled villagers in Mexico make individualized wheelchairs for children and adults who need them, some of the leaders and former workers in these programs now need electric wheelchairs. Please help provide them if you can.
Companions in pressing need for an electric wheelchair include: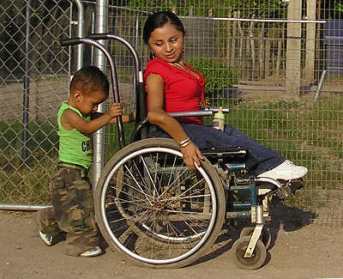 Virginia Gonzalez
Virginia, who was born with brittle-bone disease (osteogenisis imperfecta), first came to the PROJIMO (Program for Rehabilitation Organized by Disabled Youth of Western Mexico) when she was 4 years old. Years later she became a worker at PROJIMO, running the program's cybercafe and teaching computer skills to village children. She also taught Spanish-as-a-second language to volunteer rehab workers visiting the program. Now in her mid-30s, Virginia has a teenage son José Carlos who from early childhood has helped his mother in many ways and wants to become a nurse. Virginia currently has a job as bookkeeper in a furniture store at the far end of the village (Coyotitán). To get to the store, however—because of her fragile, twisted arms (from repeated fractures)—she needs someone to push her manual wheelchair. This job usually falls on José Carlos, though the timing often conflicts with his school schedule. For greater independence, Virginia very much needs a (small) electric wheelchair.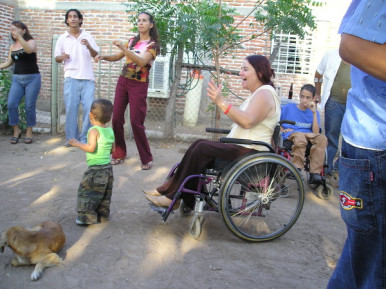 Conchita Lara
Conchita first came to PROJIMO as a teenager 36 years ago after a fall that left her paraplegic. She has been active in the rehab program ever since, and now—in her mid-50s—is the program's dynamic coordinator. She has two lovely daughters, now grown up and independent. Conchita has always been strong and very capable. For a while she worked making artificial limbs in the PROJIMO shop. Five years ago, however, Conchita developed breast cancer. One breast was surgically removed together with lymph nodes in her armpit and upper arm. This has weakened that arm that so much that propelling her manual wheelchair for any distance has become difficult and painful. For the active life she leads, Conchita now longs for a (wide) electric wheelchair.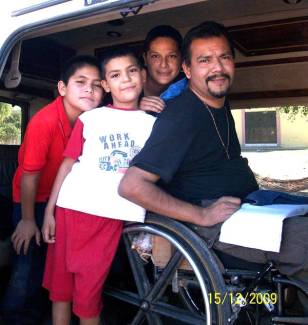 Rigo Delgado
Rigo became quadriplegic in a car accident when he had just finished prep school, and was brought to PROJIMO Coyotitán for rehabilitation and treatment of pressure sores. Like Virginia and Conchita, he eventually became a member of the PROJIMO team—and finally a leader. Rigo organized an outreach program to other villages, to promote awareness of disability and inclusion. Rigo went on to study social psychology at the Autonomous University of Sinaloa, where he played a key role making the university physically and socially more accessible to disabled students. He likewise began a disability "Child-to-Child" awareness-raising program in village schools in migrant-farm-worker settlements nearby—for which he received national awards. For these activities, Rigo—whose four limbs are paralyzed—needs appropriate mobility aids. Friends of HealthWrights managed to get him a donated electric wheelchair and also an adapted van with a power ramp. But now both the chair and ramp are on their last legs. So for Rigo we are looking for a donated (large) power wheelchair.
For Rigo we are also looking for the donation of an adapted van with a ramp, in good condition. And if possible, a volunteer driver to drive it to Sinaloa, Mexico. (The wheelchairs we can fly down.)
IF YOU CAN HELP FIND OR DONATE WHEELCHAIRS FOR THESE COLLEAGUES, PLEASE DO!
Wheelchairs can be sent or delivered to:
Healthwrights

c/o Jason Weston

3897 Hendricks Road

Lakeport CA 95453 USA
&nbsp