-- Below are our most recent content additions to the site --
to SEARCH the HealthWrights site and newsletters click HERE and replace << ENTER-SEARCH-TERM >> with the term(s) you want to find
To receive email announcements when we post new newsletters click the subscribe link  (to the left)
URGENT NEED FOR DONATED ELECTRIC WHEELCHAIRS ! << click the link to learn more!
HELP NEEDED − GIVE A CHILD A CUSTOMIZED WHEELCHAIR !   << click the link to learn more!

Also, we are in need of volunteers to help with website content. 
In particular, we are looking for someone to support our primary IT volunteer see our page How You Can Help

Want to watch videos we have produced?  See our Multimedia page for our videos that are online for viewing.
---
September 2019
NEW!

Newsletter 85
David Werner and HealthWrights are very excited to announce the release of this new book, Reports from the Sierra Madre. This is the backstory, the real-time day-to-day journals and reports of what David experienced in the backcountry of Western Mexico, living and working side-by-side with the campesinos. Richly illustrated with hundreds of photographs as well as line drawings and sensitively painted images of birds, all by the author, this book is a must-read, both for those who have been involved in the health and disability programs that grew out of the experiences in this book, and also for those who have benefited from Where There Is No Doctor, and David's other groundbreaking books...
Note: This newsletter is "responsive." It will be nicely readable on tablets and even phones
---
March 2019 | Newsletter 84
On a visit to Thailand in May 2017 – described in Newsletter #81 – one of the most groundbreaking innovations I witnessed was the so-called "Buddy Home Care" initiative, organized by the Health and Share Foundation (HSF). This newsletter provides an update on this promising initiative, originally initiated by a Japanese NGO called SHARE. Health and Share, like its parent organization SHARE, has a down-to-earth, egalitarian philosophy of "putting the last first."...
Note: This newsletter is "responsive." It will be nicely readable on tablets and even phones
---
WITH DEEP SORROW the staff and workers at PROJIMO (Program of Rehabilitation Organized by Disabled Youth of Western Mexico) inform friends and supporters that Mary Elena Picos Solian, co-director of PROJIMO Coyotitan, died unexpectedly on February 22, 2018, in a hospital in Mazatlan. Her death was evidently caused by a fulminating case of septicemia, resulting from infected pressure sores – complicated by diabetes -- which she had been battling for months. Mary had been a dedicated leader and administrator of PROJIMO for 35 years. She first was taken by her family to PROJIMO in 1982, after she became paraplegic in a car accident on her honeymoon. Her young husband (the driver), who was uninjured, abandoned her, and Mary was depressed and suicidal. But in PROJIMO she discovered new meaning and joy in life by helping disabled children – and threw herself into the process heart and soul.
Read more about Mary's life and work here.
---
April 2018 | Newsletter 83
Newsletter #83 is, in ways, a sequel of #82 about Habilítate Mazatlán, a modest service program run by disabled recovering drug-users. Among services provided, they build – out of old cardboard – custom-made special seating for disabled children. Here we describe a related challenge the group has taken on: crafting custom-molded cardboard cushions to help heal chronic pressure sores. We share this story because it conveys a great unmet potential. If more people and programs would make use of this low-cost handicraft, myriad dire complications and premature deaths from pressure sores could be prevented....
Note: This newsletter is "responsive." It will be nicely readable on tablets and even phones
Haga clic aquí para leer este boletín en español

---
January 2018
NEW!

Newsletter 82
Lea este boletín en español aquí
IN MEXICO TODAY, widespread use of addictive drugs has become a major social and health problem, especially among youth. In this newsletter we discuss how extensive trafficking and consumption of drugs have created new challenges for the community health and disability programs we are involved with, and we describe a groundbreaking initiative run by and for disabled persons who got hooked on drugs and are now trying to stay off them by devoting their lives to assist others in need...
Note: This newsletter is "responsive". It will be nicely readable on tablets and even phones
---
 For those who read Spanish:
Announcing a new book on
HOW TO ELIMINATE BACK PAIN
(COMO ELIMINAR DOLOR DE ESPALDA) by Dr. Dolores Vicencio, a rehab specialist – who has cooperated closely with the PRÓJIMO disabiliy programs in Mexico for many years. To learn more click here.
---
September 2017 — Newsletter 81
In May 2017 I was invited by Health and Share Foundation (HSF) in Thailand, and its parent organization, SHARE (based in Japan), to visit their innovative community outreach program in Ubon-Rachathani province, on the Thai-Laos border. The purpose of my visit was to exchange ideas for "helping to enable the most vulnerable persons and groups" to better meet their pressing health-related needs.....
Note: This newsletter is "responsive". It will be nicely readable on tablets and even phones
---
December 2016 — Newsletter 80
What goes around comes around: Unexpected feedback on our books and activities - part 3. Since I first wrote and illustrated Where There is No Doctor in Spanish, in mountain villages of Western Mexico in the early 1970s, the book has been translated into at least 100 languages (that we know of), with more than three million copies in print. According to the the World Health Organization, it has become "the most widely used community health care handbook in the world." We have received letters of appreciation from health workers and families in scores of different countries, often with stories of how they used the book to treat the sick, save lives, and take collective action to prevent disease. On a few occasions, families have been so pleased with the book, that they have named a new-born child after me. Here I give a couple of examples....
Note: This newsletter is "responsive". It will be nicely readable on tablets and even phones
---
August 2016 — Newsletter 79
A boy with CMT muscular atrophy – same as me


Three years ago, in 2013, I received an urgent email from a mother in Guadalajara, asking me if I knew anything about Charcot-Marie-Tooth syndrome. She told me her son, Tomás – born in July, 2003 — had been diagnosed with "CMT," a progressive neurological condition beginning in early childhood. At birth he'd seemed normal. But hadn't begun to walk until he was two-years-seven-months old. When he finally started walking, he had a strange wobbly gait with poor balance and frequent falls. As he grew, the awkward gait gradually became more pronounced, with notable weakness in his feet and lower legs. Weakness in his hands and fingers likewise became apparent, causing difficulty with fine manual skills.
Note: This newsletter is "responsive". It will be nicely readable on tablets and even phones
---
August 2014 - Newsletter 73
Child-to-Child Workshops in Burkina Faso
David Werner was invited in February to visit and facilitate a Child-to-Child workshop in Burkina Faso, a small country in West Africa.
This newsletter is his report back. In addition he put together a photo documentary to accompany the newsletter.
Read the newsletter and see the photo-documentary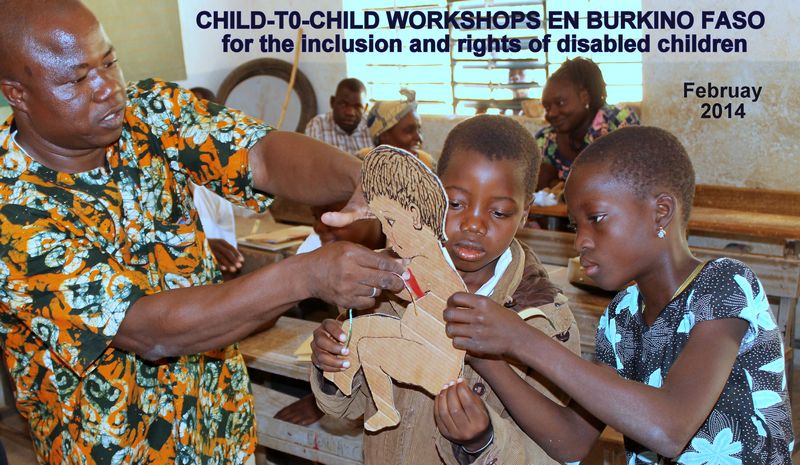 Español – TALLERES DE NIÑO A NIÑO
Hacer la Escolarización Más Inclusiva para Niños con Discapacidad y Más Propicio para Todos los Niños


---
Newsletter from the Sierra Madre #68
Rigo Delgado's story
A disabled activist's daring work in disability rights
La Historia de Rigo Delgado -- El trabajo audaz de un activista con discapacidad por los derechos de personas con discapacidad
When Rigoberto Delgado first arrived at PROJIMO in 2002 his hopes for the future were dismal. A few months before, at age 24, a car accident had left him quadriplegic (paralyzed from the neck down) for life. He had lost control of most of his body, including urine and bowel functions. He had limited use of his arms but couldn't grasp with his hands. He was completely dependent on family members for all his basic needs. It was as humiliating as it was depressing.
Rigo had heard about PROJIMO – a community rehabilitation program run by disabled villagers in the town of Coyotitan, Sinaloa, Mexico – and decided to go there as a last resort. The fact that the program's two leaders were spinal-cord-injured like himself gave him a bit of hope. If they could run a program helping disabled persons move ahead with their lives, perhaps he had a chance, too. But still he had misgivings. After all, the two women who directed PROJIMO were paraplegic (paralyzed from the waist down) and still had use of their hands – whereas his upper limbs were also involved.  How could someone as incapacitated as he was ever dream of independent living?  Yet he still held on to that dream. Depressed as he was, something inside him wouldn't give up.
To read the entire newsletter as a pdf file, click here.