HealthWrights: History
HealthWrights Timeline
1953: Fresh out of highschool, David Werner made a six-month-long biological expedition to the wilderness areas of western Mexico, including time in the small town of Las Varas helping Dr. Ricardo Sánchez.
1965: David revisits Mexico, travelling throughout the Sierra Madre, making his own connections and planting the seeds of his health projects in the village of Ajoya de San Jerónim. Project Piaxtla begins.
1966: Before the Newsletters, David Werner issued four inspiring Reports from the Sierra Madre: "This is the backstory, the real-time day-to-day journals and reports of what David experienced in the backcountry of Western Mexico, living and working side-by-side with the campesinos." The original reports were typed up by Polly Polinger and mimeographed by Bob Wallace. In 2019, they were compiled into a richly illustrated book. From the first Report:
It had been my original intention to remain in the village of Ajoya only long enough to arrange for a burro train to transport the medicines to the high country of the Sierra. But Nature has had her surprises waiting for me, and my friends back in Palo Alto have had theirs. The result has been that now, some eight weeks later, I am at last getting my small cavalcade in motion. But perhaps it is better this way, not only have I come to know and love the Pueblo of Ajoya, but by now each little village and rancho along the way has extended its invitation to me, and has offered to transport my cargo to the next. Already many villagers have come for medicines from as far away as Jocuixtita, Verano, and Caballo de Arriba. Wherever I go I know I will be welcome.
Read all the Reports from the Sierra Madre: One, Two, Three, and Four.
1967: The first Newsletter of the Sierra Madre was released. Like the Reports, the early Newsletters were typed up by Poly Polinger, printed on mimeograph by Bob Wallace, and mailed to a small circle of supporters.
The series of journals titled "Reports from the Sierra Madre" terminated with No. 4. However, many subscribers have shown so much interest in my continuing Mexican Project that I would like to keep them informed, if briefly, of my activities in the barrancas since the last Report came out in February.
1968: First mention of the Piaxtla Project in Newsletter #02.
1970: Potable water comes to Ajoya. (GH)
1973: First hint of Donde No Hay Doctor / Where There Is No Doctor provisionally titled "La Práctica de MEDICINA SIN MEDICINAS: Una Guia para los Campesinos Retirados de Recursos Médicos," as reported in Newsletter #07.
1973: Electricity becomes available in Ajoya. (GH)
1974: Donde No Hay Doctor is published, as reported in Newsletter 09.
1976: Newsletter #11 makes a special request for "additional funding for the development of the guide books, work manuals for village health workers and rural health planners which we hope will be the outcome of this project," which would result in the creation of the Hesperian Foundation.
1977: The publication of Where There Is No Doctor in English establishes the Hesperian Foundation, as reported in Newsletter #12.
1977: "Nutrition for Babies" program involving Rosa Salcido. (GH)
1978: Road to San Ignacio completed with public transportation. (GH)
1979: First mention of Child-to-Child in Newsletter #13.
1979: The idea of the "politics of health" first appears in Newsletter #13, which receives an extensive analysis in Newsletter #29.
1979: Planning and preparation for Disabled Village Children begins. (Geert's History)
1982: The era of the mimeograph ends, as the Newsletters are designed and printed on computers.
1982: Publication of Helping Health Workers Learn is announced in Newsletter #14.
1982: First mention of the disability project PROJIMO in Newsletter #14.
1982: The playground for all children is constructed. (GH)
1982: Hurricane Paul. (GH)
1983: Mari Picos, Armando Nevérez, Conchita Lara, Miguel Zamora, Jaime Torres, and Julio Peña establish the PROJIMO team. (GH)
1983: First presentation of PROJIMO before medical professionals at IMSS Mazatlán, and DIF (state organization) visits PROJIMO. (GH)
1983: Lara Fada visits PROJIMO to seek help for teh Tarahumaras. (GH)
1983: Hurricane Waldo. (GH)
1984: More and more SCI patients come to PROJIMO. (GH)
1985: February and March conferences at PROJIMO. Conflict between police forces and narcos in PROJIMO. Training of people to start program in Mexico City. (GH)
1986: Release of first video documentary: Project PROJIMO. (GH)
1986L Molly Bang visits PROJIMO in December 1986, and will write a book (Tiger's Fall)based on Vania's story. (GH)
1986: Drug-use by some residents causes conflict in PROJIMO. (GH)
1986: Laura Vicencio. (GH) ????
1987: Publication of Disabled Village Children is announced in Newsletter #17.
1987: Molly Bang's book provisially titled Lupe the Wildcat is previewed in Newsletter #17. (GH)
1988: Issue 19 was the first Newsletter on global health issues, describing the situation in South Africa during Apartheid.
This shift from local to more global concerns reflects our growing awareness of how small the Earth, as a sociopolitical unit, has become. You will recall that in our last newsletter (No. 18) we looked at how the wellbeing of a village family in the Sierra Madre is affected by growing of narcotics. We noted how this, in turn, is linked to international drug traffic, to the huge foreign debt of poor countries, and to the unjust world economic order.
1988: PROJIMO runs the local CONASUPO story (National Company of Popular Subsistance) until 1992. (GH)
1989: Newsletter #20 gives a major update on PROJIMO including:
Story of Marcelo and Luis
Community-based vs. Home-based Rehabilitation
PROJIMO has seen patients from 11 of the 23 states in Mexico
Vistors from many countries
PROJIMO supplies assistive devices to government-sponsored agencies (GH)
1989: Anna Johnson (Pina Palmera) visits PROJIMO for exchange of ideas and programs. (GH)
1989: PROJIMO starts referring patients for plastic surgery to Mazatlan (Liliane pays 60%, DIF 40%) (GH)
1990: Beginning of kidnappings and extortions in Ajoya area. (GH)
1990: Newsletter #22 tells Conchita's Story. (GH)
1991 Maria Zuniga and David Werner collaborate to found the International People's Health Council (IPHC), convening a meeting in December 1991 called Health Care in Transition.
1991: Newsletter #24 celebrates Trudy Bock's 70th birthday. (GH)
1991: Newsletter #25 provides important updates on PROJIMO:
Drug-culture clients at PROJIMO
"Where have the children gone?"
PROJIMO's offspring
Launch of Spanish classes (GH)
1992: First mention of the International People's Health Council (IPHC), in Newsletter #27, announcing the publication of the proceedings of the 1991 meeting.
1992: Culiacan 'presidente' starts subsidizing assistive devices for patients coming from Culiacan. (GH)
1993: Hesperian withdraws financial support from PROJIMO. (GH)
1993: Start of 'Mas Válidos' in Culiacan by 2 former patients-workers of PROJIMO. (GH)
1993: Autopista Culiacan - Mazatlan completed. (GH) ???
1993: Luis Colosio becomes a promoter for disability in Mexico. (GH) ??
1994: HealthWrights makes its first appearance on the masthead of the Newsletters.
1994: Newsletter #30:
PROJIMO has seen over 300 spinal cord injured persons.
First indication of intention to move the program.
UNICEF Mexico purchases PROJIMO wheelchairs for other programs in Mexico. (GH)
1994: Suzanne C. Levine publishes book "Volver a vivir / Return to Life". (GH)
1994: Marielos comes to PROJIMO. (GH)
1994: Luis Colosio is murdered before the presidential elections. (GH)
1994: "Pan para el Mundo" representatives visit PROJIMO. (GH)
1995: The first HealthWrights website goes up, designed by Jason Weston.
1996: Conflict in PROJIMO: violence of 3 workers against 2 others; and Norma Calacios provides a room at Coyotitan for 'consultas'. (GH)
1997: New HealthWrights site goes up in March (via archive.org).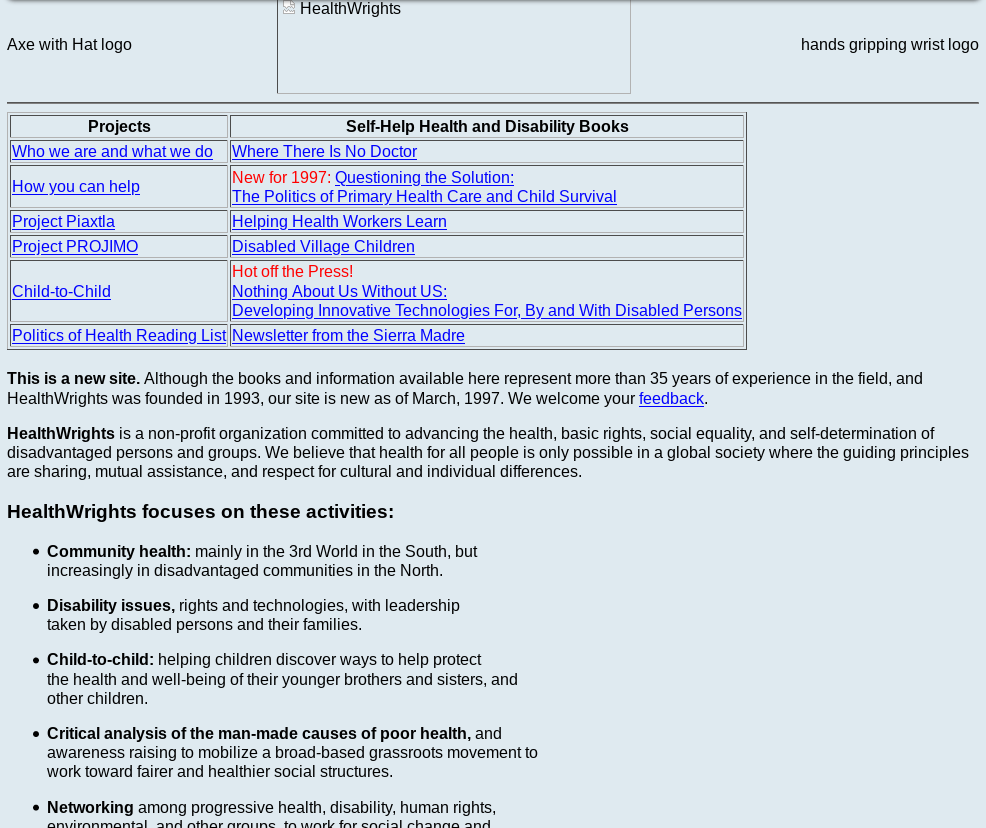 1997: First mention of the Politics of Health reading list appears in Newsletter #35, which later becomes a database, as announced in Newsletter #45.
1997: PROJIMO splits off its rehabilitation program to Coyotitán, 40 miles away from Ajoya, as reported in Newsletter #36.
1998: Construction begins at Coyotitán. (GH)
1998: Activites at PROJIMO Ajoya:
Accessible bus ramp constructed
March 3-8, a training seminar was held for 'mediators' of Stichting Liliane Fonds (Ndl.) with 60+ participants.
The PROJIMO Skills and Training Work Program begins
"Brot fur die Welt" funding presentation (GH)
1999: PROJIMO permanently splits, with the Skills Training and Work Program stayng in Ajoya, and the wheelchair workshop moving to Coyotitán. Two workshops are built in Coyotitán. (GH)
1999: Rigoberto "Rigo" Delgado comes to PROJIMO Coyotitán. (GH)
1999: Charlotte Beyers' films "Our own Road" about PROJIMO is produced, to be released in 2000. (GH)
1999: Seating conference at Mas Validos in Culiacan. (GH)
2000: Project Piaxtla falls off the masthead as the project is no longer viable in Ajoya due to increasing drug-related violence and social instability.
2000: The Newsletter is available online by request, but continues to be designed for print with multi-column PDFs.
2000: "Our Own Road" documentary is released, and wins awards. (GH)
2000: PROJIMO Coyotitán obtains A.C. status, and obtains assistance from a bookkeeper.
2001: HealthWrights website is redesigned by Efrain Zamora. He did a beautiful, very artistic job—which deserves mention and praise—but this complex site was challenging and time-consuming to manage. This led to the redesign in 2011.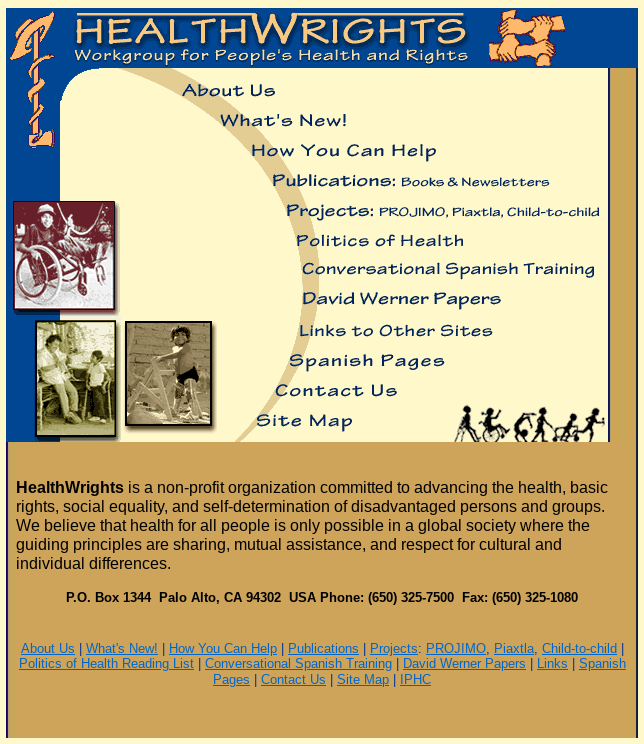 2001: Increasing violence in Ajoya. (GH)
2001: Molly Bang's book Tiger's Fall is finally published. (GH)
2001: PROJIMO Coyotitán updates:
First website
Disability-awareness activities in Coyotitán schools
proyecto de coinversión social INDESOL
poster: Pintando el parque
Virginia comes to PROJIMO
From Newsletter #45: A new leg for the professor (GH)
2002: PROJIMO moves its wheelchair workshop to Duranguito, as reported in Newsletter #47.
2002: Ajoya is abandoned just before the May Massacre. (GH)
2002: The Politics of Health Knowledge Network website is announced in Newsletter #47.
2002: PROJIMO Coyotitán updates:
Liliane Foundation funds construction of therapy room.
San Ignacio funds construction of 2 rooms and bathroom.
3 Coyotitan posters are created.
2002: The HealthWrights.org website is redesigned.
2003: PROJIMO Duranguito updates:
Recieves funds from the Stichting Liliane Fonds network
Construction of workshop and living quarters continues
training of out-of-state wheelchair builders (GH)
2003: PROJIMO Coyotitán updates:
The cyber cafe with computers opens
Television program "PROJIMO A. C." on TV2-Culiacan
In December the big porch is built
Rotary club Culiacan funds a wheelchair van. (GH)
2004: PROJIMO Duranguito updates:
Duranguito receives State and national awards
The construction of workshops and quarters is completed
State of Nayarit sends apprentices, and assists them with setting up the new workshops (GH)
2004: PROJIMO Coyotitán updates:
Media: "Viviendo de Nuevo con Dano Medular"
Media: "Una Protesis para José"
Carly Panchura does a Project evaluation
The new therapy room is built
New website goes online.
Paula Gijsman (Ndl.) sends container with donated equipment. (GH)
2005: PROJIMO Duranguito updates:
Erroll Daniels visits PROJIMO in December
Duranguito initiates new programs out-of-state. (GH)
2005: PROJIMO Coyotitán updates:
PROJIMO receives an award from presidente Fox
Pan para el Mundo discontinues salary subsidies.
Brothers Alberto and Alonso come to PROJIMO
Marcelo Acevedo leaves PROJIMO
Paula Gijsman's container arrives (GH)
2006: PROJIMO Duranguito updates:
Duranguito continues to initiate new programs. (GH)
2006: PROJIMO Coyotitán updates:
Media: "Una mirada diferente"
Media: Un Centro De Rehabilitacion Participativo
Project evaluation by Geert Cuypers
Television: Mujer, Casos De La Vida Real makes an episode loosely based on project PROJIMO, but set in a city environment.
Atilano comes to PROJIMO (GH)
2007: The Newsletter shifts to online, with a few printed copies for those who require it.
2007: PROJIMO Duranguito update: Gabriel Zepeda moves to Nogales, SO. (GH)
2007: PROJIMO Coyotitán update: Marielos leaves PROJIMO. (GH)
2007: Rigo starts psychology studies in Culiacan. (GH)
2006: Last mention of the International People's Health Council (IPHC), in Newsletter #57.
2008: In May, cheif PROJIMO prosthetician Marcelo passes away. He is memorialized in Newsletter #63. (GH)
2008: Lupe Quintero (Nogales, SO) learns wheelchair building at PROJIMO Duranguito. (GH)
2008: Rigo leaves PROJIMO. (GH)
2009: Alberto, Alonso, brothers training under Marcelo before he passed away, leave PROJIMO and return to their ranch where they grew up. (GH)
2009: Online Spanish classes conducted by Rigo. (GH)
2010: The last mention of the Politics of Health website appears in Newsletter #67.
2010: Threats of kidnapping and extortion against Mari Picos' family at Coyotitán. (GH)
2011: Both HealthWrights.org and PoliticsofHealth.org websites are redesigned using Joomla CMS. While it was easier to update, its inability to render well on mobile led HealthWrights to commission an updated site a decade later.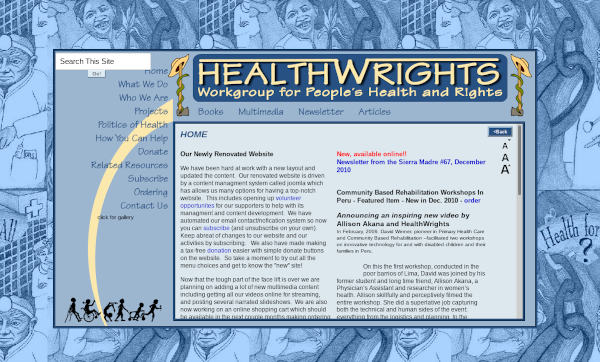 2011: Carlitos and Moises pass away. (GH)
2015: The Newsletter goes web-only, and are longer published in complex PDF format. The contents are also streamlined, tending to focus on single issues and experiences.
2015: The HealthWrights team begins translating English Newsletters into Mexicanized Spanish. This effort is led by Juan Ignacio Gómez Iruretagoyena, with revisions by Dolores Mesina and Adrián Martínez Lomovskoi. [Editor: This is incorrect, but I have no good information. A better guess might be 2002.]
2018-2021: HealthWrights begins the work of adapting the Newsletters and other content to a mobile-friendly format for our globably inter-connected age, first via a Wordpress page (healthwrights.wordpress.com), then within an entirely new web framework, (Hugo), available at healthwrights.org.
&nbsp