Appendix—to the Outline for an Aids-making Workshop: Tools and Materials
NOTE: The types of tools and variety of materials for the workshop can vary with the conditions. In poorer communities, you can use very low cost or scrap materials, including old cardboard cartons, or even mud. In communities with a few more resources, somewhat more costly items such as plywood and Velcro can make construction of assistive equipment easier, faster, and possibly more functional.
By the same token, depending on the situation, tools used can be more basic or more elaborate. Most aids can be made with only simple hand tools, but the work takes longer. It may therefore be hard to finish certain aids in a single day. A few power tools, especially an electric jigsaw and an electric drill, can speed things up considerably.
IMPORTANT: I cannot emphasize too much how essential it is that all the necessary tools and materials for the workshop be obtained and ready ahead of time. In the Nicaragua workshops, certain key supplies had still not been obtained by the beginning of the event. In one workshop the lack of an electric jig-saw meant that so much time was lost that the final trails and adjustments were not completed by the time of the final evaluation session. This caused a number of disappointing results that could have been avoided. Similar lack of nails the right size, and of pliers, led to other problems.
Before the workshop begins, some very responsible person should go down the checklists below and be sure all the agreed-upon tools and materials are on hand.
1. Tools Needed
pencils with erasers

marking pens (thin and thick line, bold colors)

yard sticks - or long straight rulers

tape measures (one per group)

hammers (with claws)

screwdrivers

pliers, regular and vice-grip

set of small hexagon wrenches

vices and wood clamps for gripping

hand saws

metal saw

hole saws for plywood

manual jig saws

electric jigsaw(s) with many extra blades

awl (small pointed tool to make holes)

hand drill, or brace and bit—with bits

electric hand drill and set of bits

sharp knives (e.g. linoleum knives)

wood chisels

hand-held electric sander (if possible)

wood rasps

metal file

wire cutters and tin snips (sheers)

strong scissors (at least 3)

heat gun (if possible)

staple gun with staples (optional)

paint brushes (for painting toys)
2. Materials Needed
sheets of paper (for writing, drawing)

poster paper (large sheets of paper)

duct tape

electrical tape

plywood (1⁄4" and 1⁄2" - 4' x 8' sheets)

variety of boards and strips of wood

nails (1⁄2," 3⁄4" , 1", 11⁄2", 2" and 3")

screws, assorted sizes

nuts and bolts, assorted sizes

small brads or tacks

string (1 and 2 mm thick)

baling wire or other thin wire

rope ( c and 1⁄4 inch)

Velcro (if possible)

fast drying glue (2000 o 5000)

sheets of foam plastic, 1" and 2" thick

sheet foam rubber, fairly dense, 1" thick

butcher paper

old newspapers

colorful cloth (for covering cushions, etc.)

old sheets and strips of cloth

cotton (for padding and filling)

old bed sheet

large needles and strong thread

old plastic bottles, buckets and tubs

old car tires (without wire in walls, if possible)

old inner tubes, from cars and bikes

sandpaper (fine and course)

thin sheet metal, or old metal cans

plasticine, Silly Putty, or firm clay (for making individually-shaped handles for holding pencils, spoons, etc.)

quick-setting "body putty" (Bondo) for car repair, 1 litre

building plaster (plaster of Paris)

pieces of leather

plastic hose, 1⁄2 to 3⁄4" thick

buckles and clasps

small bells

shiny paper or foil of different bright colors

paints: fast-drying non-toxic water-based, bright colors
3. Paper-Based Materials and Preparation
corrugated cardboard, large sheets of different thickness, up to 3⁄4" thick

white carpenter's glue, at least 2 liters (see below)

old strong paper sacks (used for cement, etc.)

old magazines with colorful pages

broad paper tape (masking tape)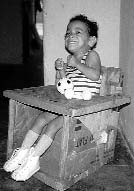 It is important to prepare ahead for paper-based technology. If aids using paper-based technology are to be made in a single day, it is essential that large, thick sheets of cardboard be laminated at least 2 or 3 days in advance, so that they are dry and strong when needed (see p. 7). If glued several days in advance, a low-cost home-made paste (a runny mix of wheat flour and water) can be used instead of more costly carpenter's glue.
&nbsp