'Applying for a Job at Wal-Mart'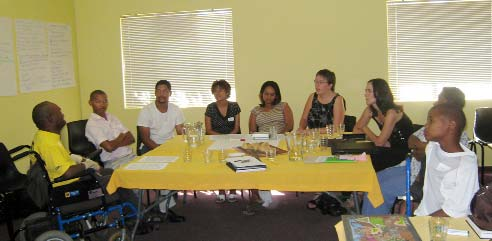 South Africa's new Constitution requires large companies to employ a small percentage of disabled persons and to not discriminate against persons with disability. But in practice, these ideals are often not realized. This skit is the true story of an intelligent, highly motivated young man named Novellin, who is quadriplegic. Although he is well educated, he has difficulties in finding work.
This skit led to a discussion of strategies for achieving more equal opportunities, and the need for associations like APD to play a stronger
role in organizing and advocating for and with people with disabilities, to make sure the laws protecting their interests are applied. The suggestion was made that APD work more closely with other organizations of disabled persons.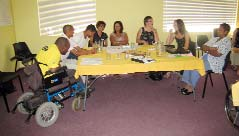 Conclusions
At the close of the last workshop, when we met in an evaluation session with the leaders and organizers of the Association for Persons with Disability, it was agreed that one of the most valuable aspects of the workshops was that we had included disabled persons and family members as partners and peers in the problem solving process. It was agreed that in the future, people with disabilities, and parents of disabled children, should play a much stronger and more central role in the APD—not only because they would be good peer counselors and role models, but because their perspectives and experience was an invaluable resource for professionals and non-disabled staff.
"We need to be more inclusive ourselves," concluded the Director of the Association.
Everyone also agreed that the problem of socioeconomic apartheid in South Africa—the huge gap between the rich and the poor, the powerful and the powerless—underlies and aggravates the inability of the vast majority of disabled people to meet their needs. For this reason the struggle for the rights and opportunities of people with disabilities needs to be seen as part of the larger struggle for the rights and opportunities of the downtrodden, impoverished, and still oppressed majority, in Africa and world wide.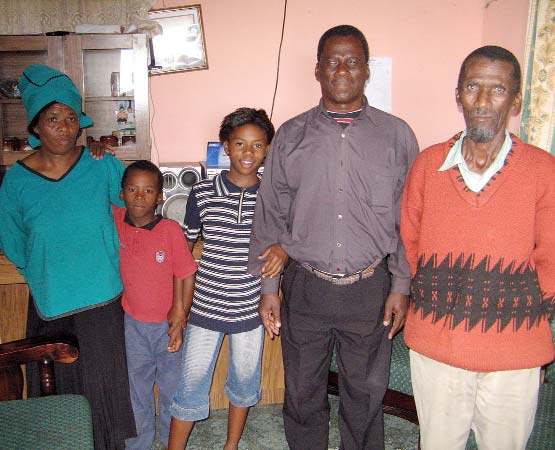 Personal Reflections
My visit to South Africa was both inspiring and disturbing. It was disturbing to see the persisting cruel gap between rich and poor—profound poverty side by side with enormous wealth. Although racial apartheid has officially ended, an economic apartheid still prevails, and the hope of the oppressed for a fairer distribution of resources and opportunities remains a still distant dream.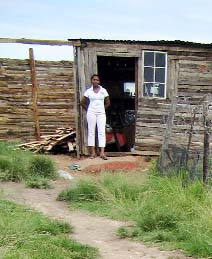 At the same time there is much that is inspiring in South Africa. Despite the hardships and injustices which the majority endure, I found in most of the people I encountered an uncrushable dignity. The spirit and vitality of people like Archie, and Ebrahim and Frances warm my heart when I think about them, and make my own tribulations seem small. There are so many barriers and challenges in their lives, and yet their eyes sparkle, and they remain caring and kind.
One of the deepest impressions made on me was that of a blind man and his family, whom we visited near George. He lives in a small hut with few amenities. And yet there is something regal about both him and his wife: a quiet pride and resolute independence.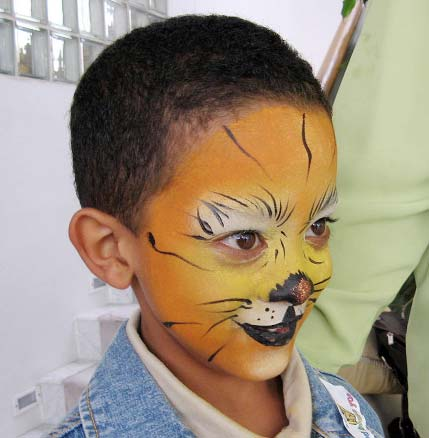 They earn their living by buying and selling chickens. The children of the couple were full life and energy. They made toy cars out of old plastic pop bottles and pieces of wire. What life has in store for them, who knows? But for all the difficulties they face, they find joy in what they have and who they are. They could teach us a lot.
NOTE: A longer version of this report, with more role plays and a third section on evaluation is available on our web site at: