Announcing a New Publication in Spanish: 'Cerebral Palsy'
by David Werner with Bruce Hobson
Edited by Alicia Molina, and illustrated by David Werner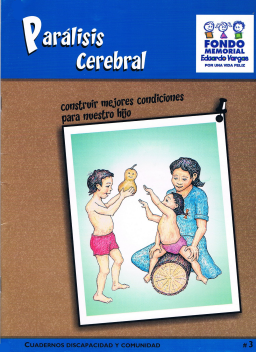 This booklet is produced by Fondo Memorial Eduardo Vargas in collaboration with the Sistema Nacional para el Desarrollo de la Familia (DIF), México, 2011. This 36 page booklet in Spanish is the third in a series titled Cuadernos Discapacidad y Comunidad, prepared for families with disabled children. Copies will be given free to parents at DIF centers throughout Mexico. DIF is often the first contact with services for families with disabled children, so the booklet will reach families unlikely to see David Werner's books. The clear, basic information will also be useful for service providers.
This booklet is based on material in David Werner's books, Disabled Village Children and Nothing About Us Without Us, but language and content are further simplified. For non-readers, the drawings alone provide ideas for beneficial activities, assistive equipment, social inclusion, and learning of basic skills. To date the booklet is only in Spanish. However HealthWrights plans to bring out a somewhat expanded edition both in English and Spanish. Meanwhile the Spanish draft is freely available online at www.healthwrights.org. Request for help: We are looking for volunteer assistance in formatting and layout of the expanded edition of this booklet on Cerebral Palsy: now the most common childhood disability.
Many Ways to Donate Tax Free!
&nbsp