Health Services in a Land of Contradictions: Innovations in Thailand to Meet Health Needs of the Most Vulnerable
by David Werner
My invitation to Thailand
In May 2017 I was invited by Health and Share Foundation (HSF) in Thailand, and its parent organization, SHARE (based in Japan), to visit their innovative community outreach program in the Ubon-Rachathani province, on the Thai-Laos border. The purpose of my visit was to exchange ideas for "helping to enable the most vulnerable persons and groups" to better meet their pressing health-related needs.
Also, for the final day of my two week sojourn in Thailand, I was invited by the Faculty of Public Health at Mahadol University in Bangkok to speak at the international "Eighth Public Health Conference on Advancing Sustainable Development Goals, 2030," to be attended by representatives from the 11 ASEAN (South-East Asian) countries, plus several others. I was asked to speak on "Health Security and Quality of Life of Outreach Populations."
Thailand's and Mexico's Health-related Similarities and Dissimilarities
Mexico (where I have been involved with villagers' well-being and rights for 50 years) and Thailand have a number of key characteristics in common, including underlying determinants of health. In recent decades both Thailand and Mexico have become "Middle Income Countries," due in part to having become "free-market" economies highly dependent on multinational trade. (Thailand is now the world's #1 exporter of rice). However, as their GDPs rise, both countries have experienced a mushrooming gap between rich and poor—in terms of wealth, health, and standard of living. Despite efforts by both nations to introduce policies of "Universal Health Coverage" (UHC), their living conditions, access to services, and quality-of-life have become increasingly unequal in different social strata and regions of the countries. Both nations have long histories of struggles between democratic and autocratic rule.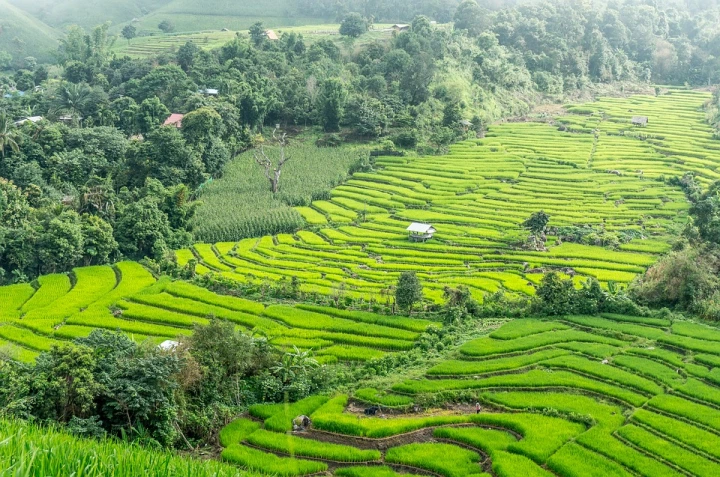 Both Mexico and Thailand have their roots in agriculture, and a long history of struggle over land tenure. Still today, in both countries, the best land is owned by wealthy land barons, while a multitude of tenant farmers barely scrape by. Seasonal (and permanent) migration to the burgeoning, heavily polluted capital cities has contributed to many problems—not least of all, the spread of HIV-AIDS.
Power and health in Thailand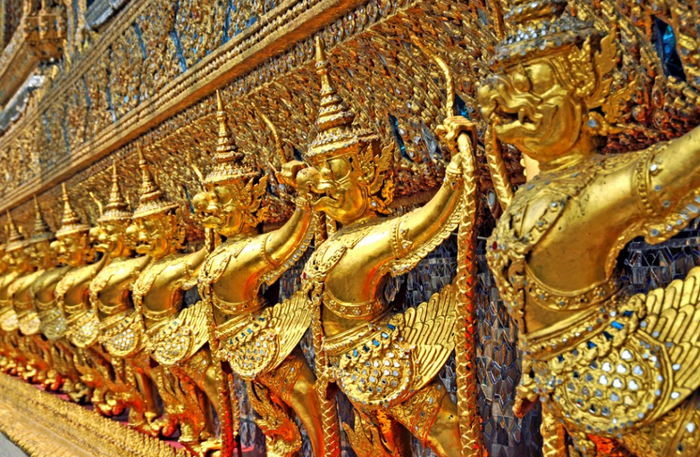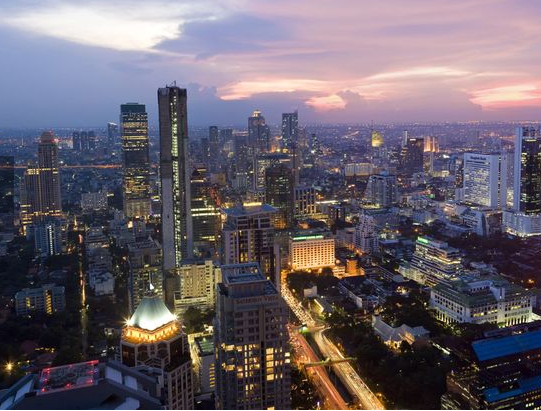 Political Power in Thailand
Thailand's power dynamics fluctuate between three imposing entities: monarchy, Buddhism, and the military. Historically the monarchy held supreme rule for many centuries. But in 1932 a move was made to "democratize" the nation by separating the royalty from politics, and by introducing a popularly elected parliament and prime minister. However in 1933 Thailand had its first military coup—followed by 18 more coups, the last two in the past three years. The latest coup, in 2016, occurred just before the death of the widely revered King Bhumibol Adulyadej, who during his 70-year reign had been a benevolent influence on the nation's policies and public services. King Bhumibol died in October 2016 and was succeeded by his far less scrupulous son, King Maha Vajiralongkorn, whose then anticipated coronation is said to have precipitated the most recent coup.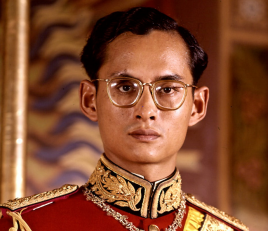 The new military junta, along with the new king, have become increasingly authoritarian—so much so that the Thai people and the press take care not to criticize them too strongly in public. (I was warned that the driver of our government minibus might be listening to our conversations in order to report them to the authorities.) I asked if the present military regime might roll back some of the people-supportive health and welfare policies that had been introduced under King Bhumibol's benevolent influence. I was assured that the current junta wouldn't dare do so. The Universal Health Care program—which provides most medical services to all, free of charge—is so popular that if the ruling elite tried to dilute it, or reintroduce user-fees, the population would rise up in protest.
Thailand introduced its Universal Health Care program in 2001, long before most other low-or-middle-income nations, and has subsequently expanded its outreach and coverage. User fees were removed (for the most part) in 2006, and it is Thailand's policy to provide complete—or close to complete—coverage even for highly expensive chronic maladies such as renal failure and HIV-AIDS.
Thailand's Enterprising Steps to Combat HIV-AIDS and Other Chronic Diseases
The World Health Organization has lauded Thailand for having one of the world's most comprehensive and successful programs in combating HIV-AIDS.
In terms of prevention, the Thai Health Ministry, in cooperation with other branches of government, has a multifaceted education program, with special focus on high-risk groups. Its policy is to make condoms freely and universally available, even to children in middle-school. Since Thailand traditionally has relatively open and permissive mores regarding sex, many children of 12 to 14 years of age begin experimenting, especially in rural areas.
With regard to treatment, the Ministry now makes HIV testing and anti-retroviral medication (ARV) freely available to all who need it. At least that's the policy. But achieving full and sustained coverage isn't easy. Many people who fear they may have HIV are afraid to let even family members know, or to go to clinics for testing and medication where someone might recognize them. So the Health Ministry has set up unmarked locations where people can get testing and meds clandestinely.
For similar reasons, early treatment and long-term compliance with medical recommendations are major challenges. Typically, people don't go for testing until serious symptoms of AIDS-related infections develop. This may not happen for years, during which time the retrovirus is transmissible through sex—or via injected narcotics (another big problem). Likewise, when symptoms disappear through treatment many people stop taking their meds. This leads to a return of symptoms and renewed contagion. It also contributes to the emergence of new strains of HIV resistant to ARV medications—a rapidly growing and very worrisome problem.
To circumvent the deadly high price tag of ARVs produced by Big Pharma, Thailand courageously dared to develop and manufacture its own generic equivalents. Following the military coup of 2006, the incoming junta chose to violate international patent laws on several outrageously over-priced life-saving drugs. In order to achieve and sustain Universal Health Coverage, it declared it needed to put human need before transnational greed.
Despite threats from Big Pharma, which withdrew of some its R&D clinics, Thailand has succeeded in providing far-reaching medical coverage to the majority of its citizens with long-term treatment of chronic illnesses, including HIV-AIDS, heart-disease, diabetes, and renal failure. All at relatively low cost! Thailand spends about 4% of its GDP on health, compared to an average of more than 6% by most other middle-income nations. Escaping at least part of the profiteering of transnational drug companies has effectively saved millions of lives.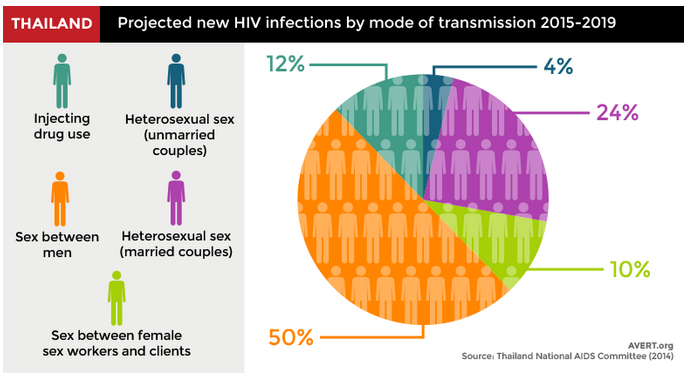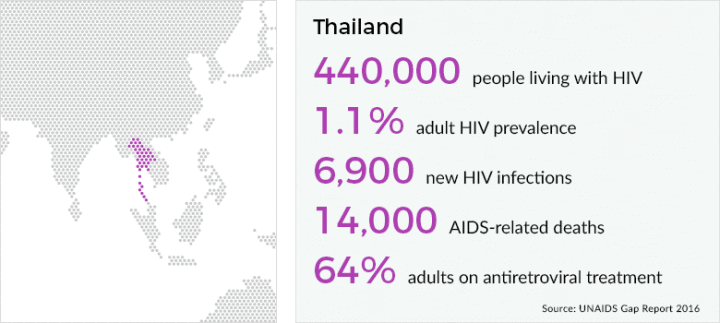 As of 2009, Thailand had the highest prevalence of HIV in Asia. The incidence of HIV-positivity is now about 1.1 percent of adults—down from almost double that a few year back.
The principle modes of transmission are shown in the graphs, above. Although the prevalence of HIV is falling, certain groups continue to become infected in especially high number. 10% of transmission is due to female sex workers and their clients.12% is through unclean needles by drug-users. Married couples (usually husband to wife) account of nearly 25% of the cases. But a remarkable 50% of new transmissions are among "MSM" (men who have sex with men). These include gay men, transgender persons, and male sex workers. By far the highest rate of prevalence is in transgender men.
AIDS in Thailand is primarily a disease of young people, including adolescents and, to a lesser degree, children. Most children with HIV contracted the virus from their mothers during childbirth. Fortunately, the incidence of "AIDS babies" has fallen dramatically in recent years—to under 2% of mothers who are HIV-positive—thanks to a coordinated action to assure that all pregnant women are tested for HIV, and, if necessary, treated.
A number of children, however, contract HIV from having sex with HIV-positive males. This is especially common among indigent migrant children coming from the poorer neighboring countries of Burma, Laos, and Cambodia. These children—of both sexes and occasionally as young as nine years old—will sometimes sell their services in exchange for a meal, a pittance, or a little love and kindness.
Thousands of sex-workers—mostly young women and adolescent girls but also men and boys—come across the border from the adjacent countries. To help control the spread of HIV-AIDS and other STIs (sexually transmitted infections), the Thai government now officially offers free medical treatment, including for HIV, to migrant workers—legal or illegal. (However, in parts of Thailand, some hospitals and clinics refuse to treat them.)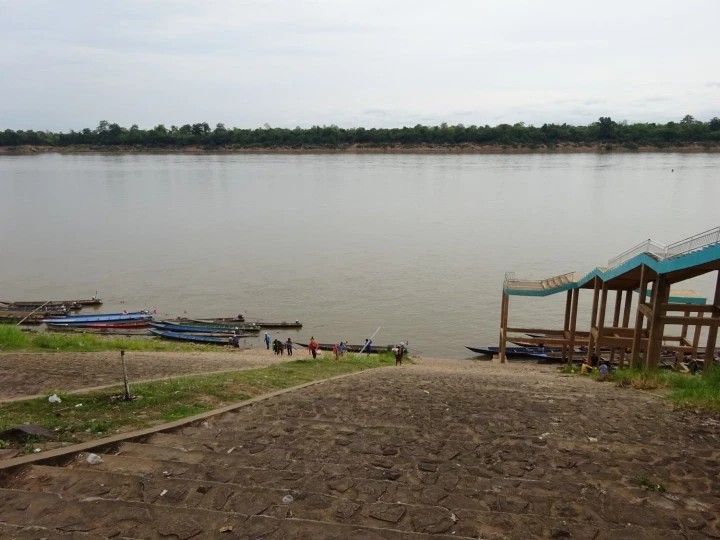 The district of the Khemarat where I visited is separated from Laos by the Mekong River (Me-kong means "Mother River"). Every day thousands of Laotians cross the river in small canoe-like water-taxies. Some are day laborers. Some are sellers of fruit or wares or illicit drugs. Some have nothing more to sell than their bodies.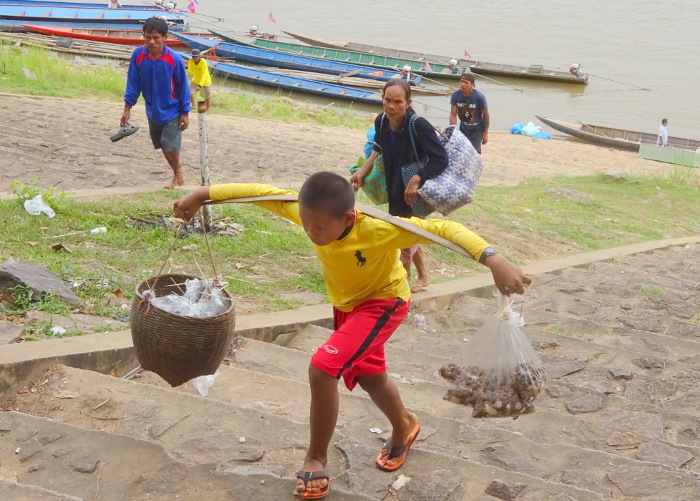 And some Laotians cross over into Thailand for medical treatment. The closest hospital on the Laos side is nearly 100 km. away. At the Khemarat crossing, we watched a porter carry a sick woman on his back up the steep flight of more than 100 stone steps from the river up to the road, while her elderly husband trudged behind. At least at the Khemarat crossing, I was told, such ailing visitors are usually well received and freely treated at the District Hospital.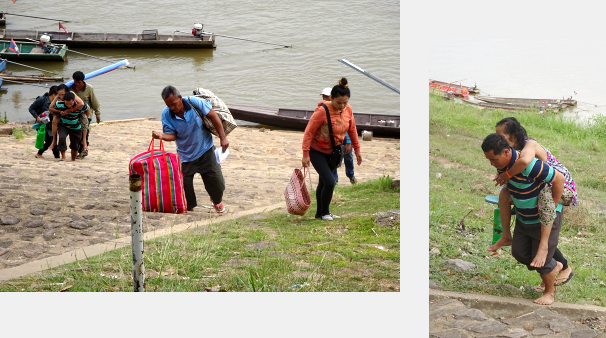 On entering Thailand, all that visiting Laotians, ill or otherwise, are required to do is write their nickname in a ledger, and on leaving, cross it out.
&nbsp