Politics of Health Project Update

Launched in October of 2002, the Politics of Health Knowledge Network (www.politicsofhealth.org) is designed to be an online resource for individuals looking for information on the political, structural, and institutional factors affecting the health of people and populations. The Knowledge Network aims to illustrate the linkages between these factors, and how they fit into the larger picture.
The politics of health (POH) website attempts to clarify the interconnections between the broader issues (for instance 'Pharmaceuticals and AIDS', or 'Free Trade and Hunger'), and presents the information in an easy to read format. Drawing from a multiplicity of sources, our editors carefully select articles, pictures and graphs that bring the issues to life and help writers and researchers access the critical reports and information they need to affect health policy.
Although the volunteer-driven website is in its infancy, it has already generated a lot of interest from academia, non-profit organizations and from all over the world. We are encouraged that all this interest has sprung from just the prototype website, featuring just a few major topics that serve as a model for further development. The scope of the website is indicated in the range of topics (see box) to be covered on the site.
Politics of Health Topics
Arms & Military

Democracy

Disabilities

Diseases

Education

Environment

Ethics

Food & Hunger

Global Economics

Global Health Organizations

Health Services Sector

Humanizing Institutions

Killer Industries

Labor

Population

Regions

War

Water

Women's Issues
Collaborative Focus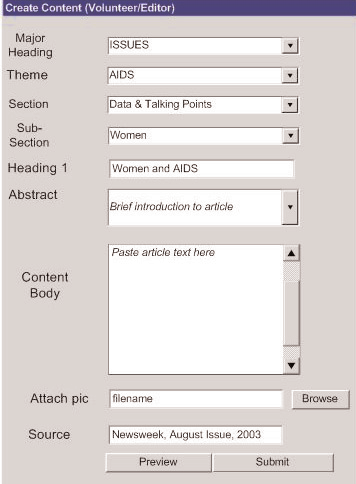 Three editors are managing the content and planning the scope of the site for the upcoming year, while a large technical team is working on making this resource an easy-to-use collaborative tool. Screens such as the one you see here, will encourage our readers to participate in the development of the site. We will be inviting article submissions directly into the appropriate section on the website, where our editors will review them for posting.
HealthWrights has developed and provided a Politics of Health Reading List for many years to assist health workers and activists to develop a strong understanding of the external factors affecting their work. David Werner has spearheaded this project as an adjunct to his self-help health and disability publications. Publishing on the Web provides us with the opportunity to work more collaboratively with more like-minded groups and individuals from around the world, and hopefully accelerate the development and dissimination of important articles and ideas. The Knowledge Network provides a forum for sharing in-depth articles as well as more up-to-date information to a wider audience. Attracting activists, researchers and authors, the site aims to provide an online interactive community for analysis, positive action and alternatives.
New Updated Site Coming Soon
The next version of the site is under development, and it will soon emerge with a whole new look and many new features that will facilitate participation and communication between our readers. We encourage you to check the site often, and to contribute articles, sign up for email updates and participate in discussion forums. A great deal of our attention is focused on producing a site that is well-organized and easy to use, and that will help researchers and activists in developing new materials to promote more health-affirming policies. In particular, the site is being designed to develop an active community that will focus attention on the most pressing issues, and improve the effectiveness of all of our work.
JOIN IN! We Invite Your Participation
If you are a researcher or writer, and are passionate about any related issue (see our topics list) please send us an email.
We are currently seeking to attract more financial support to offset our costs. For donations, please see the attached flyer or visit us online at: [www.politicsofhealth.org]. We welcome your feedback and encourage you to spread the word about the Politics of Health Knowledge Network!
CONTACT INFO: Send your comments, questions and suggestions by email to: [comments@politicsofhealth.org]
Address: Politics of Health C/o Healthwrights c/o Jason Weston, 3897 Hendricks Road, Lakeport CA 95453 USA, info@healthwrights.org .
The Politics of Health Team
We have enlisted an outstanding team of accomplished Bay Area computer professionals who are guiding this effort as volunteers. Many thanks are due to:
TECHNICAL TEAM
Manu Gupta - Technical Manager
Sanil Pillai - Senior Developer
Priya Venkitakrishnan - Sr Developer
Yanping Liao - Senior Developer
Gary Gibson - Technical Researcher
Deepa Pai - Technical Researcher
CREATIVE TEAM
Jarrod Fischer - Creative Director
Anupama Gurumurthy - InteractivityDeveloper
Project Manager: Shefali Gupta
&nbsp