News and Updates from the Projects in Mexico
Project PROJIMO
Project PROJIMO, the community rehabilitation program run by disabled villagers in the foothills of western Mexico, has been increasingly active in recent months. A big boost—and a lot more hard but satisfying work for PROJIMO—has come through social worker DOLORES MESINA. Dolores has been a friend of PROJIMO for many years, having first gone there in childhood for orthopedic appliances and rehabilitation.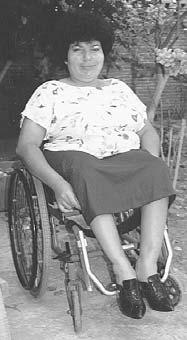 Dolores had polio in infancy. Among other difficulties, Dolores had developed an incapacitating spinal curve. PROJIMO arranged surgery (spinal-fusion) for her at Shriners Hospital in San Francisco. In spite of her disability (or perhaps, in part because of it), Dolores studied hard, continued her schooling, and eventually became a qualified social worker. Due to attitudinal and physical barriers, Dolores at first had a hard time getting a job. But she persisted banging on closed doors until they opened. Today she has a key position in DIF (Integral Family Development), a government advocacy program for disadvantaged children and families. Dolores' job is helping to find solutions to the needs of disabled children, especially those in low-income or dysfunctional families. In this she coordinates closely with PROJIMO. Periodically she takes a bus-load of disabled children (and adults) to PROJIMO. There Mari and Conchita, who both have disabilities, evaluate their needs and provide orthopedic devices, assistive equipment, and wheelchairs designed and fitted to meet their individual needs.
GREAT NEED FOR WHEELCHAIRS
Unfortunately, DIF's budget is quite limited, and with the growing economic crisis in Mexico, the needs are enormous. There are thousands of disabled people who are additionally handicapped because of lack of a decent wheelchair. The wheelchair building shop at PROJIMO meets a small fraction of the need.
HealthWrights in California collects donated used wheelchairs and looks for ways to take them to Mexico. David Werner, Trude Bock, and others ride one down every time they fly to Mexico.
HELP NEEDED: If you are planning to fly to Mazatlan, consider riding down with a wheelchair (and coming back without it).
&nbsp